South of Washington, D.C. and north of Richmond, VA is the town of Fredericksburg, VA. Fredericksburg was a prominent port in Virginia during colonial times and during the Civil War, site of the Battle of Fredericksburg and Second Battle of Fredericksburg. Today the historic part of the town is a great place to walk around and explore boutique shops and artist studios. No trip would be complete without a stroll along the Rappahannock Canal Path. This paved pathway extends 1.8 miles and winds along the canal from Fall Hill Avenue to Princess Anne Street. And if your furbaby needs some off-leash time, stop by the Fredericksburg Dog Park, located on Kenmore Avenue near Mary Ball Street.
Table of Contents:
Day Trip
Weekend Trip
Local Sites
Other Vineyards
---
Day Trip Itinerary
If you are visiting Fredericksburg, VA, a lovely historic area, and want to grab some fresh air out in a nearby northern Virginia vineyard, we recommend a trip out to Potomac Point Winery & Vineyard and/or Oak Crest Vineyard & Winery:
Potomac Point Winery & Vineyard
http://www.potomacpointwinery.com/
275 Decatur Rd
Stafford, VA 22554
(540) 446-2266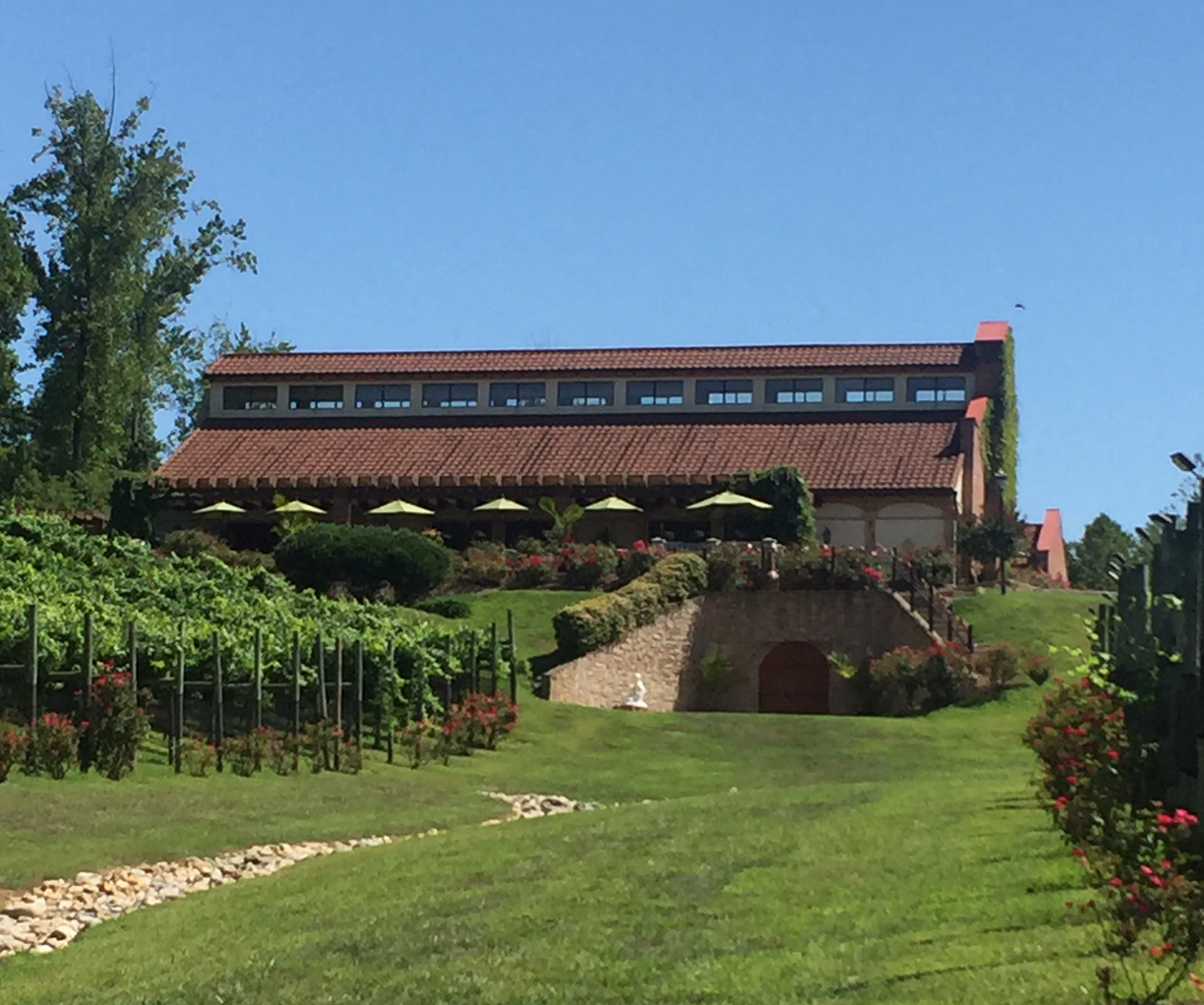 Photo of the Winery and Tasting Room at LakeRidge Winery & Vineyards. Photo by Peggy Mihelich, All Rights Reserved
This Tuscan-themed winery has an elegant feel to it, with manicured grounds, topiaries, and fountains. The main house with tasting room is large and offers a restaurant with terrace seating. Dogs are welcome everywhere but the indoor lounge area. Potomac Point offers a wide selection of wines to taste. You can choose from the "Classic tasting" which features roughly 7 wines or their "Premier tasting," with up to 14 wines. If you plan to picnic with your own food, you'll be relegated to their outlining picnic area or pavilion, located down the hill from the main house. The pavilion offers covered seating and restrooms, a nice respite on a hot summer VA day. The winery is one of the closest to Washington, DC, located a short drive off of I-95/Rt. 1 -- but check the traffic on 95 before you head out as this corridor can be very congested which could easily double the time it takes get you there and back home. Dogs are welcome outside, and on the patio where food is not served**.
Award winning wines: Richland Reserve Heritage, Vino Camino
Our favorites: La Belle Vie
Oak Crest Vineyard & Winery
http://www.oakcrestwinery.com/
8215 Oak Crest Dr
King George, VA 22485
(540) 663-2813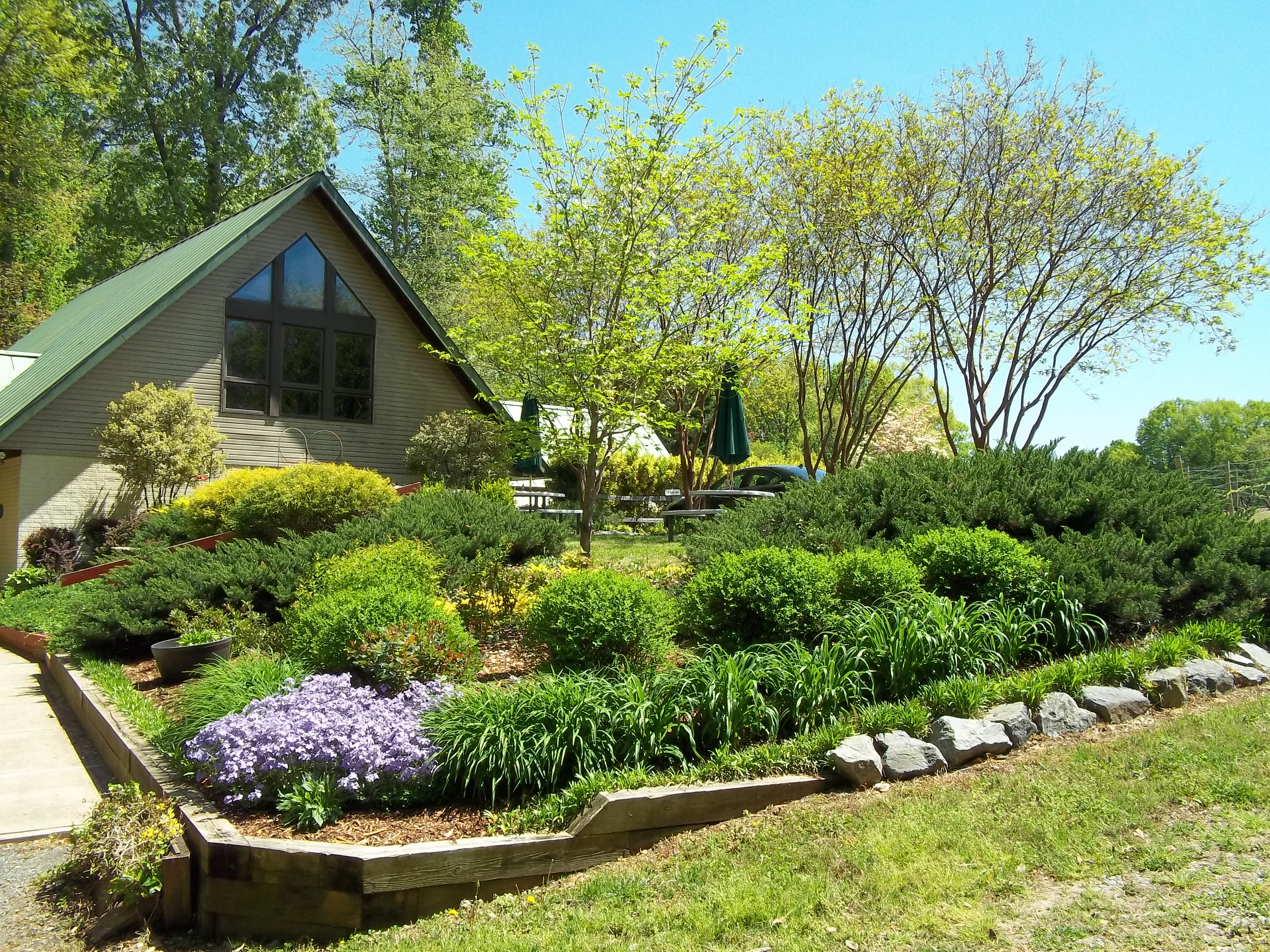 Photo of the Winery and Tasting Room at LakeRidge Winery & Vineyards. Photo by Peggy Mihelich, All Rights Reserved
Head east out of Fredericksburg and make your way into King George County, home to Oak Crest Vineyard & Winery. The A-framed main house gives it a bit of a lodge-cabin feel and easy-going, unfussy vibe. The tasting room shares space with an gift shop featuring the works of local artists. You'll sample some of their unique wines, Summer Rose, Moonlight Sonata, and Hot Jazz, a white grape blend with a hint of jalapeño -- yes, that's not a typo! If you happen to be visiting during one of the local oyster festivals, try a glass of Hot Jazz with the grilled oysters -- you'll be amazed how good they go together. Take a walk among the vines with your dog then head over to the stone patio area to sip and enjoy the woodsy surrounds. Dogs are welcome outside and on the deck/patio**.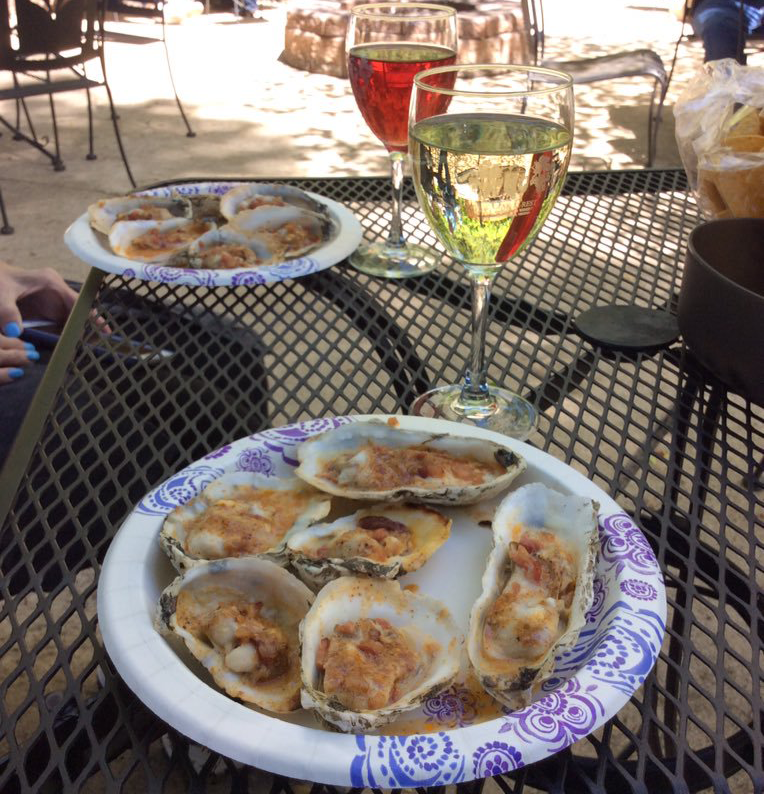 Photo of the Winery and Tasting Room at LakeRidge Winery & Vineyards. Photo by Peggy Mihelich, All Rights Reserved
Our favorites: Moonlight Sonata, Hot Jazz
---
Weekend trip
Dog-friendly hotels, inns and B&Bs:
Search Bring Fido:
Fredericksburg, VA
Search Homeaway:
Fredericksburg, VA
---
Local Sites:
If you have a few extra days to explore Northern Virginia, there is much to see not only by land but by river.
Fredericksburg and Spotsylvania National Military Park
The park encompasses four major Civil War battlefields: Battle of Fredericksburg, Battle of Chancellorsville, Battle of the Wilderness, and Battle of Spotsylvania Court House. There are quite a few historic buildings within the park to explore: Chatham Manor, Salem Church, Ellwood Manor, and the house where Confederate general Stonewall Jackson died.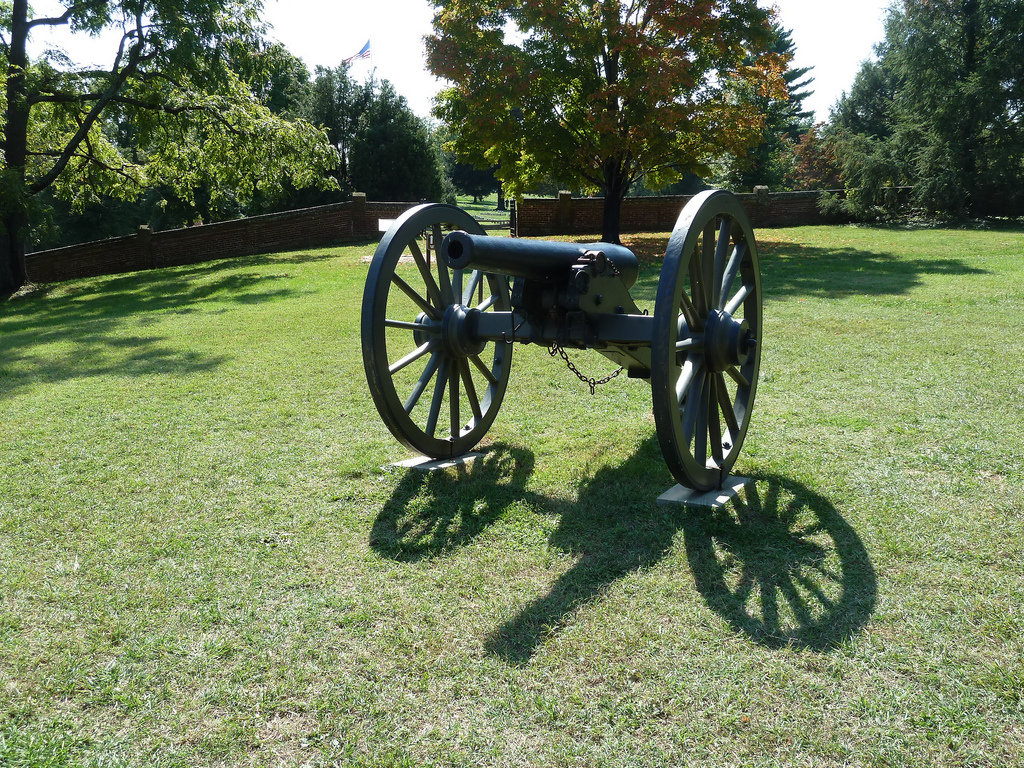 Photo of a Conferderate Cannon from the Civil War at the Fredericksburg VA National Battlefield. Photo by Doug Francis / CC BY 2.0
Colonial Beach
Located off the Potomac River, Colonial Beach was a popular resort town in the early to mid-20th century, before the Chesapeake Bay Bridge made ocean beaches on the Eastern Shore of Maryland more accessible to visitors from Washington, D.C. If you can, arrive by boat, as visitors of the past once did at the "Playground on the Potomac."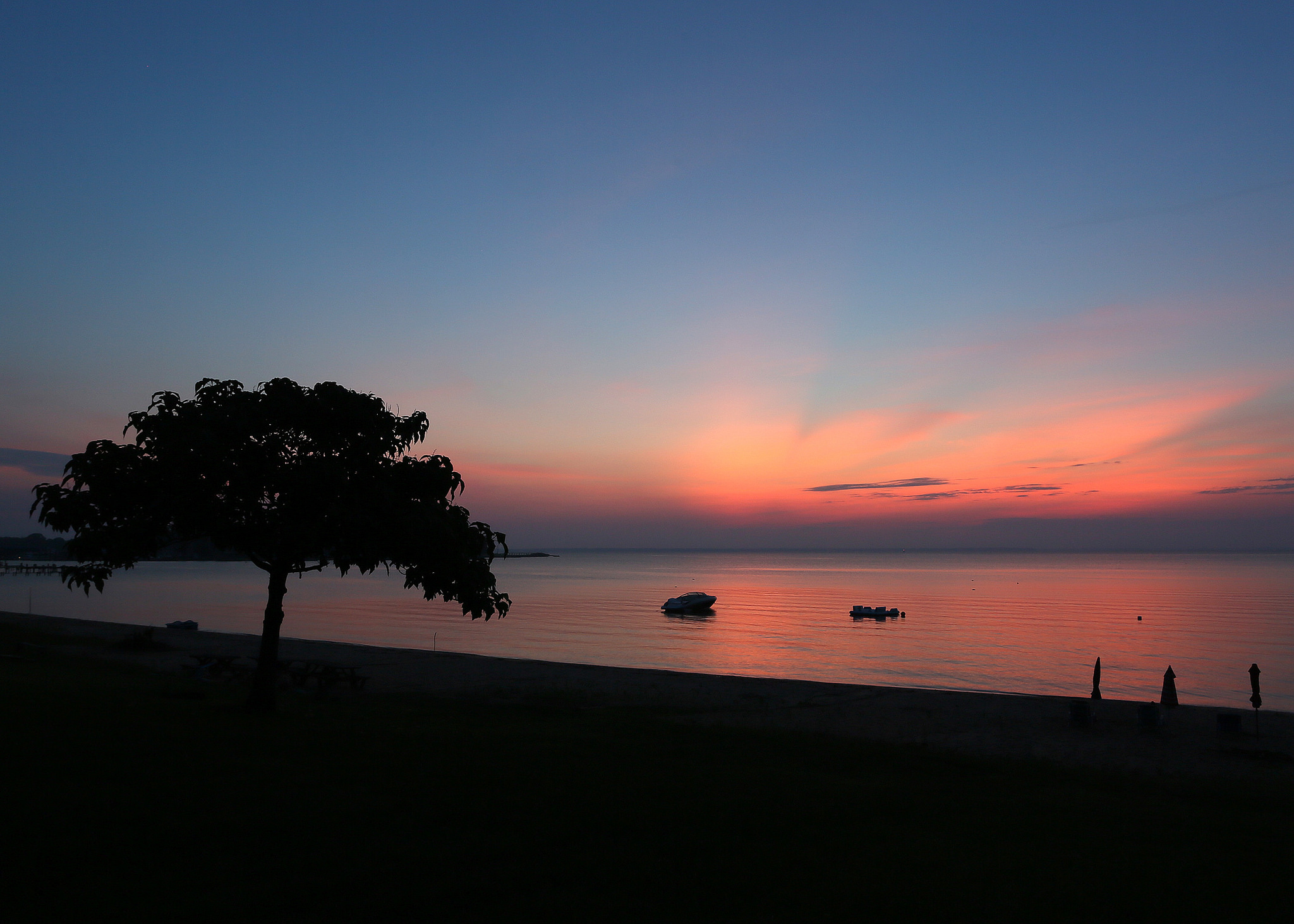 Photo of Colonial Beach. Photo by Tom Saunders / CC BY-NC-ND 2.0
---
An additional winery to visit
Wilderness Run Vineyards
http://www.wildernessrunvineyards.com/
11109 Plank Road
Spotsylvania, VA 22553
540-841-2598
This farm-based vineyard prides itself for its relaxed atmosphere and beautiful scenery, featuring sprawling hills of vines and a pond you can fish at -- bring your own pole. A wine tasting consists of 6 different wines, including Tool Shed Red, a blend of Cabernet Sauvignon, Merlot, Cabernet Franc, and Petit Verdot. And they just opened a brewery, 1781 Brewing Company, which focuses on French, Belgian, and German farmhouse ales. Be sure to sample those too. Dogs are welcome outside and on the deck/patio**.
Cover Photo is of the train bridge on the Rappahannock River. Photo by Rob Shenk / CC BY-SA 2.0
**The Virginia Deptment of Agriculture has cracked down on dogs in tasting rooms. Happily, a new law allows them back in starting 07/01/18! We will update their status at this time.