Exploring Vineyards and Breweries Near Colonial Beach, VA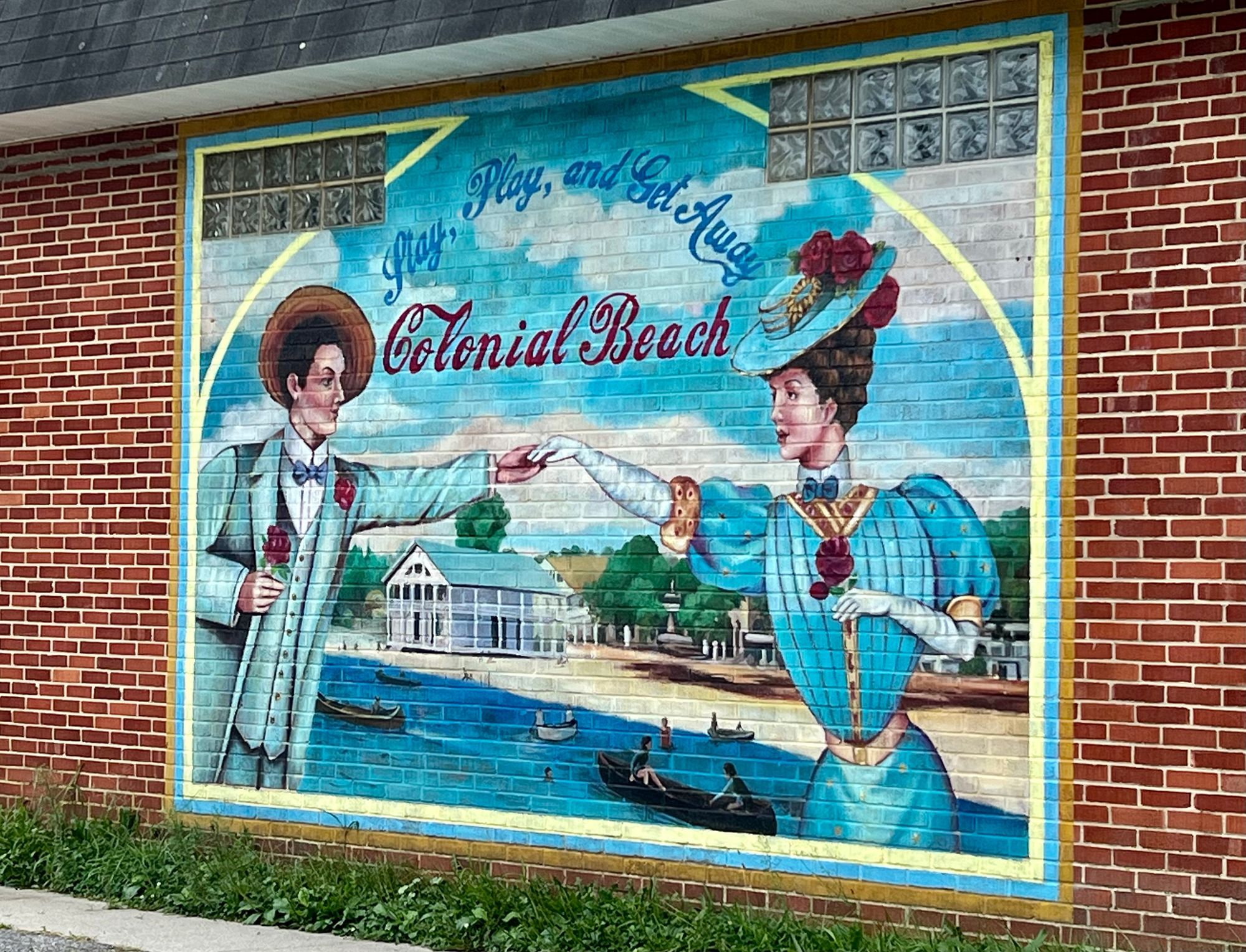 Cork Hounds is an affiliate partner and we will be compensated if you make a purchase after clicking on this ad link.
Long before Ocean City became the beach destination it is today, people living in the DC-metro area would seek respite on the shores of the Potomac river. Spots like Colonial Beach, with its sandy beach and gentle waves, drew crowds to this small community. Even Alexander Graham Bell visited. He liked it so much he built a home that still stands today.
A drive around the town hints at the past. Victorian homes mixed in amongst more modern construction. Old time murals painted to reflect and appeal to those who may have visited more than a century ago. Cute, charming, quaint. But Colonial Beach isn't merely stuck in the past. It's become a thriving golf-cart community for retirees and a boating hub with no less than 3 marinas in the area.
Cork Hounds spent a week in Colonial Beach in the summer of 2022. We rented a cottage right on the Potomac. The views were spectacular. And of course we checked out a local brewery and winery!
Table of Contents
Brewery Visited
Vineyard Visited
Dog-Friendly Resturant
Another Winery/Brewery To Try
Brewery Visited
Colonial Beach Brewing
215C Washington Ave
Colonial Beach, VA, 22443
804-214-7530
Dog-friendly: outside, on the patio, inside the tasting room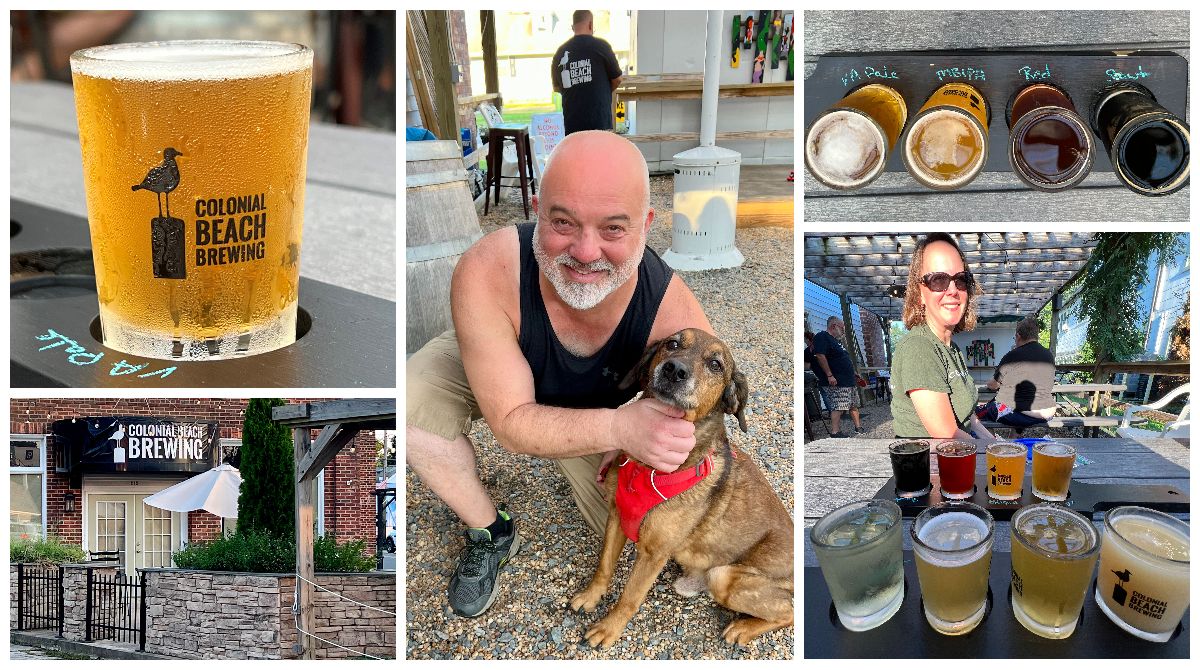 Located right in town, Colonial Beach Brewing offers seating outside on their covered patio to humans and furpups. It's a local joint with dottings of visitors like ourselves. They are very welcoming to guests with dogs, and offer water bowls for thirsty pups. We wanted to sample as much of their brews as possible so we ordered two flights of 4. The Angler's Apple beer, and the Sour Seaman Blueberry Wheat beer were my favorites, while co-founder Jeremy preferred the Beach Blond Ale, the Washington Wheat, and Ironclad Irish Stout beer. Sour beers are challenging, and I thought the Sour Seaman had just the right amount of tanginess. All the beers were great, and the light/hoppy offerings were perfect for cooling off on a hot Summer day.
Vineyard Visited
Monroe Bay Winery
4786 James Monroe Hwy
Colonial Beach, VA 22443
804-410-5628
Dog-friendly: outside, on the patio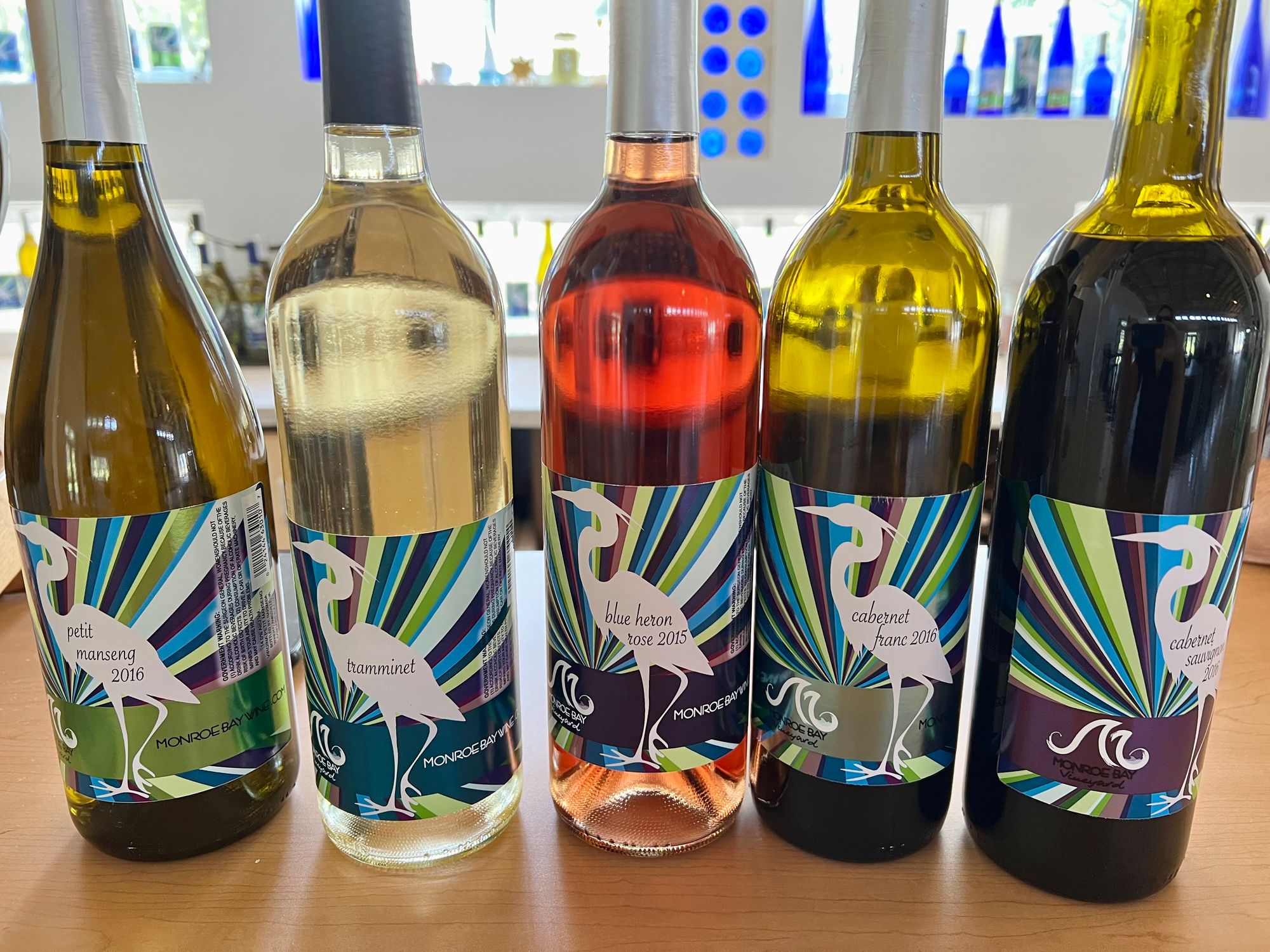 Just south of Colonial Beach is beautiful Monroe Bay. A great place to watch the sunset over the Potomac. Nearby, just off the highway is Monroe Bay Winery. They have a huge tasting room that also serves as a banquet hall for weddings and special events. Cork Hounds sampled a variety of wines inspired by the owner's love of France. We particularly liked the Viognier and Petit Manseng. The Traminette and Blue Heron Rosé were also tasty. The heron is a major player in their wine. Not only is the large bird included in the names of somes of the wines, a large heron stands proudly on their labels. They have tables set up for sipping but alas, there's no views of the river. My suggestion would be to taste and get some bottles to go and head out for a spot with a view.
Dog-Friendly Resturant
Dockside Restaurant & Tiki Bar
1787 Castlewood Dr
Colonial Beach, VA 22443
804-224-8726
dog-friendly: outdoors and on patio
Transport yourself to Margaretaville. Located at the southern tip of Colonial Beach, and part of a large bustling marina, is Dockside Restaurant & Tiki Bar. It's a place not be missed when visiting the area. They are very dog-friendly, the food is pretty darn good and the tiki bar cocktail menu is fun and funky. You'll probably want to try a couple of drinks before you leave. The views of the water and nearby beach are gorgious. Sit back and take it in.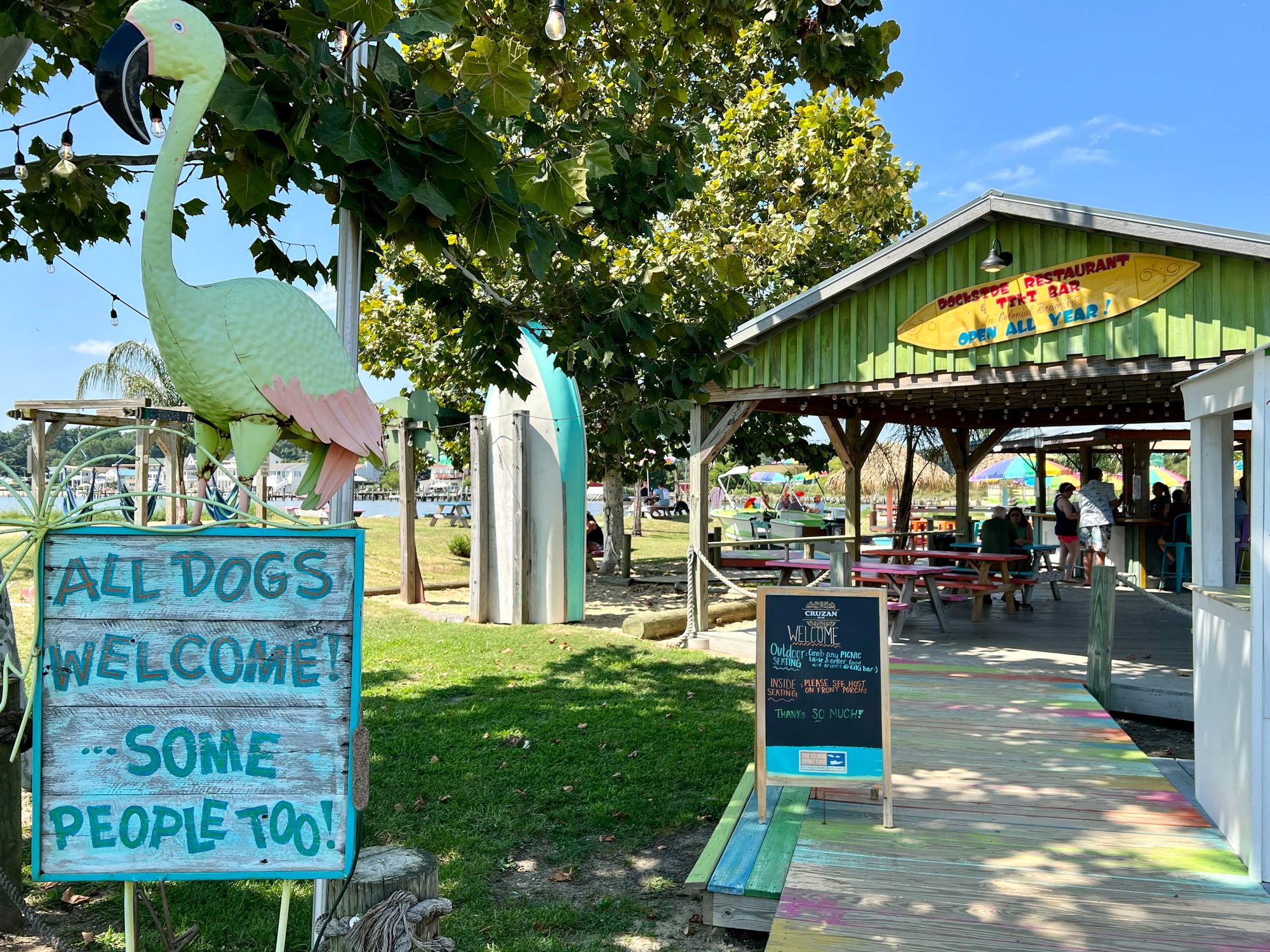 Another Winery/Brewery To Try
Here are two other places in the area to try local wines and beers. We didn't get to them ourselves, so if you go, let us know about your visit and enter our photo contest for a chance to win a prize!
Ice House Brewery & Kitchen
119 Monroe Bay Ave
Colonial Beach, Virginia 22443
804-410-2016
Dog-friendly: outside, on the patio
Not just a brewery and a kitchen, Ice House also is a Marina with overnight accommodations. Their beer/ale list includes cream, brown, wheat and Irish ales. They also have a coupe of Virginia wines available by the glass.
Ingleside Vineyards
5872 Leedstown Road
Oak Grove, Virginia 22443
804-224-8687
Dog-friendly: outside, on the patio
This vineyard has been making wine in Virginia for over 30 years. They are a top media pick for wine tastings in the state.There's ample outdoor seating for picnicking. Tastings include 5 wines and a souvenir glass.

Cork Hounds is an affiliate partner and we will be compensated if you make a purchase after clicking on this ad link.