Low Country Wine and Beer: Cork Hounds Visits South Carolina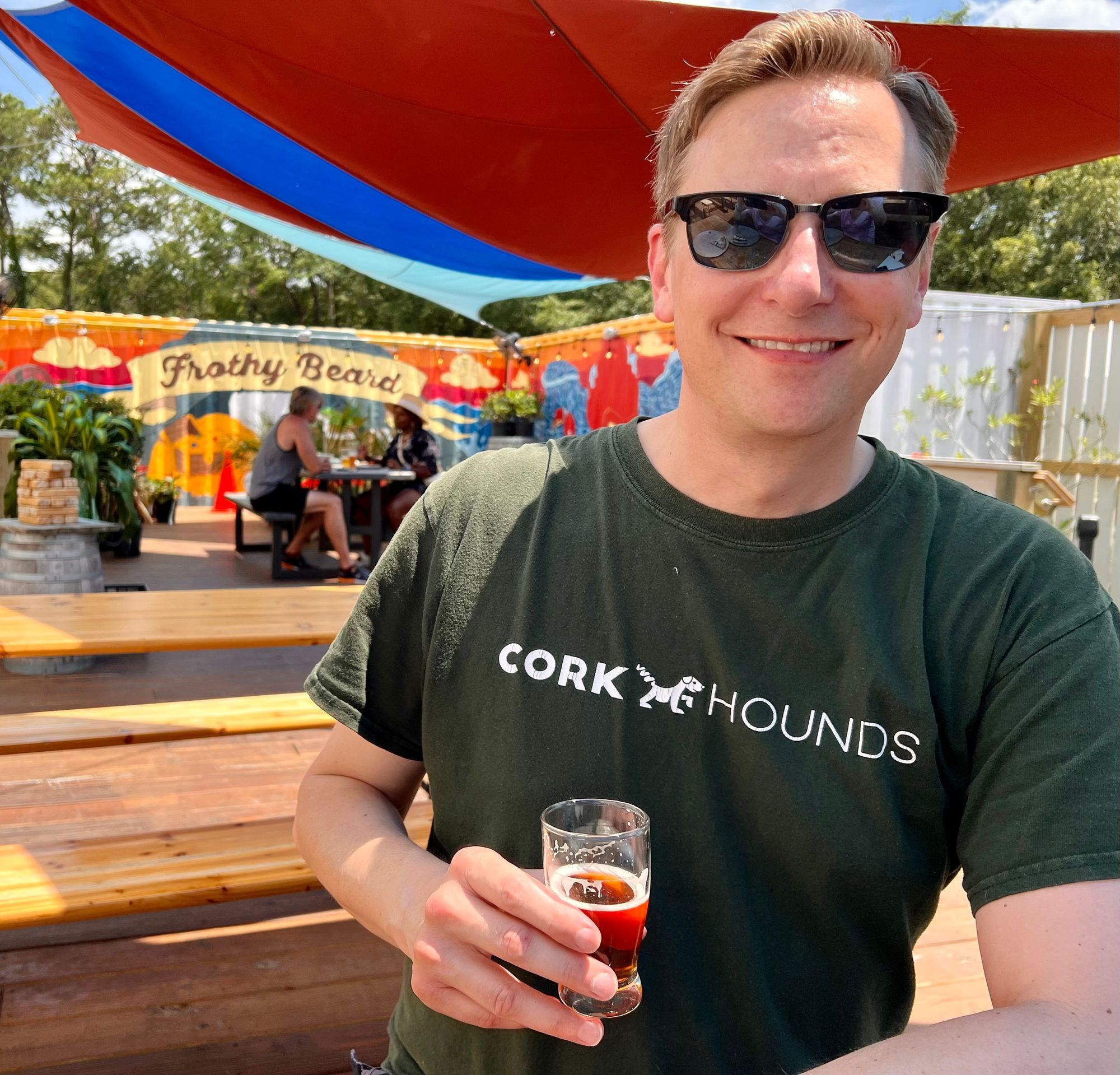 Cork Hounds is an affiliate partner and we will be compensated if you make a purchase after clicking on this ad link.
It was all planned out: a trip to Folly Beach, South Carolina, a barrier island off the coast of Charleston, in early May of 2020. Cork Hounds had hoped to attend a "dog-centric" event at a local vineyard on Wadmalaw Island and check out some nearby breweries. But unfortunately it never happened – none of it. Instead, the COVID-19 pandemic did happen, followed by the lockdown. The island was closed to visitors and our trip was canceled.
We were deflated and disappointed but that's how much of 2020 went. Things were only marginally better in 2021 and we just didn't have the enthusiasm in 2022 to make the trip. But 2023 felt different. So, we decided it was time to go.
In June, Cork Hounds left Northern Virginia and headed to Charleston, South Carolina at long last. We ended up staying just minutes away from Folly Beach in an area overlooking a beautiful marsh with inlets out to the sea. Each day we watched the tides rise and fall bringing with them birds, rays, crabs and even a few dolphins.
During our stay, we visited a local brewery and a nearby vineyard. South Carolina has only a handful of vineyards and only one fully dog-friendly vineyard – the one we stopped at. Breweries are far more plentiful. There are quite a few in Charleston and the surrounding towns.
Places visited:
6775 Bears Bluff Rd
Wadmalaw Island, SC 29487
843-559-6867
Dog-friendly: Outside, Patio, Inside
Deep Water Vineyard has cultivated a very Southern experience for its visitors. Here, you can sip wine under oak trees dripping with Spanish moss. It's charming and also practical as the shade these large trees provide helps keep everyone cool and comfortable on hot summer days. It was bustling on the Saturday we visited. You'll need to book a tasting room timeslot at one of their outside booths once you arrive. The wait is typically around 30 minutes. Deep Water has a wide variety of red and white wines to try. In addition, they make mead and non-alcoholic beverages, labeled as juice. They grow muscadine and vinifera grapes, but also ship grapes in from California. While they do offer sweeter wines, featuring the full and fruity muscadine, they do have some dryer wines to try, like Cabernet Sauvignon
and Chardonnay. And If you are feeling adventurous, be sure to try their Palmetto Pepper, a jalapeño wine.
After our tasting, we found a picnic table in the shade on the grounds behind the main buildings. A band played live music – a regular occurrence on the weekends during peak season. They also have a food truck onsite, good for those who'd rather not bring their own. We grabbed a glass of Magnolia wine along with some food truck grub and sat back and enjoyed Low Country life.
Our favorites: Magnolia, Low Tide, Deep Water Blend Rose, and Starry Sky
1401 Sam Rittenberg Blvd
Charleston, SC 2940
843-872-4201
Dog-friendly: Outside, Patio
If you are looking for a Charleston dog-friendly brewery with a covered patio, look no further than Frothy Beard Brewing Company. They make great pizza and local craft beer to wash it down with. Since they serve food, dogs are not permitted inside, but the attached patio is large and includes a water bowl refill station for thirsty pups. There is some shade – provided by triangle shaped awnings. We ordered two flights of 4 beers (4 oz. each). They have sours, lighter beers, ales, hops, darks and even a cider – along with some non-alcoholic options. We got a mix of sours, lights and cider. If you're a Star Wars fan, be sure to try their Mandalorian inspired Tangalorian, a tangerine kettle sour.
Our favorites: Cider, Tangalorian, and Great White Wit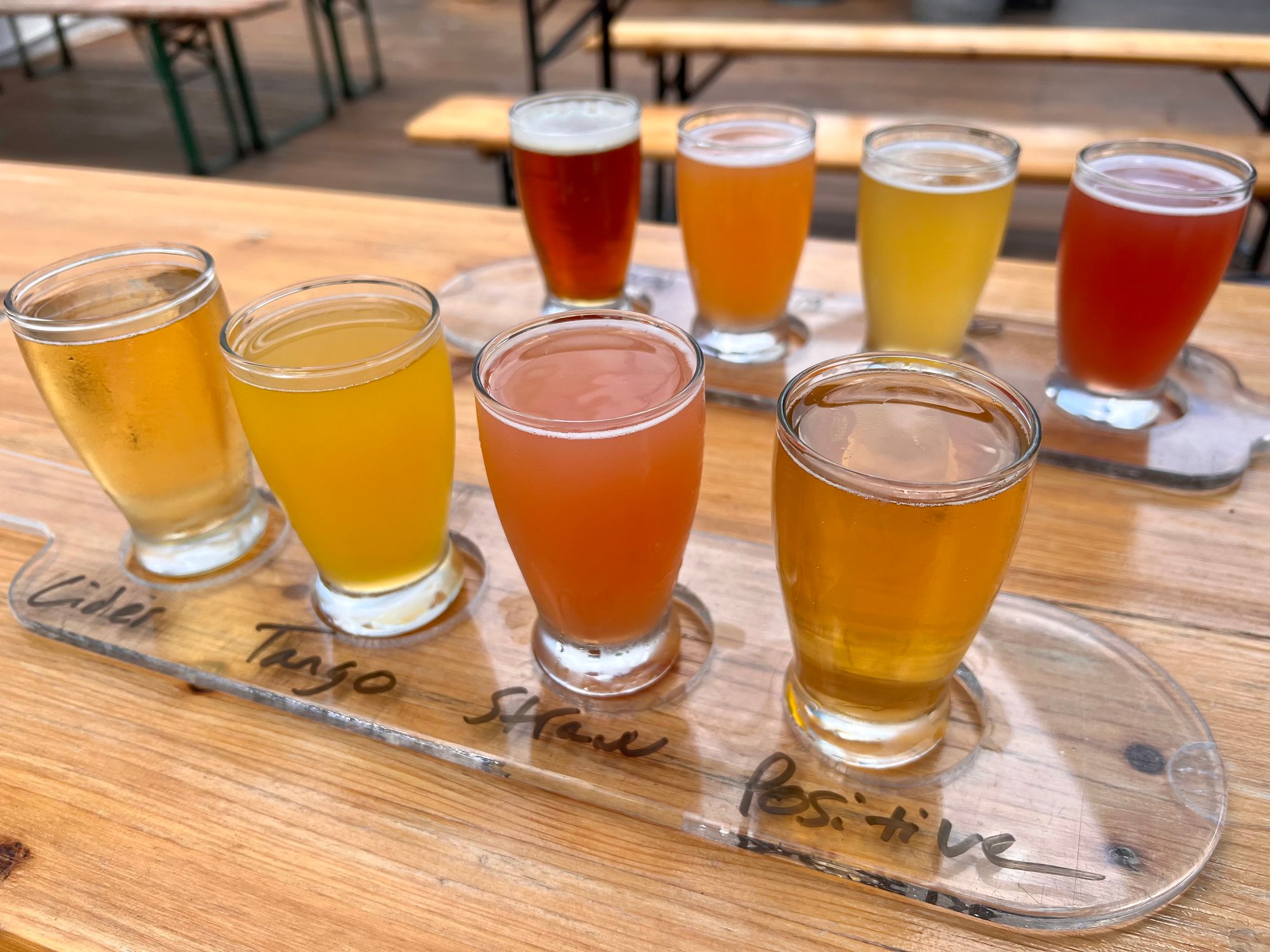 Cork Hounds is an affiliate partner and we will be compensated if you make a purchase after clicking on this ad link.