Sipping Cider in DC / Northern Virginia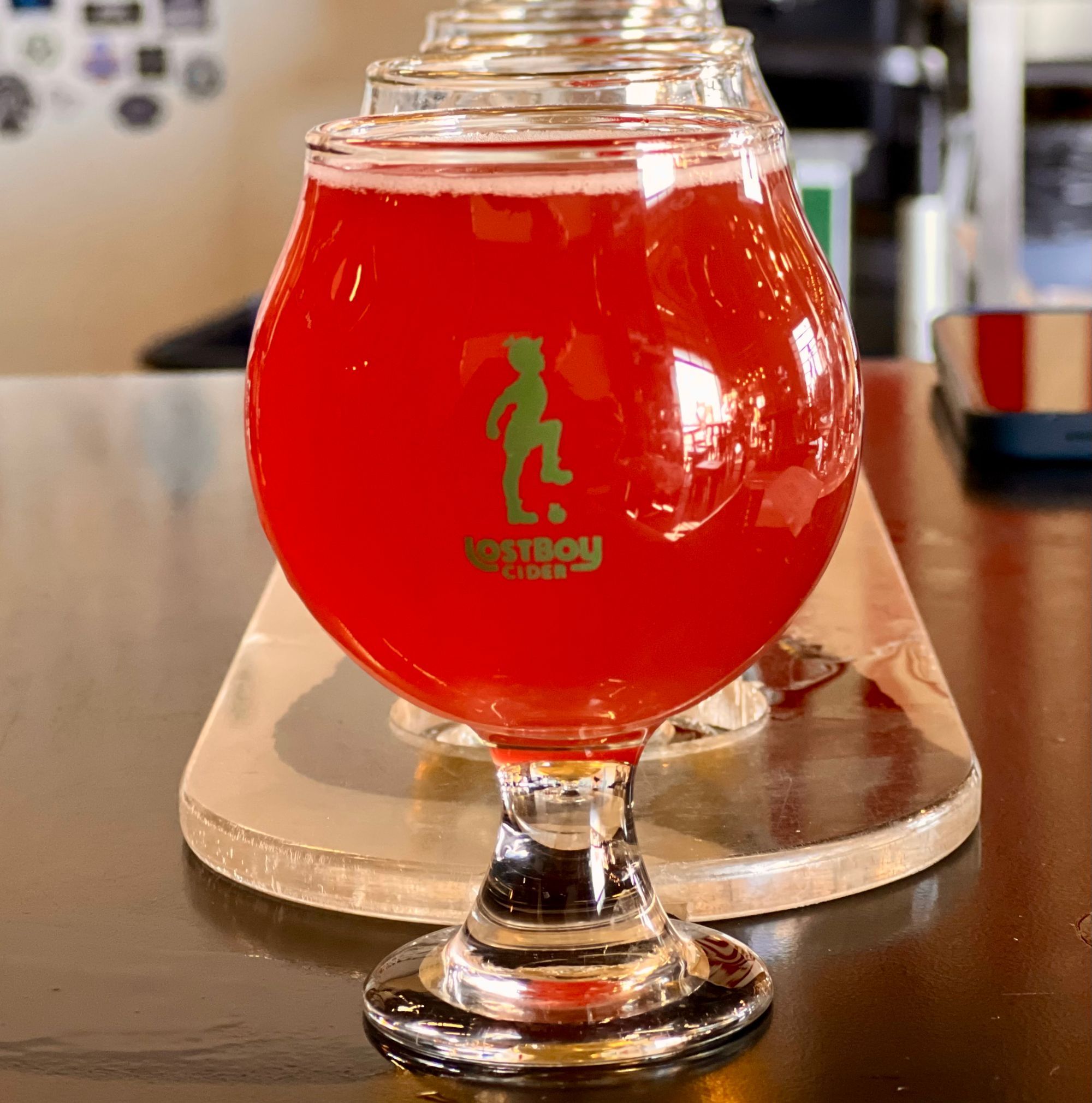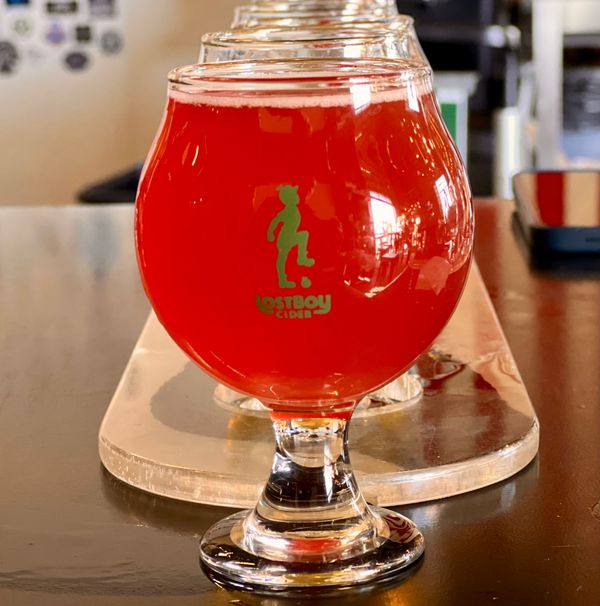 Cork Hounds is an affiliate partner and we will be compensated if you make a purchase after clicking on this ad link.
I love a glass of cider, fermented or not. The crispy refreshing taste hits the spot whether in the fall or during the heat of the summer. Cider has a long and storied history in this country. Early settlers planted apple trees in abundance (thank you Johnny Appleseed) and pressed the fruit into cider – which was often safer to drink than water.
Some cider factoids: Washington state is the nation's top apple producer, followed by New York and Michigan. It takes about 36 apples to make one gallon of cider. No, cider is not a kind of beer. Because it is fermented like grapes, it's more closely related to wine making. When you visit a cider house, call it a cidery or a winery, but please don't call it a brewery.
Cork Hounds recently visited some cider tasting rooms near our home base of DC / Northern Virginia. All offered a wide variety of ciders – many infused with other fruits, like mango, peach and blackberry. If you're in the area, be sure to stop by these establishments or use our database to explore cideries in your own neck of the woods. And if you run a cider house, please add your information to our database! We'd love to help bring more customers to your door.
Cideries visited:
3930 Georgia Ave NW, Washington, DC 20011
202-621-0982
Dog friendly: Outside
As urban as it gets, Capital Cider House is located in DC's up and coming Petworth neighborhood. Accessible via Metro train, green and yellow lines, Capitol Cider makes for a great pit stop if you are visiting DC and utilizing the mass transit system to tour all the museums and monuments. Small pets in a carrier are allowed to join you on public transport in Washington, D.C. They are allowed on both Metrorail and Metrobus, as long as they are in a secure container the entire time.
If you are bringing your dog, there is an outside area with picnic tables that you can hangout in. Dogs are not allowed inside, unfortunately. Capitol Cider has mainstay ciders like, Cuvee (light+crisp) and Grape Crush (smooth+fruit) and Hot Damn Peach (peach+spices) as well as small batch experimental offerings like, Apple Bottom Greens (infused with Yaupon tea) Dark Mango (mango black tea+honey) and Blackberry Mosaic (blackberries, sage+mosaic hops). You can get a tasting flight of four or by the glass. I personally enjoyed the Dark Mango.
317 Hooffs Run Dr, Alexandria, VA 22314
703-566-5737
Dog friendly: Outside, Inside tasting room – there's a grassy area directly across the street with a doggie poo station. Ideal for must needed potty breaks.
Located in a large industrial warehouse, Lost Boy Cider has ample indoor and outdoor seating. The outdoor area has roughly 8 picnic tables. The tasting room is "open-air" and configured to allow "customers to become part of the cellar with direct access to our tank farm and lab." The servers bring water bowls for the pups to your table, a very thoughtful gesture, especially on a warm day. Lost Boy offers a wide variety of ciders – available by the glass in flights. Their seasonally changing limited releases include, Cherry Blossom, Ruby Red and Plum Wild. They also have a cider that tastes like wine, called Wine Time. I personally enjoyed the co-fermented raspberry Wingman (inspired by the movie Top Gun).
5909 Long Fall Ln, Delaplane, VA 20144
571-484-0735
Dog friendly: Outside, Inside tasting room
Cobbler Mountain Cider is in fact on a mountain in rural Virginia. It's about an hour's drive from DC. The trip is scenic and traffic is typically light. Once you park the car, it's a steep, but short walk to the tasting room. Cobbler Mountain has just about every apple+fruit flavor you can think of – cranberry, mango, grape, strawberry, pomegranate and more. They even offer some non-fruit flavors like ginger and snickerdoodle. I highly recommend getting some flights to share so you can sample a wide variety. Or grab some bottles to go and continue tasting when you get home. It's a bit tight inside, with several large tables on the first and second levels, but plenty of outdoor seating if the weather cooperates. City life will seem a world away as you sip and look out over the countryside!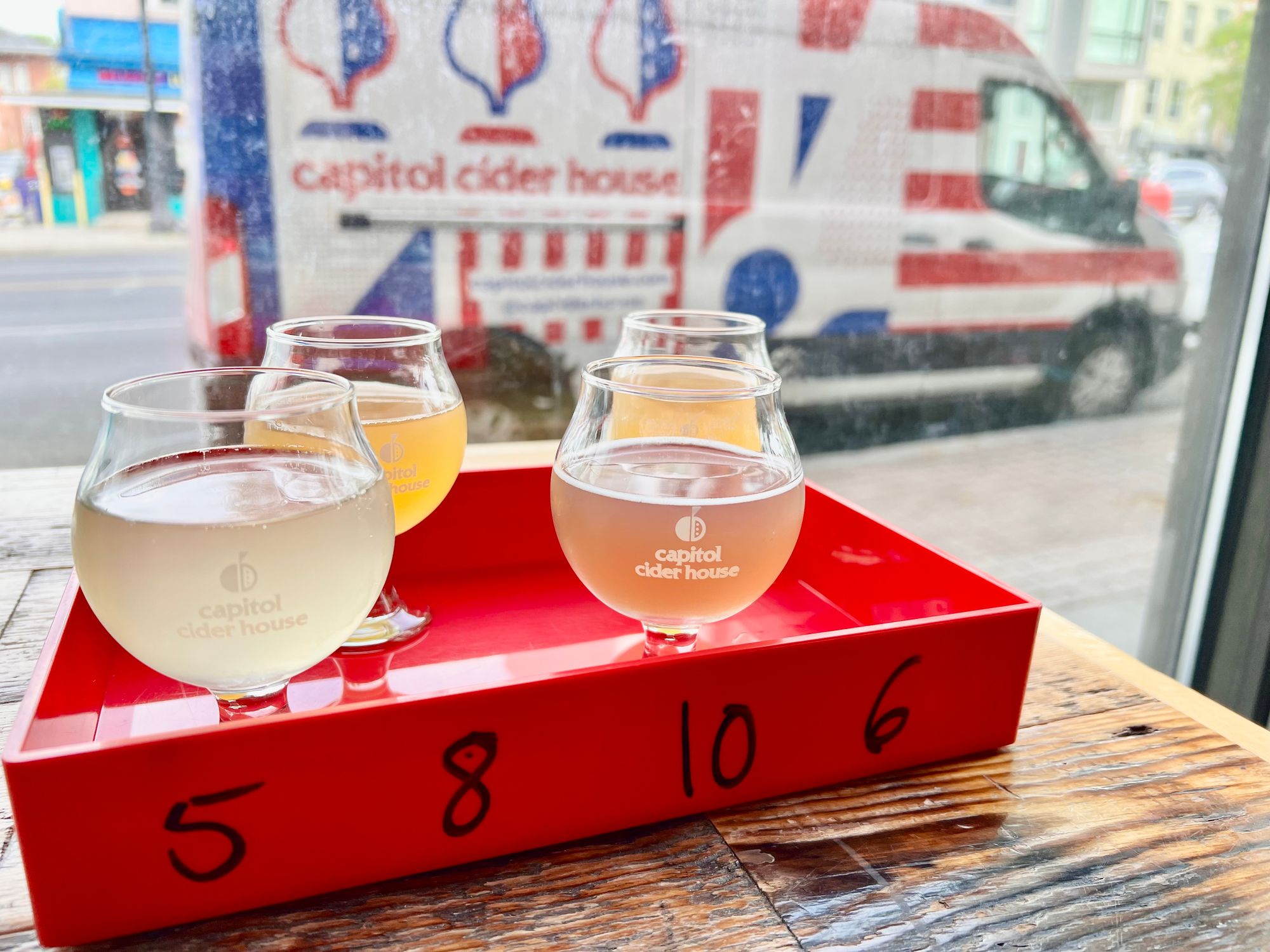 Cork Hounds is an affiliate partner and we will be compensated if you make a purchase after clicking on this ad link.