Exploring A Dog-Friendly Vineyard Near Orlando, Florida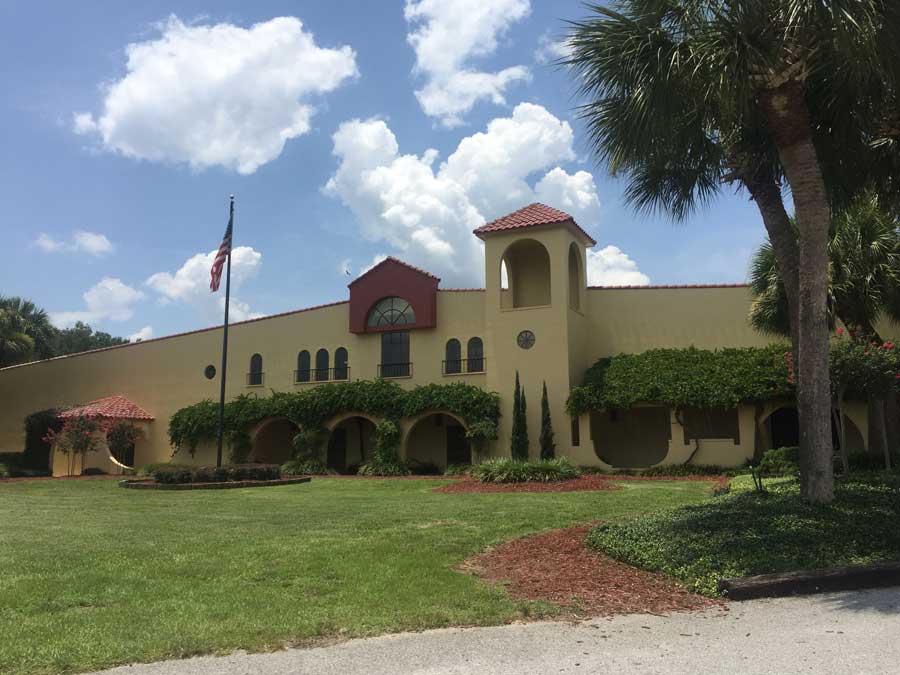 Cork Hounds is an affiliate partner and we will be compensated if you make a purchase after clicking on this ad link.
Florida may be best known for its oranges but there is another fruit that is gaining in popularity, grapes! The muscadine grows well in Florida's heat and there are some adventurous cultivators turning grapes into wine. While there is no Florida wine-region, most of the wineries are dotted along the coast and mid-region. So if you are seeking a break from Florida's big crowded theme parks, venture out to a winery and toast these intrepid winemakers. Cork Hounds recommends visiting LakeRidge Winery & Vineyards
Table of Contents:
Vineyard to Visit
Weekend Trip
Local Sites
Other Vineyards
---
Vineyard to Visit
19239 U.S. 27 North
Clermont, FL 34715-9025
352-394-8627
Dog-friendly: outside, on the porch and in the tasting room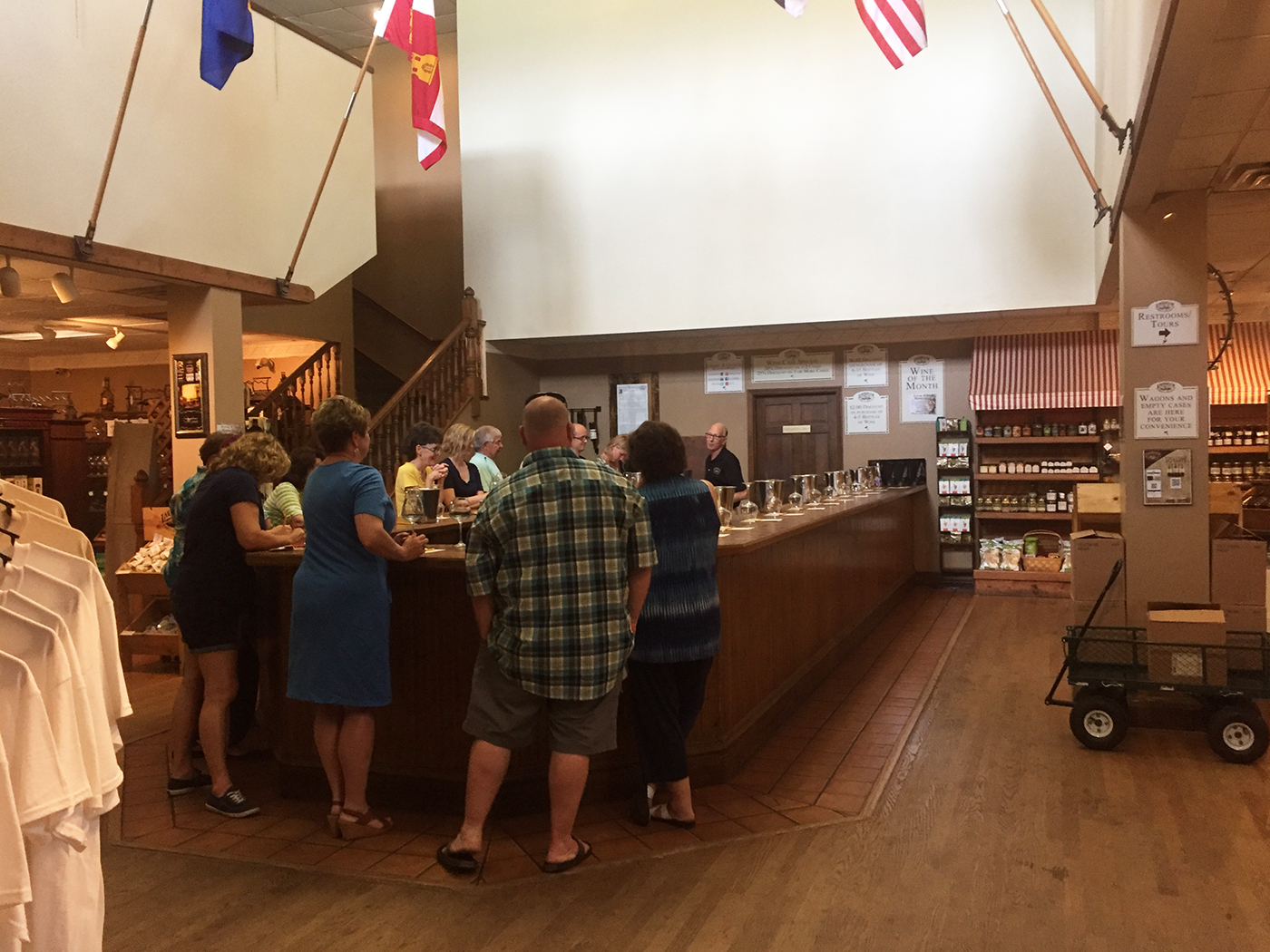 Photo of inside the LakeRidge Tasting Room. Photo by Jeremy Glesner, All Rights Reserved
Located about 40 minutes from Orlando, is LakeRidge Winery & Vineyards. Just off Route 27, this winery sits atop a hill offering views of the surrounding area. Tall palm trees line the driveway that leads to the large Tuscan inspired main house. A giant u-shaped tasting table serves as the focal point to the interior. They like to fill up the table before starting a tasting so don't be surprised if you're asked to wait 10 minutes or so for the next tasting to officially begin. They offer tours of the facility and vineyard for those interested in seeing how they prepare the grapes.
Award winning wines: Blanc Du Bois, Chablis, Crescendo
Our favorites: Pink Crescendo, Sunblush
---
Weekend trip
Dog-friendly hotels, inns and B&Bs:
Search Bring Fido:
<a href="http://www.bringfido.com/lodging/city/orlando_fl_us/?arrival=None&adults=1&fee_under_25=False&rate_low=0&multiple_allowed=False&departure=None&dogs=0&rate_high=1000&rating_high=5&rooms=1&rating_low=0&large_allowed=False&nofee=False&deposit_only=False&type=&children=0&location=Orlando%2C+FL%2C+US
Search Homeaway:
Homeaway Dog Friendly Rentals
---
Local Sites:
If you're visiting Florida, it's likely for their world renowned theme parks, Walt Disney World and Universal Studios. Keep in mind only service dogs are allowed at the parks. Probably for the best, as they can get overly crowded, especially during the summer months. Plus temps soar into the high 90s making for a repressively hot time. Consider taking your buddy to a local doggie day spa or hiring a reputable sitter to keep him/her company while you're take in the attractions.
Disney and Universal Studios
Disney has four parks for you to consider, Disney World, Epcot, Hollywood Studios and Animal Kingdom. Each offers its own unique theme and adventures. Many hotel deals offer admission to your choice of parks included in the final price. Universal Studios has two parks for exploring, Universal Studios FL and Islands of Adventure. Best known for their Harry Potter experiences, the parks also have a variety of themed rides based on popular TV shows and movies. Both Disney and Universal offer separate water parks for those who like to get wet on their vacations.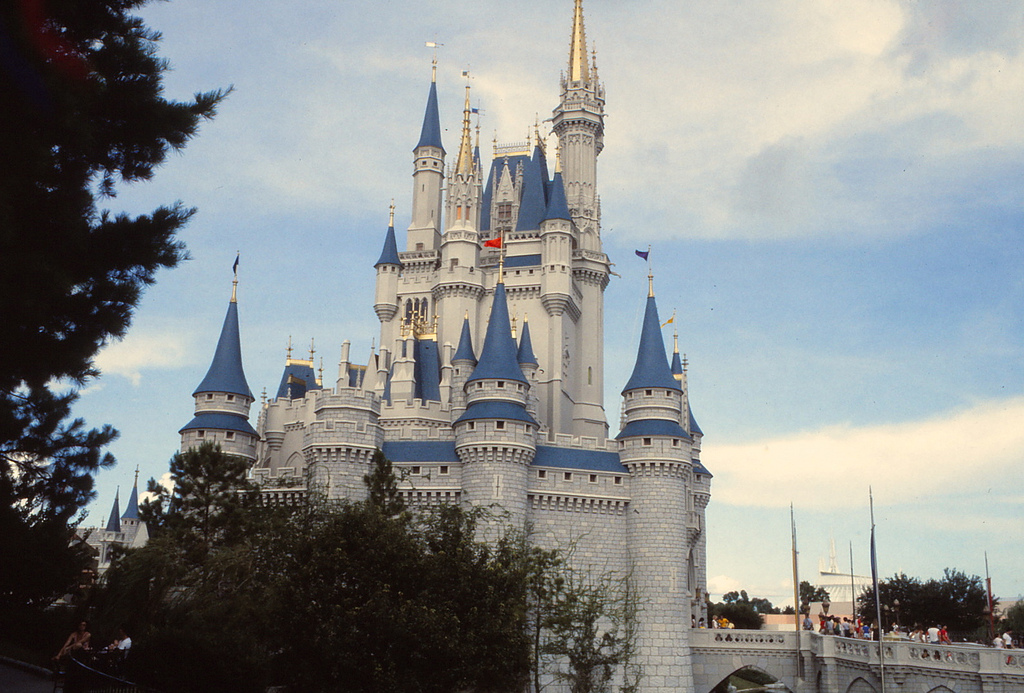 Photo of Cinderella Castle at Disney World. Photo by Barbara Ann Spengler / CC BY-SA 2.0
---
Additional wineries to visit
Given Florida's wineries number in the 20s, and spread out across the state, trying to hit more than one in a day isn't advisable. But if you have time to spare, plan another day trip to one of the following wineries:
5202 W. Thonotosassa Road Plant City, FL 33565
813-752-9100
Dog-friendly: outside, on the patio and in the tasting room
Fruits like blueberries, peaches and yes oranges are the stars at Keel and Curley Winery. Blueberry wine is their signature, try all three kinds, made with 100% blueberries. They also offer a Peach Chardonnay, a blend of grape wine and fruit juice. And since you're in Florida, be sure to taste the Tangerine Tango Zinfandel, made with white Zinfandel grapes and "a touch of Florida Tangerine."
1317 SR 100, Box 98 Grandin, FL 32138
386-659-1707
Dog-friendly: outside, on the porch and in the tasting room
Tangled Oaks offers a variety of Muscadine inspired wines. Try their popular Nobel Red and Carlos. They also have a fruit blend called Holiday Cheer, "perfect for the holidays."
Cover Photo is of the Winery and Tasting Room at LakeRidge Winery & Vineyards. Photo by Jeremy Glesner, All Rights Reserved

Cork Hounds is an affiliate partner and we will be compensated if you make a purchase after clicking on this ad link.