Exploring Wineries and Breweries Along Virginia's Northern Neck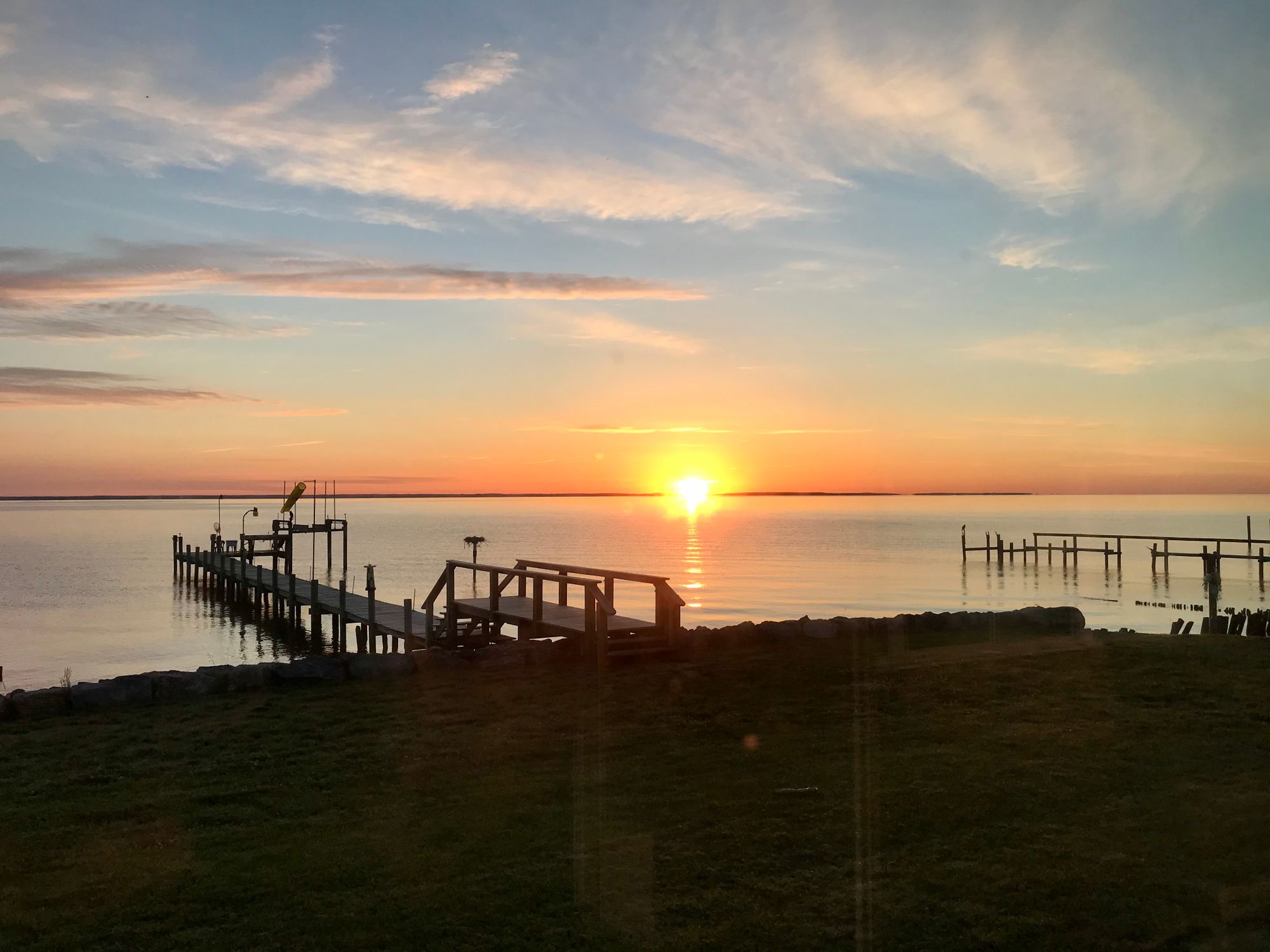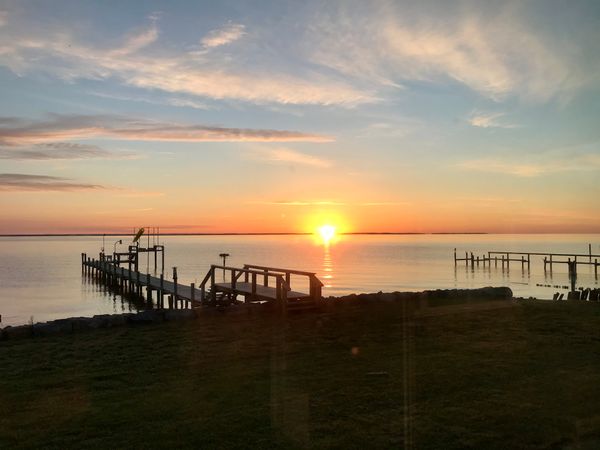 It's been well over a year since Cork Hounds hit the road in search of new vineyards/breweries to explore and share with you. The pandemic put a halt to our trips in 2020 -- Folly Beach, South Carolina; Livermore, California -- canceled because of COVID-19. But now, with the vaccine in wide-spread use and places opening back up to full capacity, we are venturing out once again in search of great wine/beer with our pups in tow.
Virginia's Northern Neck, a strip of land separated by the Potomac and Rappanatock rivers, is a world away from the hustle and bustle of the DC-metro area. About a 2-3 hour ride (depending on your location) and you will find yourself in the country surrounded by farmland. This sparsely populated area feels underdeveloped -- in a good way.
We used VBRO to find/book a vacation rental. What we came for was the "rivah", as the locals call it. Our home away from home for the week provided us with a magnificent view of the Potomac. Each morning we were treated to an amazing sunrise over the water.
We visited 3 vineyards and a brewery during our trip. This was in fact our first official stop at a brewery -- we have started to expand the focus of Cork Hounds to include these dog-welcoming watering holes as well!
Table of Contents
Vineyards/Breweries to Visit
Weekend Trip Accommodations
Local Sites
Vineyards/Breweries to Visit
170 White Fences Dr
Irvington, VA 22480
804-438-9463
Dog-friendly: outside, on the patio, inside the tasting room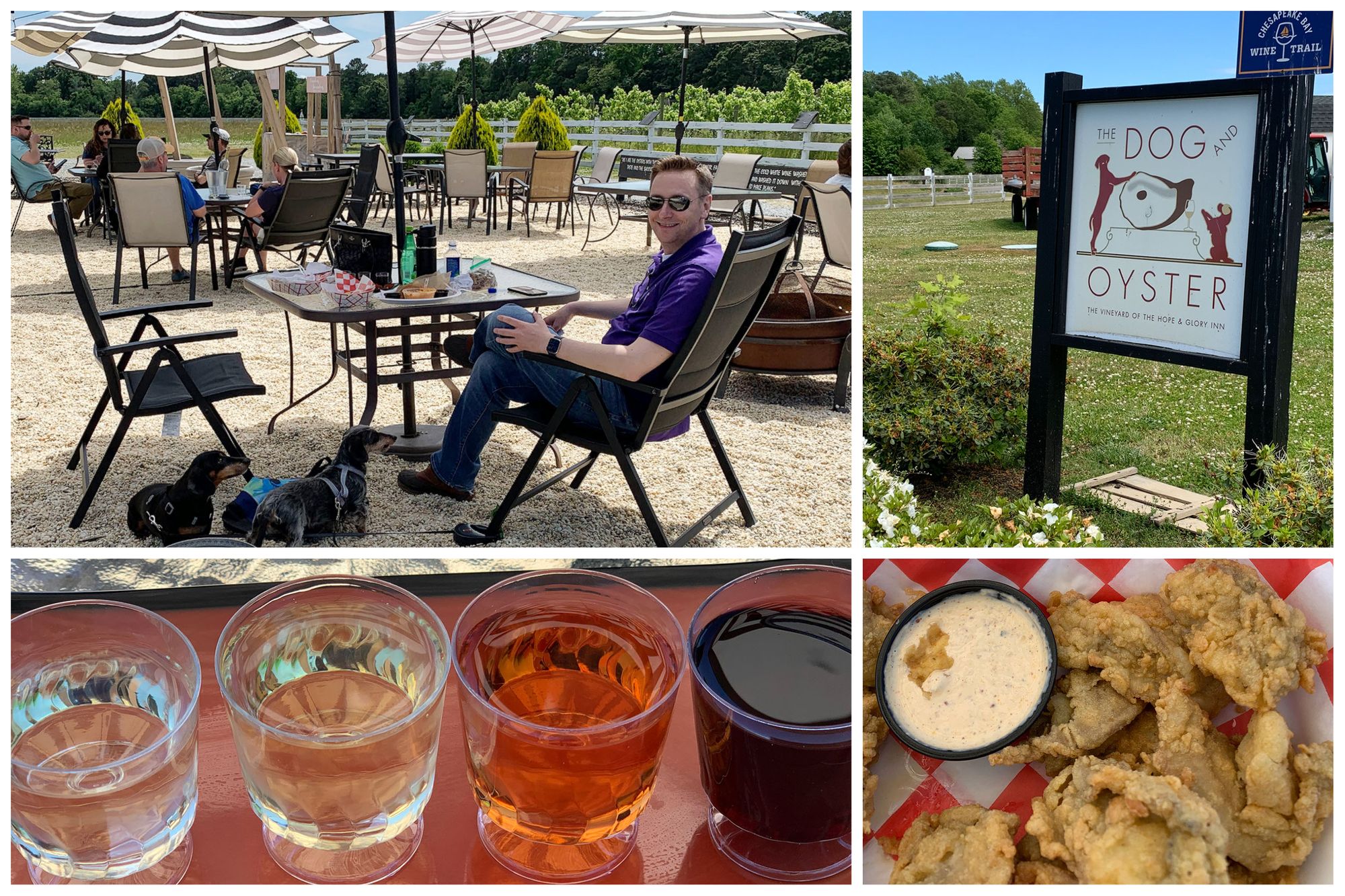 Photos of The Dog and Oyster Vineyard. Photos by Peggy Mihelich, All Rights Reserved
Wine and oysters, a match made in heaven. At the Dog and Oyster Vineyard they've developed their wines to pair with succulent oysters pulled from the nearby Rappahannock River. The oysters are served raw, grilled or fried. They are plump and tasty. Be sure to visit on the weekend if you want oysters -- they don't offer them on weekdays. They have four wines for tasting -- two whites, a rose and a red. We think the oysters pair best with their Oyster White blend and Pearl (Vidal Blanc). The gravel patio area provides a perfect spot for you to sip and slurp, with your pup nearby. They provide water bowls and there is some space around the vineyard to walk your dog. And, they have two kissing booths for photos, one for humans, and one for dogs (and their humans)!
Our favorites: Oyster White blend and Pearl (Vidal Blanc)
Now that we have a firm grip on dog-friendly wineries and vineyards in the U.S., it seemed only logical to expand into breweries. It's going to take us some time to track them all down and collect their data, but we are determined, so be on the lookout.
129 Northumberland Hwy Box 506
Callao, VA 22435
804-529-1042
Dog-friendly: outside, on the patio, inside the tasting room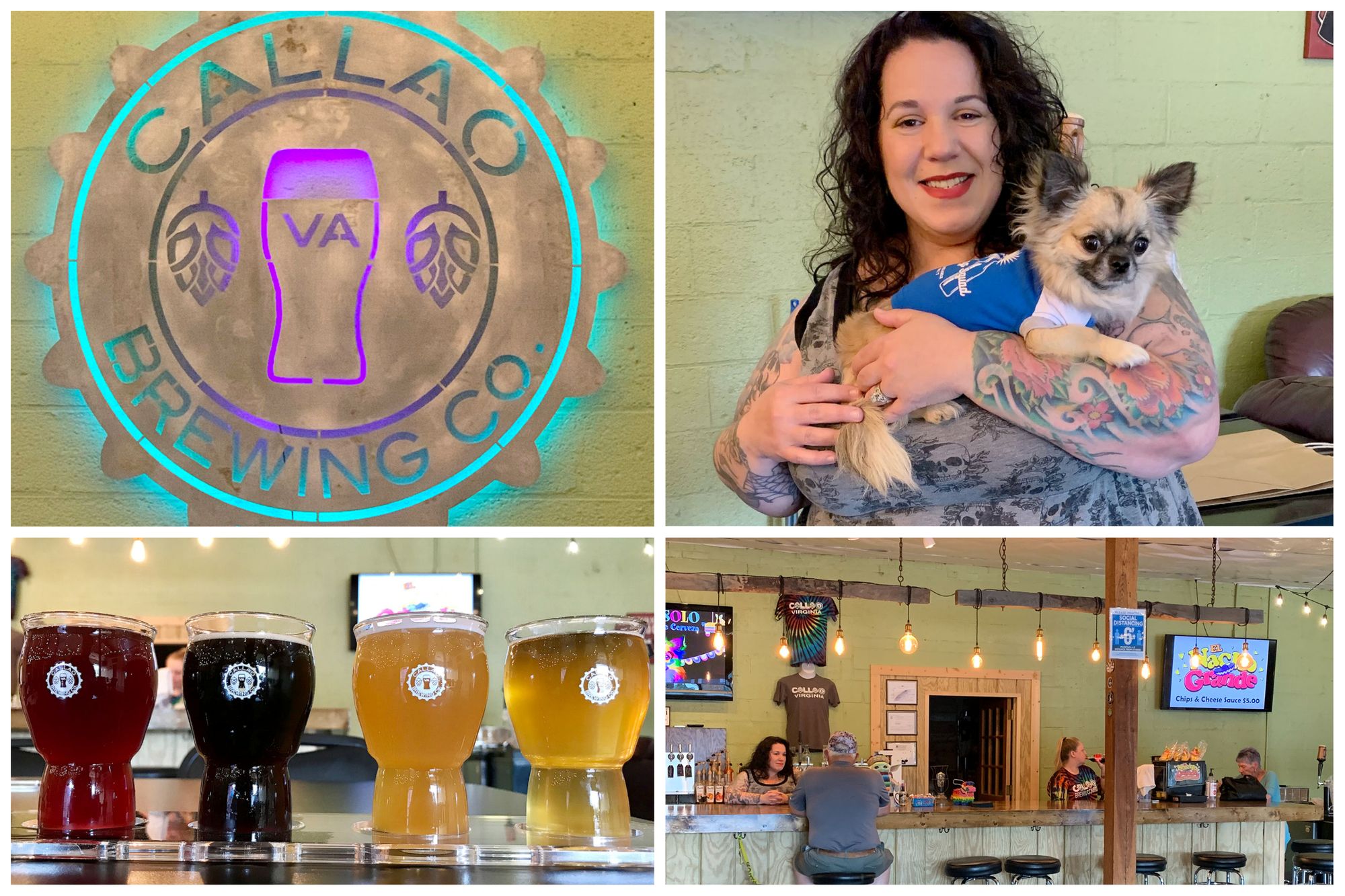 Photos of Callao Brewing Company. Photos by Peggy Mihelich, All Rights Reserved
The town of Callao, Virginia is a blink and you'll miss it kind of place. But don't blink, because you'll miss out on a gem of a brewery. Callao Brewing Company offers 16 craft beers and a non-alcoholic root beer -- all on tap. The tasting room is big and airy. They have some old school arcade games (Mortal Kombat and Street Fighter to name two) off to one side and ample seating in front of the large bar. We were greeted by one of the owners, Susan and her dog Teddy. She and her husband opened the brewery a few years back. They offer beers by the pint or you can get a flight of four. We ordered flights and enjoyed absolutely every brew we tried. They don't sell food except for chips and dip; however, you can purchase something to eat from the food truck next door and bring it inside or sit on one of the picnic tables out front. We opted for the BBQ sandwiches and a place inside. Susan brought our dogs a nice refreshing water bowl and she said she typically has treats on hand for her furry visitors.
Our favorites: Heathsville Honey Ale, Harryhogan Hefenweizen and Brew Wayne (Black IPA)
8268 Cople Hwy
Hague, VA 22469
804-472-5283
Dog-friendly: outside, on the patio, inside the tasting room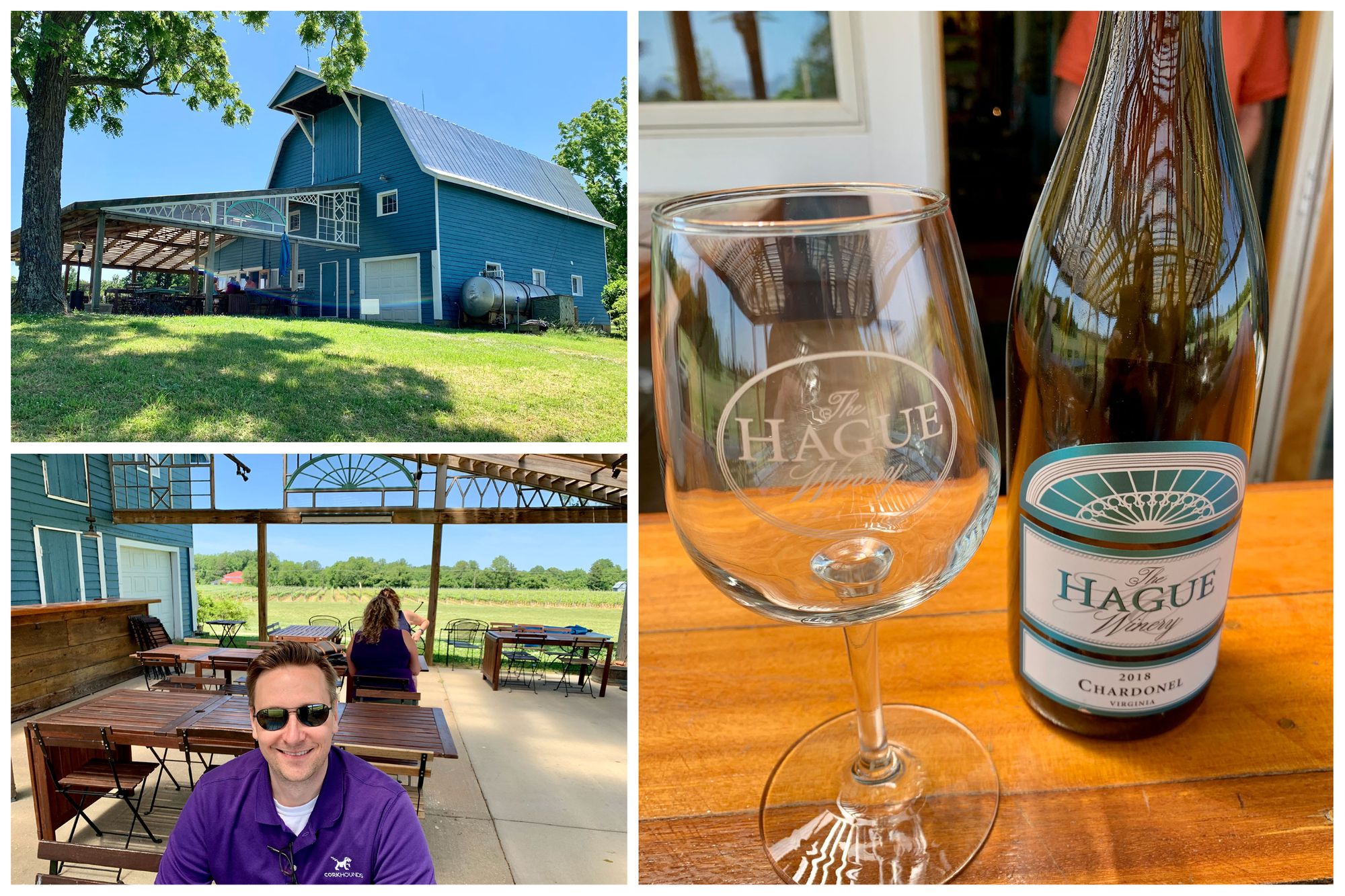 Photos of The Hague Winery. Photos by Peggy Mihelich, All Rights Reserved
The Hague Winery's covered patio is an ideal place to drink wine and munch on meats and cheeses. The patio is large and airy. The views of the vines and surrounding countryside add to the ambiance. The patio is conveniently attached to the winery's tasting room -- a barn painted in a cheery blue shade. There's a bar set up on the patio so you don't even have to go into the tasting room -- but you should pop in. There's goodies for purchase and wine lover gifts all along the back wall. Hague has a limited selection of whites and reds on the menu. When we stopped by they had two chardonels -- a 2018 and 2019. But our favorite wine was the steel barrel Chardonnay -- crisp and refreshing on a bright sunny May day. The pups chilled on the cool pavement patio while we sipped and ate.
Our favorites: Chardonnay
1618 Weldons Dr
Hague, VA 22469
804-472-3172
Dog-friendly: outside, on the patio, inside the tasting room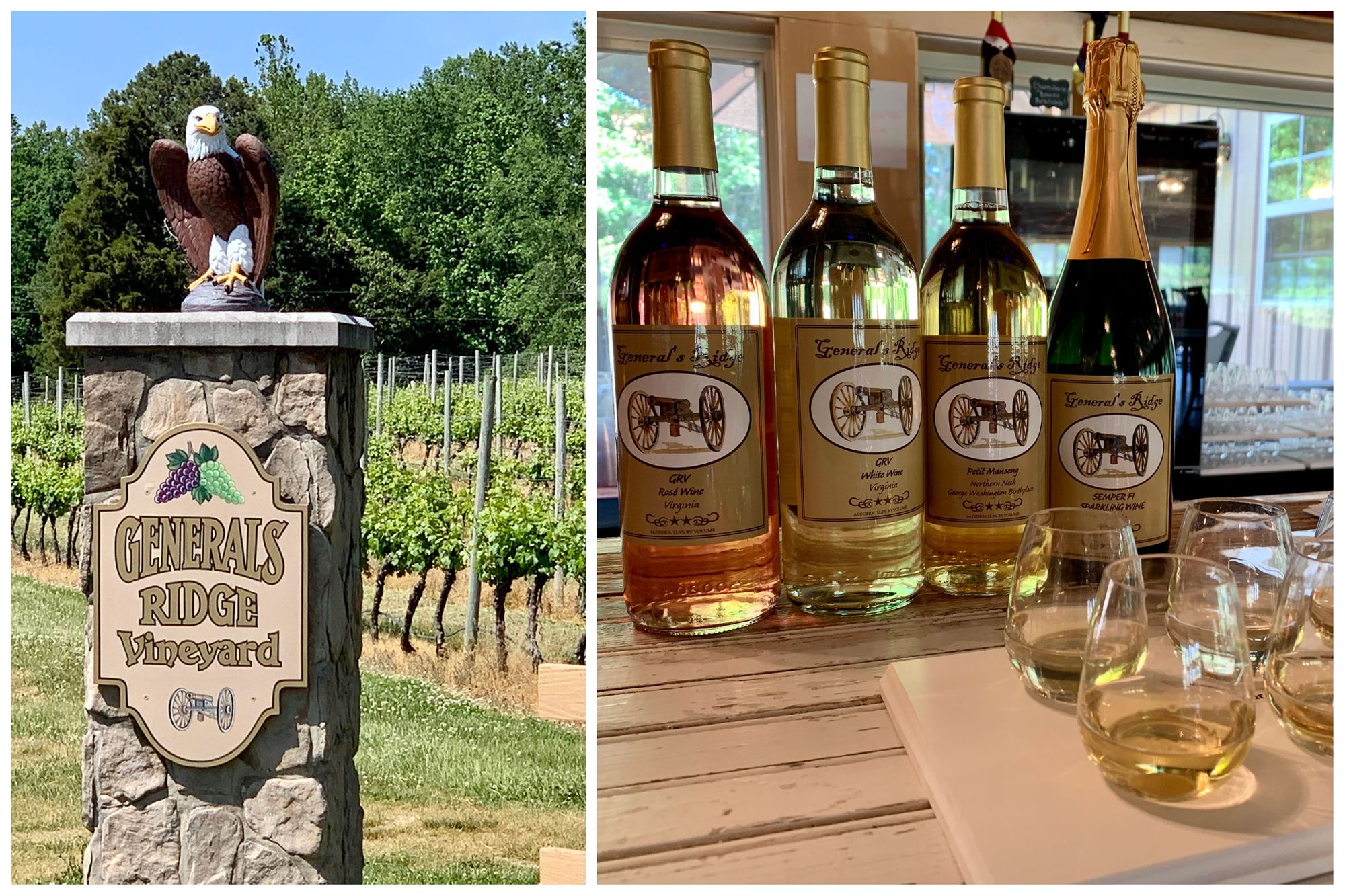 Photos of General's Ridge Vineyard. Photos by Peggy Mihelich, All Rights Reserved
General's Ridge Vineyard's owner is a retired 2-star Marine Corps general --- thus the name. Drive through the grapevines past the 1800s farmhouse to the Somewhere in Time tasting room -- a large one level space with ample indoor seating. They grow their own grapes at General's Ridge; in fact, they grow so much that they ship out most of it for sale to other wineries. They offer 8 whites and 6 red wines for tasting. We decided on a white tasting (6 total) -- it included one rose. The GRV White is the perfect summer white table wine. Smooth with tropical fruit notes -- just slightly sweet. We also enjoyed the Sparkling Semper Fi and Petit Manseng. We walked out with 4 bottles.
Our favorites: GRV White, Viognier, Petit Manseng and Sparkling Semper Fi.
Additional Brewery to Visit
15381 Kings Hwy
Montross, VA 22520
804-729-9991
Apparently, Montross is famous for Ginger Ale. The village was once home to its own bottling company. In addition to offering 18 small-batch beers, Montross Brewery & Beer Garden makes their own "old fashioned ginger ale." It's made with cane sugar, real lemons, and fresh ginger.
Dog-friendly: outside, on the patio/beer garden, inside the tasting room
Weekend Trip Accommodations
Search BringFido and/or VBRO to find dog-friendly rentals, hotels, inns and B&Bs at a location that fits your travel plans:
Search Bring Fido
Search VBRO
This charming inn was originally a school house. It is owned and operated by the Dog & Oyster Vineyard.
This state park offers cabins and lodging for a week stay during the summer months and weekends at other times of the year.
Local Sites
If you have additional time to explore Virginia's Northern Neck, I would suggest visiting the following:
Walking trails, beaches, fishing and boating opportunities await you at this state park. It's located six miles northwest of Montross, just off Route 3. See their pet policy.
Cover photo of the sunrise over the Potomac River along Virginia's Northern Neck. Photo by Jeremy Glesner, All Rights Reserved