I lived in Atlanta, Georgia for 12 years, and in all that time I never ventured north toward the mountains, despite being able to see them from my condo in Midtown. But recently, Jeremy (my Cork Hounds partner), and I visited Atlanta for a family wedding with my dog Greta in tow. On the Sunday following the festivities, we drove up to the North Georgia mountains to check out two dog friendly-vineyards. It took us a little over an hour traveling through the rural roads that straddle up the mountainside. Traffic was light, which made for a carefree day trip.
Table of Contents:
Vineyards to Visit
Weekend Trip Accommodations
Local Sites
Another Vineyard to Visit
Vineyards to Visit
Engelheim Vineyards
http://www.engelheim.com/
127 Lakeview Road
Ellijay, GA 30540
706-635-9463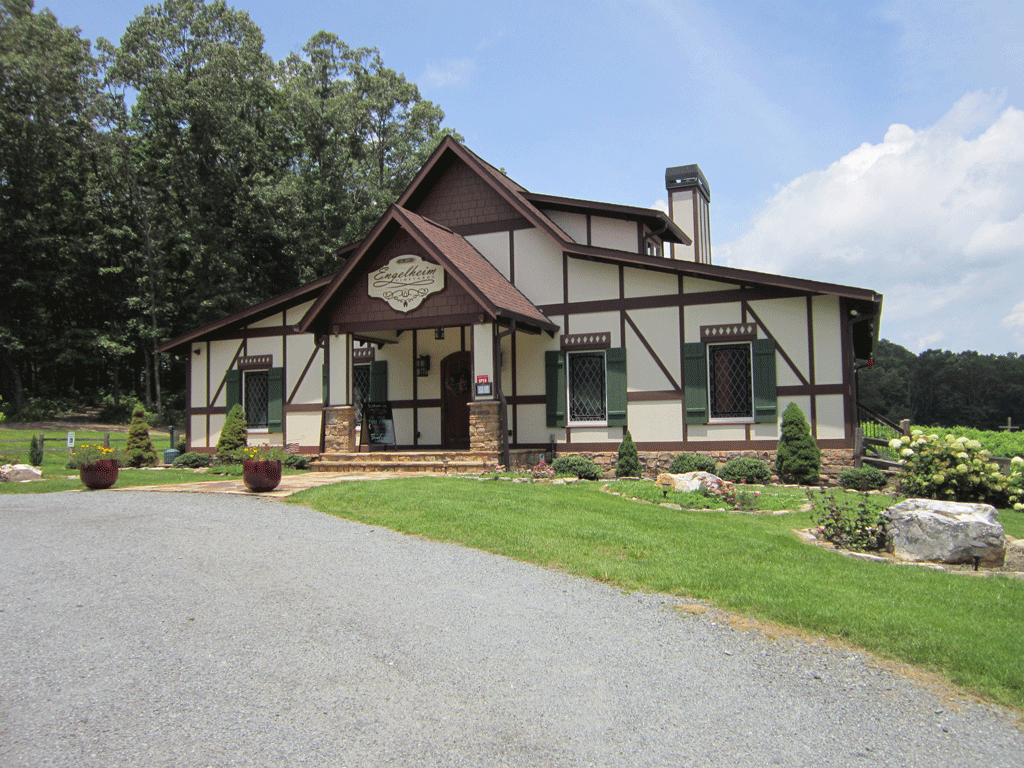 Photo of the tasting room at Engelheim Vineyards. Photo by Jeremy Glesner, All Rights Reserved.
Willkomme to Engelheim, a German inspired vineyard with chalet-style tasting room in Ellijay, Georgia. The tasting room sits in the middle of a large, lightly wooded area (great for walking your pooch), with a long gravel covered driveway that leads to plenty of parking. Dogs are welcome inside, on the patio and on the grounds.
When we first arrived, we noticed a nice outdoor patio with tables/umbrellas. We headed indoors to find a very lovely, visually appealing, and cozy space for guests. There are decorative writings (in German) on the walls, wonderful woodwork, a stunning brick fireplace, elegant couches, and high-back chairs that form the focal point of the main room. There are additional tables and chairs near the bay windows, and access to a second attached, glass-enclosed patio off of the main room.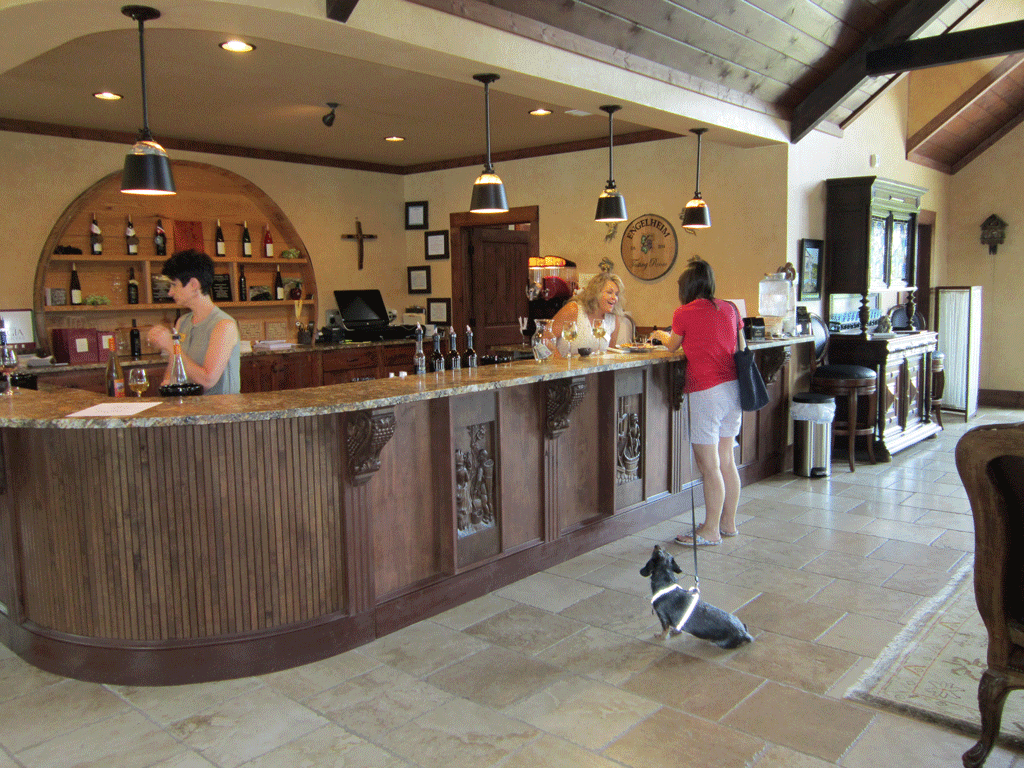 Photo of inside the tasting room at Engelheim Vineyards. Photo by Jeremy Glesner, All Rights Reserved.
The selection of wines at Engelheim Vineyard's ranges from dry to semi-sweet and sweet. Of note, this was our first time tasting a dry Gewürztraminer (labeled as Edelweiss), which was quite good. Be sure to try the Coco Wein, a dessert wine that "displays elements of a quality German Black Forest Cake" with bits of chocolate (part of the tasting experience). With a glass of wine and cheese plate in hand, take a seat by the large glass window with a view out to the mountains or head for the patio and enjoy some live music. While we visited, there was a great vocal guitarist playing American folk music.
Ultimately, we went for two glasses of the Sweet Molly, and a meat/cheese plate. We had a great time sitting in the main room with Greta, soaking up the atmosphere, sipping wine and talking to some of the guests. While we visited, another couple also sat down nearby in the main room with their adorable dog, Buster.
Our favorite wines: Sweet Molly, Traminette
Award winning wines: Sweet Molly, Petit Manseng, Hummingbird
Sharp Mountain Vineyards
http://www.sharpmountainvineyards.com/
110 Rathgeb Trail
Jasper, GA 30143
770-735-1210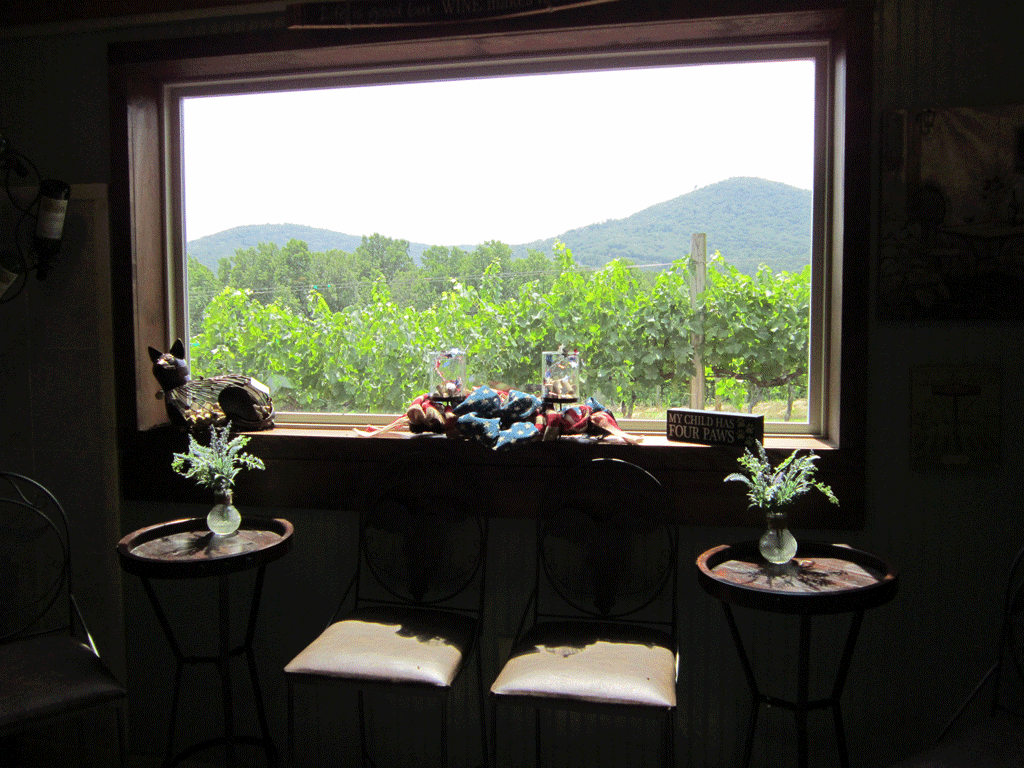 Photo of inside the tasting room at Sharp Mountain Vineyards. Photo by Peggy Mihelich, All Rights Reserved.
The drive from Engelheim Vineyards to Sharp Mountain Vineyards was lovely, making our way through the winding roads of the Georgia mountainside. Once we arrived at Sharp Mountain Vineyards, we noticed that parking is somewhat limited (about 5 spots in front of the main house, and five spots across the street in overflow). The short gravel driveway is lined by rows of grape vines, with a wonderful view of mountain tops in the distance. Dogs are welcome inside, on the patio and on the grounds.
As we walked toward the main building, we noticed a very nice outdoor seating area complete with trellis, and overhanging trees. This seemed like a nice, semi-cool outdoor space where one could sit with their dog and enjoy a nice glass of wine.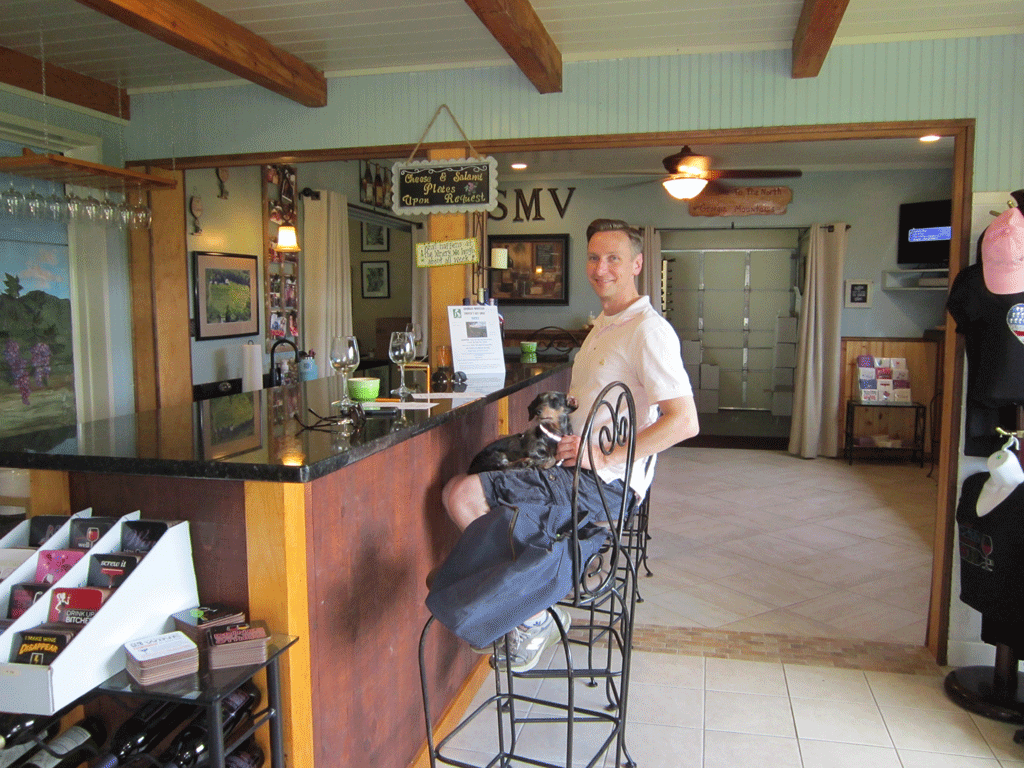 Photo of Cork Hound co-founder Jeremy and my dog Greta inside the tasting room at Sharp Mountain Vineyards. Photo by Peggy Mihelich, All Rights Reserved.
Don't be fooled by appearances. From the outside, the tasting room looks more like someone's home. However, after entering you will find a vintage-style bar complete with wall murals depicting Sharp Mountain, and picturesque window views. Sharp Mountain Vineyards offers a wide variety of wines, from Chardonnay to Cabernet Sauvignon. Because we were visiting in summer, we leaned more toward sampling the sweeter wines. Be sure to taste the Pickens Pink, a sweet blush wine with cherry-berry after taste.
Our favorite wines: Carerra, Pickens Pink, Pinot Gris
Award winning wines: Merlot, Collage, Sangiovese
Weekend Trip Accommodations
If you are able to make a weekend trip out of your visit, search BringFido and/or Homeaway to find dog-friendly hotels, inns and B&Bs at a location that fits your travel plans:
Search Bring Fido
Search Homeaway
Local Sites
If you have additional time to explore the North Georgia mountains, we suggest these local attractions:
Apple Picking
Southern Georgia is where you'll find the peaches, but in northern Georgia they grow apples -- lots of them. Tour one of the many orchards in the area where you can pick your own and sample apple cider, donuts, pies and just about anything else you can think to make with apples. There is even a monument to the North Georgia apple -- the Big Red Apple in Cornelia. It's seven feet high and has a circumference of 22 feet and weighs 5,200-pounds.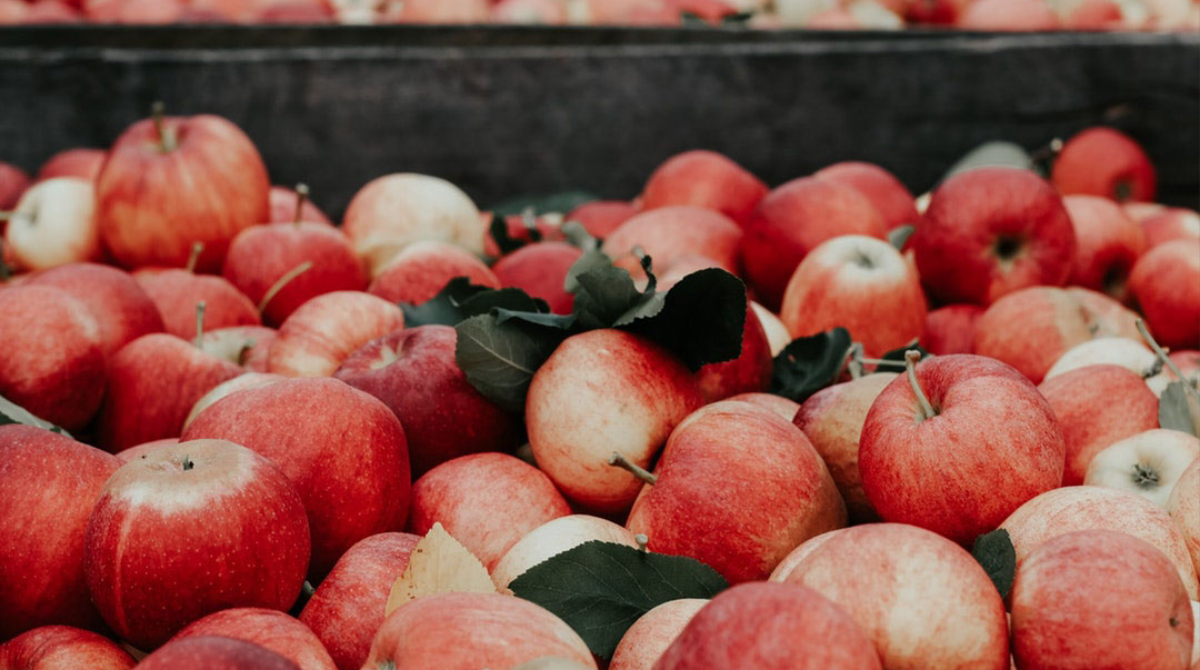 Photo by Joanna Nix shared on Unsplash.
Ellijay
Take a walk or drive through the small town of Ellijay, the 'Apple Capital' of Georgia. The town plays host to an annual Georgia Apple Festival in October. The historic district is has shops, restaurants, entertainment and places to relax and enjoy the cool clean mountain air.
Chattahoochee-Oconee National Forest
The Chattahoochee and Oconee National Forests have more than 500 miles of trails for hikers, off-road vehicles (ORV's), mountain bicycles, and horseback riding. The hiking trails offer a variety of experiences for everyone from expert backpacker to the novice hiker.
Another Vineyard to Visit
Cartecay Vineyard
http://www.cartecayvineyards.com/
5704 Clear Creek Rd
Ellijay, GA 30536
706-698-9463
This vineyard was originally a working farm, dating back to circa 1890. It grew corn and hay, grazed cattle, and raised hogs and mules. But by 2007 it was abandoned and overgrown. New owners cleaned it up and planted grapes vines, and a vineyard was born. This tasting room is a refurbished circa 1890s barn. Dogs are welcome outside and on the patio but not inside the barn tasting room.
Cover Photo by Jeremy Glesner. All Rights Reserved.