Deck the Halls! Exploring Dog-Friendly Vineyards Around Seneca Lake, New York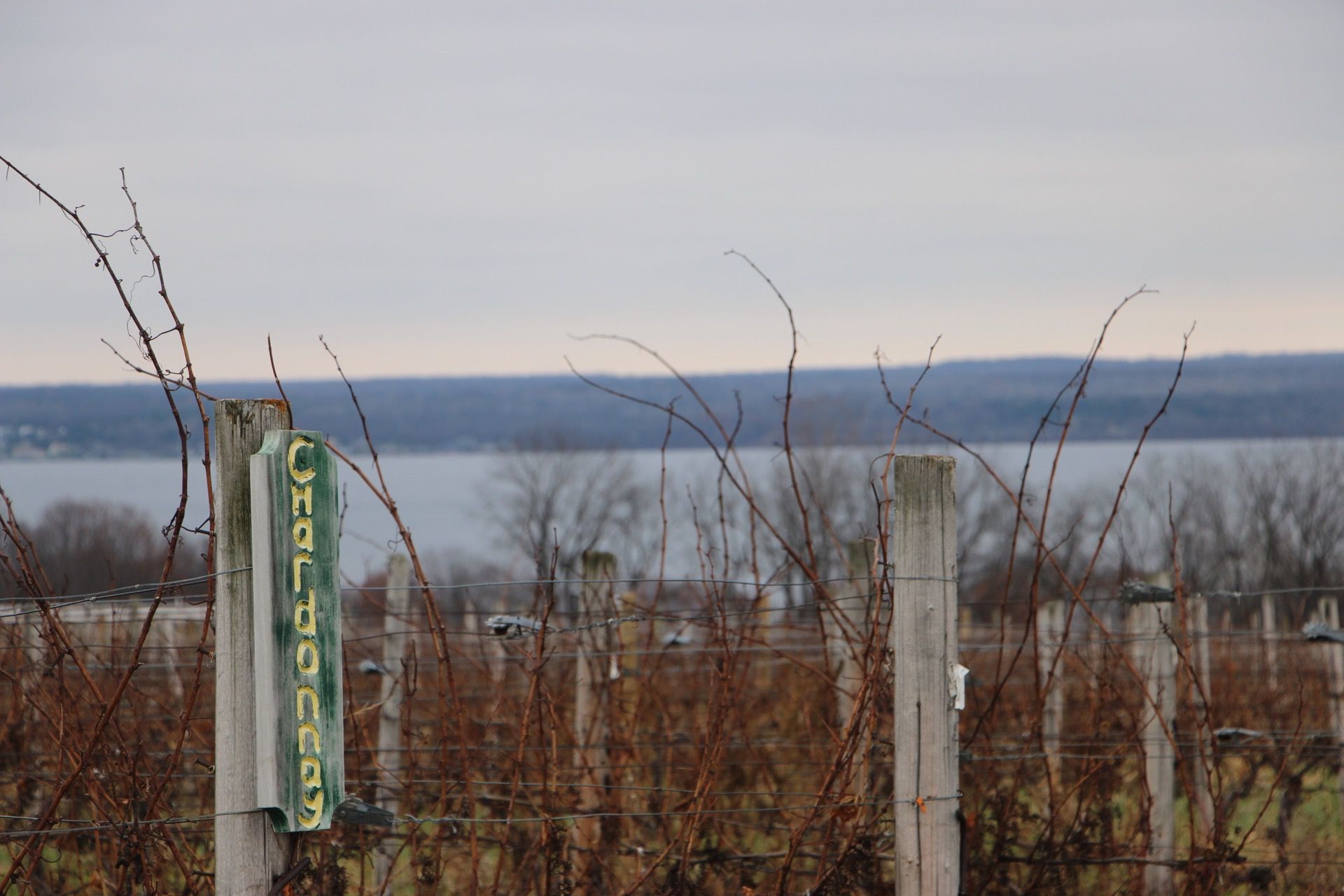 This may be a surprise to you (it was to us): New York state is a top wine producer in the United States -- coming in 3rd behind California and Washington. Much of the grapes used in New York wine, are grown in the Finger Lakes region -- 11 narrow lakes located just south of Rochester and Syracuse. Neither myself or fellow Cork Hounds founder, Jeremy have been to this part of New York, but the "Deck the Halls" event gave us an ideal reason to see multiple dog-friendly vineyards in a short amount of time.
'Deck the Halls' is a yearly event around the lakes (Seneca Lake for our visit) that takes place on two weekends in late November and early December. Some 30 vineyards and wineries participate and the weekends sell out very quickly. For a nominal fee, you can buy a ticket for a single individual ($58) or a couple ($80) from any of the participating vineyards. You must start at the winery from whom you bought your ticket.
People really get into the spirit, dressing up in holiday gear, arriving in groups and party buses -- it's like attending a mobile ugly sweater Christmas party! And yes, Santa usually shows up at one of the vineyards/wineries.
What makes these weekends unique and special are the items you get for visiting each participating vineyard/winery. With a ticket you get a wreath made of grape vines and from each vineyard/winery you stop at, a signature ornament to hang on your wreath. The ornaments are as varied as the vineyards/wineries. Most of the ones we picked up were delicate wooden carved pieces, but some are more simple -- a cork with a hook looped through the top. You'll get to taste 3-4 wines per stop and also receive a small, bite size food pairing meant to compliment the wine. And, if you like the sample, and are curious to know how to make it, they include a recipe book with all the vineyard/winery food pairings. A fun and useful takeaway!
Some people go big and hit all the vineyards/wineries over the course of the weekend. We ran into a couple who had visited 14 wineries the day before and planned on hitting 17 more that day! We aren't that ambitious, and wanted to focus our efforts on visiting the participating dog-friendly vineyards/wineries. We ended up visiting 10 over the course of two days -- four the first day and six on the second day. There are more than 10 dog-friendly vineyards/wineries that we could have visited, but we didn't want to over do it.
How is it possible to visit so many places in such a short amount of time? The 'Deck the Halls' event is set up so that you spend about 20 minutes enjoying your food pairing and tasting the wine. The tasting rooms can get crowded, so you'll be moved through in a timely fashion. The pourers will still tell you about the wines and provide insight, it's just a more compressed experience. You may want to purchase wine, but pretty soon you're on your way to the next winery.
The Finger Lakes region is known for white wines, Riesling (semi-sweet, semi-dry and sparkling varieties), Gewürztraminer and Chardonnay. If you are a red fan, sample the Pinot Noir and red blends. There will be something for everyone's palate.
It's a cold time of the year to visit, so plan to bring warm clothes and good boots. The grounds of the wineries are often wet and muddy — so come prepared. The scenery around the lake is stunning -- you'll see lakefront cottages, old red barn farms and the occasional Amish horse and buggy along your route. If you bring your dog (we brought my dachshund, Greta), depending on the breed, you'll want to bring a coat or sweater to keep them cozy. And because of the mud, a towel for the backseat of the car to wipe those paws down. We only ran into a couple of dogs during our visit -- most event-goers were in caravans or groups, and the tasting rooms were fairly crowded. We ended up carrying Greta most of the time while inside. But that was fine by us.
Perhaps because she was one of the few dogs partaking in the 'Deck the Halls' event, she was very popular with people. She enjoyed all the attention but may have found it all a bit much at times. Regardless, Greta was a great Cork Hound ambassador, and seemed to enjoy our visit to the Finger Lakes!
Table of Contents:
Vineyards to Visit -- Day 1
Vineyards to Visit -- Day 2
Weekend Trip Accommodations
Local Sites
Vineyards to Visit -- Day 1
Seneca Lake is about an hour's drive from Rochester. We flew in on Friday afternoon, rented a car and drove out to our home base for the weekend in Geneva. Geneva is a small town located on the top western corner of Seneca Lake. Our starting winery was an easy rural 20-minute drive from our dog-friendly hotel. There was a light cover of snow on the ground adding to the beauty of the landscape.
930 Davy Rd
Penn Yan, NY, 14527
315-536-6701
Dog-friendly: Outside, On Patio/Porch, Inside Tasting Room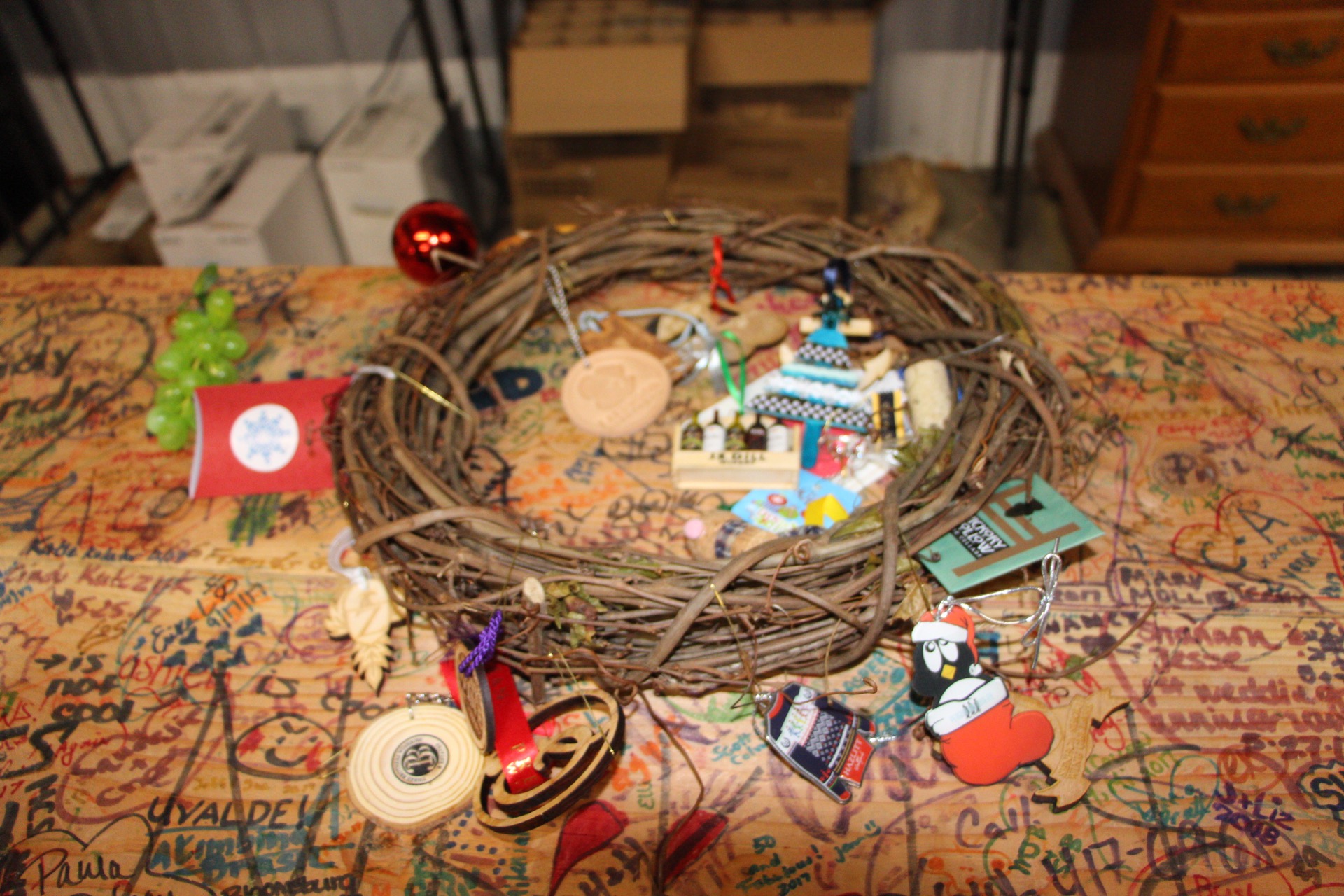 Photo of a 2018 Deck the Halls wreath with ornaments (from particpating vineyards/wineries) sits on the bar at Serenity Vineyards. Photo by Jeremy Glesner, All Rights Reserved.
Located right along Seneca Lake, Serenity Vineyards has been growing grapes since the 1970s and supplying many other local wineries with their grapes. The entrance off the main road offers great views of grapes vines and the lake beyond. The actual tasting room is a large metal barn — simple and utilitarian with corrugated walls and cement floors. But they do have a sofa with a sleepy resident cat that appears oblivious to human and canine visitors. The wooden tasting bartops are filled with signatures from the many guests who have visited over years written with different color pens and Sharpies®, giving them a graffiti-like feel. Cork Hounds added our own mark near checkout. This was our "starting vineyard" where we picked up our wreath, recipe book, a Serenity Vineyards cork ornament and a tasty spiced rice pudding our food pairing.
Our favorite wines: Sweet Serenity White, Dry Riesling
Award winning wines: Sweet Serenity White, Mirth, Merlot, Sweet Serenity White
2634 State Route 14
Penn Yan, NY, 14527
315-536-7524
Dog-friendly: Outside, On Patio/Porch, Inside Tasting Room
A short drive from Serenity, is Prejean Winery. The tasting room is a rustic weathered ranch with welcoming porch. The inside has a cozy Tuscan feel with tile floor, wood molding and sponge painted walls. We had our favorite food pairing of the day here—a white chocolate mousse with berry compote. Delish! Prejean presented us with a delicately carved wooden cursive P for their ornament. We also met our first doggy as we were leaving; an small, friendly and adorable Chihuahua (we believe). As we were plotting our next vineyard stop, we caught sight of a very nice Amish horse and buggy headed south on Route 14. The surrounding area is home to a sizeable Amish population.
Our favorite wines: Riesling, Bird of Paradise, Ethereal
Award winning wines: Dry Riesling
670 State Route 14
Penn Yan, NY, 14527
800-636-9786
Dog-friendly: Outside, On Patio/Porch, Inside Tasting Room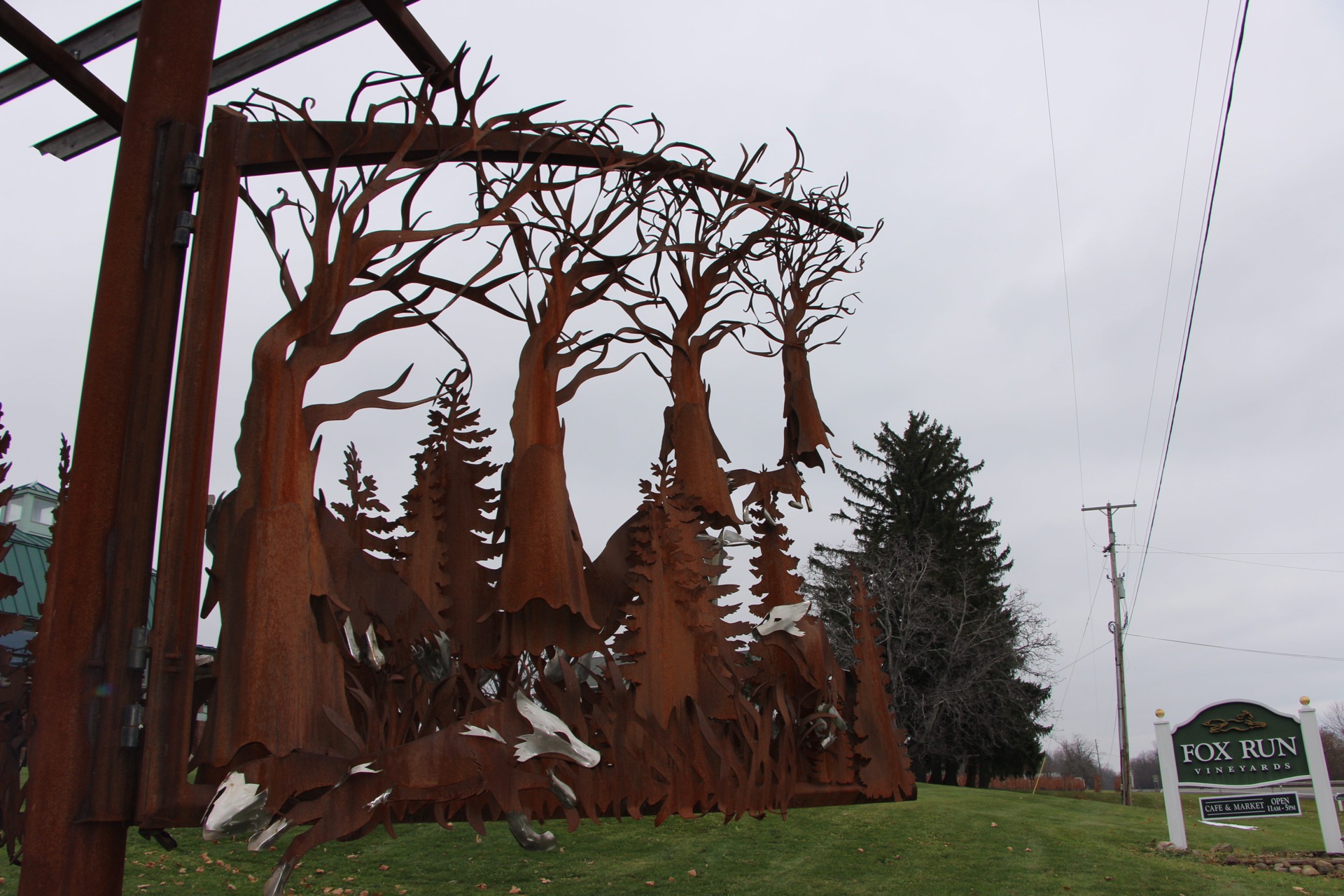 Photo of the front gate at Fox Fun Vineyards. Photo by Jeremy Glesner, All Rights Reserved.
Drive slow up the entrance so you can fully take in Fox Run Vineyards' impressive iron gate. A rust and silver colored fox appears to run through the thick forest of metal trees. It's pretty cool and unlike any gate entrance I've yet to pass through. The tasting room is also impressive, giant green barn-like buildings with a cafe and food market where they sell all sorts of local goodies. Dogs are allowed in the tasting room but not the cafe. It was a busy, popular place when we stopped in. But thankfully, our event was being held in the private cellar, and what luck for us! After going down a flight of stairs, you enter into a cozy room with beautiful wooden walls and beams decked out with twinkle lights -- very pretty and welcoming. And not very crowded, which was also nice. Our food pairing was a yummy, pork and cheese enchilada. We picked up another wooden ornament here, a round disc, engraved with the words, "Drink Wine, Be Merry." Very fitting.
Our favorite wines: Arctic Fox, Tremenette
Award winning wines: Dry Riesling, Blanc de Blancs, Rose of Pinot Noir, Cabernet Franc
4200 Ny-14
Geneva, NY, 14456
315-781-9463
Dog-friendly: Outside, On Patio/Porch, Inside Tasting Room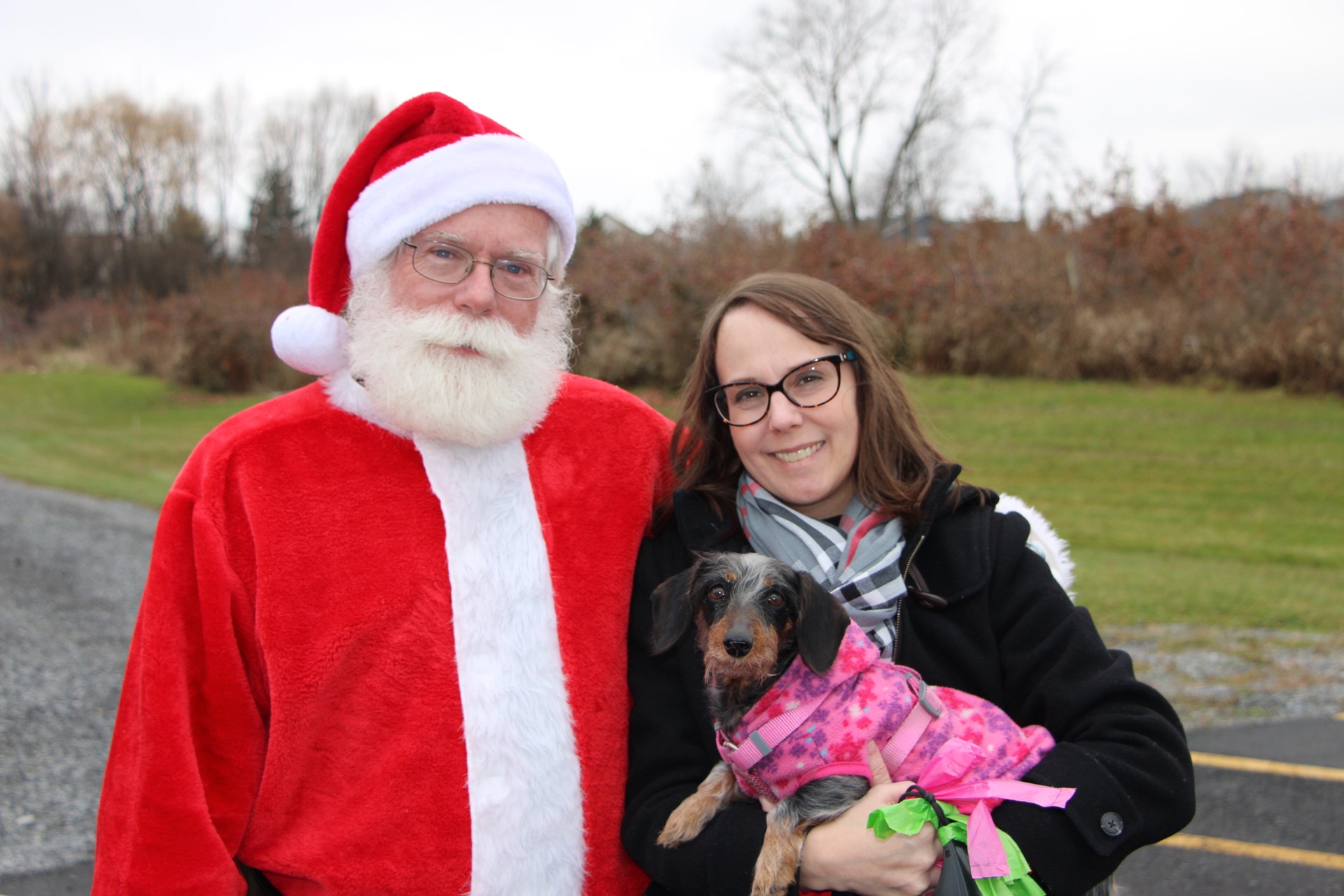 Photo of Cork Hounds co-founder Peggy Mihelich, her dog Greta and Santa Claus. Photo by Jeremy Glesner, All Rights Reserved.
Guess who we ran into at White Springs Winery? Santa! He loved saying hello to Greta and she made sure to let him know her Christmas wishes, which are treats, treats and more treats! The tasting room at White Springs is another large ranch-like building. Their theme is the nautical anchor which you'll see featured all over the building. They have a substantial gift shop area just as you step inside the tasting room. Be sure to check out the dog owner/lover section. They have multiple bars for tasting, so just squeeze in to get started. Our food pairing was a French spring (white) soup and the ornament, a wooden anchor.
Our favorite wines: Glass Factory Bay Riesling,
Award winning wines: Row House White, Spiced Wine
Vineyards to Visit -- Day 2
On day two we decided to start out on the "other side" of Seneca Lake -- the eastern side, to be exact. Figuring it would take most the day, we plotted a course to circumvent the entire body of water and visit six vineyard/winery stops along the way, ending back in Geneva. It was a long day but filled with beautiful scenery and wonderful wine. Be sure to gas up before heading out, it's pretty spartan around the lake. Also, call restaurants ahead of time to make sure they are actually open -- many eateries are seasonal and close down during the winter.
623 Lerch Rd, Geneva
NY, 14456
315-585-4432
Dog-friendly: Outside, On Patio/Porch
Not just a winery but a brewery (War Horse Brewing), this place has quite an operation with numerous buildings (shops and tasting rooms) to explore. The only drawback is that they don't allow dogs in the tasting room, so best to visit in the summer when you can spend your time comfortably outdoors. Three Brothers sits on a high point allowing for great vistas of the lake and surrounding land. The tasting rooms have stores with a variety of goods for sale to include beer, wine, clothing and chocolates/fudge, for example. The brewery has a WWII theme and is well worth exploring and tasting -- the cider slushy is "the bomb"! The food pairing was a chocolate pudding made with their oatmeal stout -- very tasty. We received a disc wooden tree slice ornament at this stop.
Our favorite wines: Nearly Naked, Flirtation
Award winning wines: Estate Reserve Zweigelt Cabernet Sauvignon Blend, Estate Reserve Barbera, Estate Reserve Zweigelt
4248 East Lake Rd.
Geneva, NY, 14456
315-585-6402
Dog-friendly: Outside, On Patio/Porch, Inside Tasting Room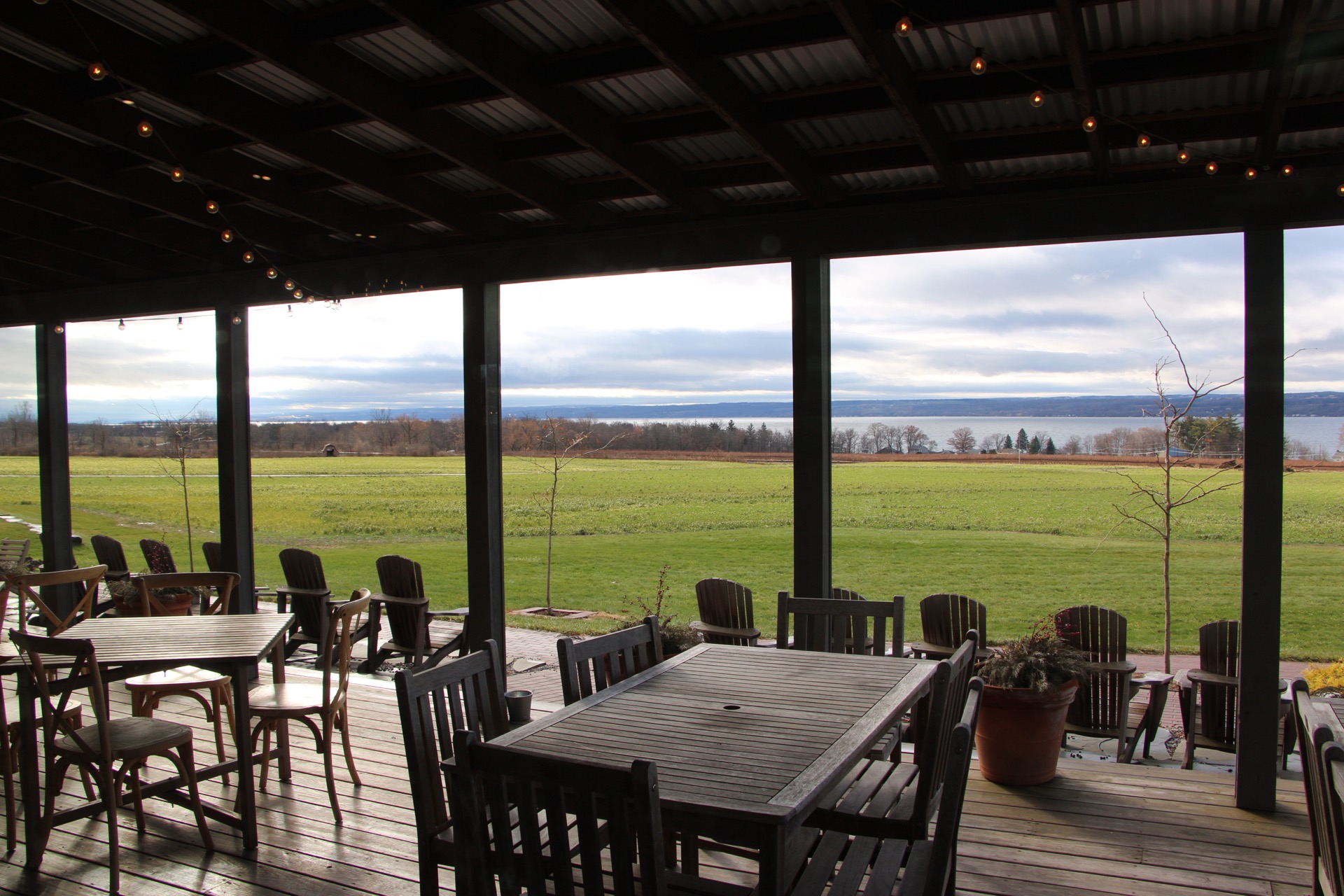 Photo of the covered back porch at Zugibe Vineyards,which has great views of Seneca Lake. Photo by Jeremy Glesner, All Rights Reserved.
Just down the way from Three Brothers is Zugibe Vineyards. They have a lakefront spot with spectacular views. The tasting room's expansive covered porch would be an ideal spot in summer to sit and sip with your dog. Zugibe's modern main building is a grand vaulted space with coppola (a architectural element we saw repeated on many of the old farm houses in the area) and large stained glass window. Our food pairing was a yummy Alfredo pasta made with cauliflower -- who knew cauliflower could taste so good? Zugibe presented us with a wooden ornament in the shape of a wine barrel.
Our favorite wines: Pinot Gris, 4 Reds Red, Firebird White, Firebird Red
Award winning wines: Riesling
5712 Route 414
Hector, NY, 14841
607-546-9463
Dog-friendly: Outside, On Patio/Porch, Inside Tasting Room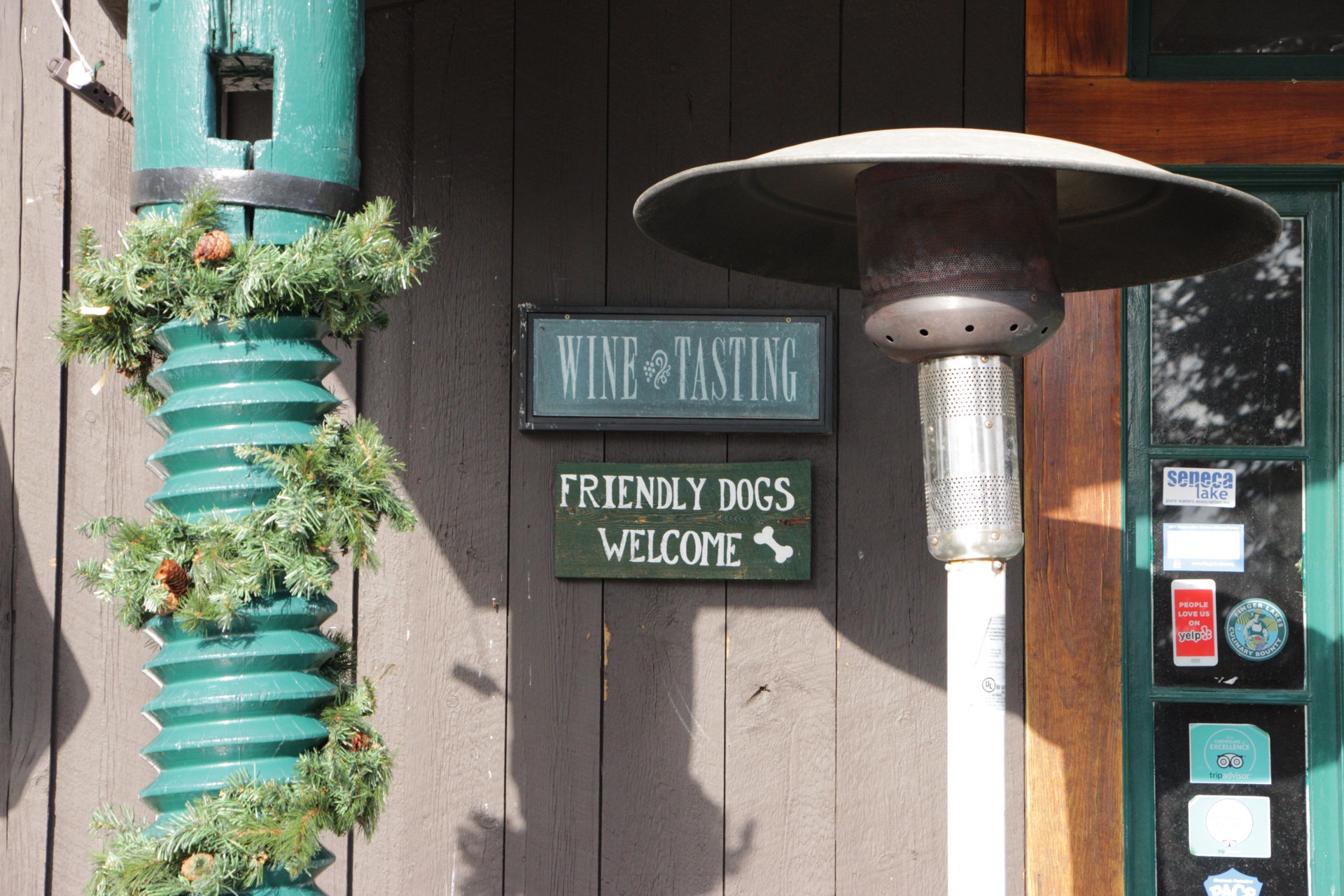 Photo of the entrance to Hazlett's 1852 Vineyards. Photo by Jeremy Glesner, All Rights Reserved.
The "friendly dogs welcome" sign on Hazlitt's tasting room door brought smiles to our faces. We are always excited to see a vineyard proudly welcome dogs, and we eagerly stepped inside with Greta. The tasting room was decked out with steer heads and old farm equipment. A giant Victorian era pot belly stove sits next to the main tasting bar. The building is quite large, with three tasting counters, providing plenty of space for guests. Greta, being welcomed, was given dog treats that she quickly gobbled up. Us humans were fed yummy French onion soup and we picked up a metal/lamenant Christmas sweater ornament. They also have a cafe onsite across from the main building called The Oasis. The Oasis is part pavillion, as the sides can be opened up during warmer weather. It was all sealed up during our visit, with indoor heaters running to keep it cozy. We grabbed some lunch and had a great time chatting with members of the Hazlitt team about Cork Hounds and how much we all love taking dogs to the vineyards/wineries.
Our favorite wines: Gruner Veltliner, Schooner Red, White Cat, White Cat Sangria
Award winning wines: Gruner Veltliner, Schooner Red, White Stag
3380 County Route 28
Watkins Glen, NY, 14891
607-535-9614
Dog-friendly: Outside, On Patio/Porch, Inside Tasting Room
This simple tucked away winery by the lake has a lovely back deck with views of the lake. The main building, a large rancher, has a wide open tasting room and event space. Being somewhat located off the beaten path, Castel Grisch's tasting room was rather quiet compared to other stops on day 2. We enjoyed the peace, however. It gave us time to converse with our pourer and take in the lake views from the back of the property. If you like bubbles, they have some good sparkling wines to taste. They provided us with a bruschetta food pairing and a sparkly snowflake ornament.
Our favorite wines: Cayuga White, Seneca Dream White, Seneca Dream Bubbly
5677 Rt. 414
Hector, NY, 14841
607-546-2800
Dog-friendly: Outside, On Patio/Porch, Inside Tasting Room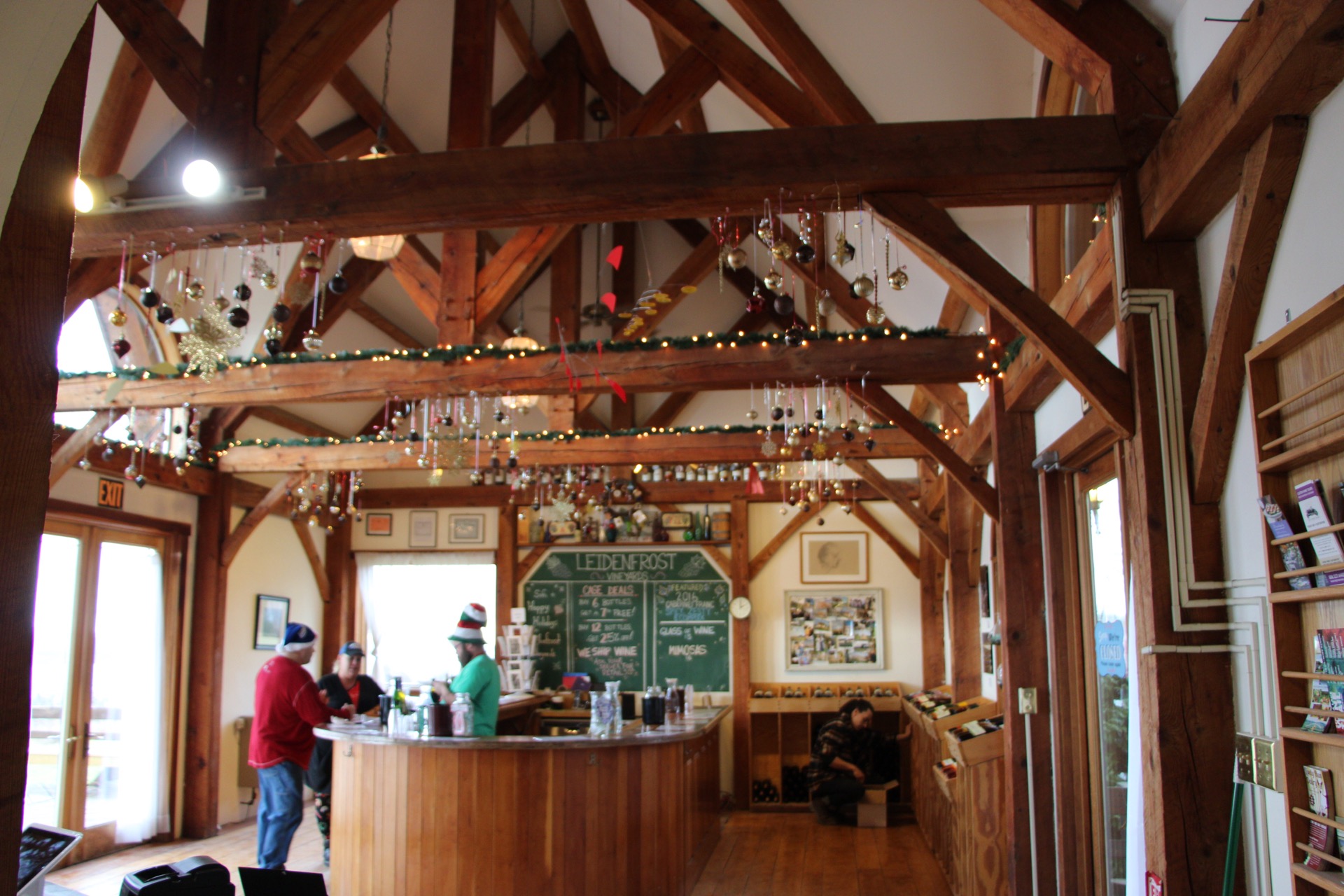 Photo of the tasting room at Leidenfrost Vineyards. Photo by Jeremy Glesner, All Rights Reserved.
With so many Riesling and Gewurztraminer grapes growing in the area, we anticipated visiting a German-themed tasting room eventually. It turned out to be Leidenfrost Vineyards. The exterior and interior have that chalet feel but with amazing lake views instead of mountain views. The tasting bar, with its wooden rafters covered in Christmas decorations, had a warm, pleasant glow. They gave us a delicate reindeer paper cut out ornament and a nacho and spicy cheese dip food pairing.
Our favorite wines: Pink Catawba, Log Cabin White, Log Cabin Rose, Tattooed Lady, Pink Flamingo
4024 State Route 14
Watkins Glen, NY, 14891
607-535-9252
Dog-friendly: Outside, On Patio/Porch, Inside Tasting Room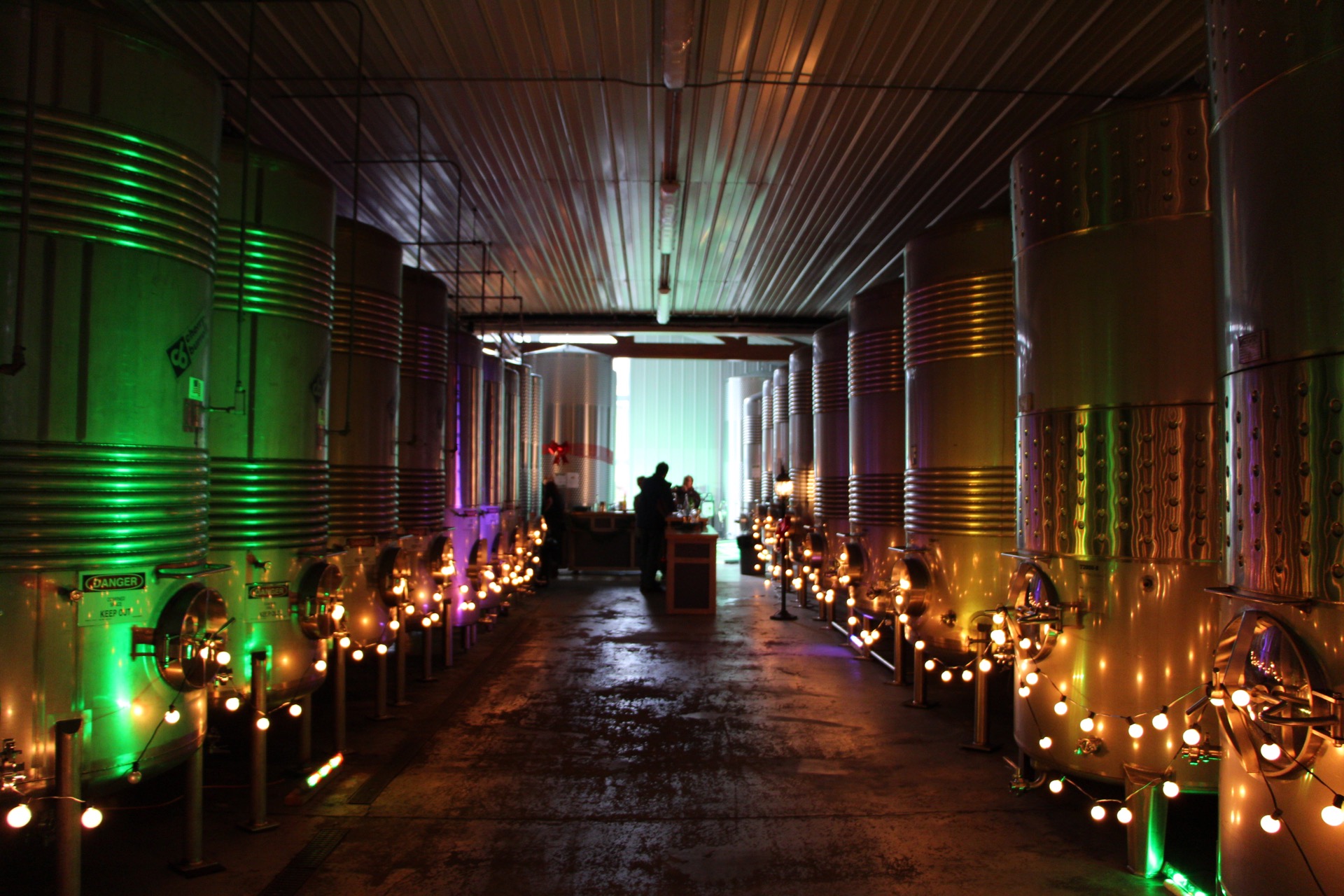 Photo of Lakewood Vineyards. Photo by Jeremy Glesner, All Rights Reserved.
Our final stop of the day landed us at the modern, rose themed Lakewood Vineyards. Our tasting experience was unique, held amongst the steal wine containers lined with festive lights. Amongst the steal and lights, we met another dog named Mazel, short for Mazel Tov. The owner had only recently rescued her and were still getting to know her personality—sweat and shy, from what we could tell. Greta and Mazel had a brief smell of each other and then moved on. Lakewood has resident dogs that wander around the tasting room. They were friendly but kept a respectful distance. If your dog isn't as social, best to keep them on an short leash. Our food pairing was another dip -- a cheesy corn dip. And the last ornament, an embossed rose on a round piece of leather.
Our favorite wines: Chardonnay, Riesling, Valvin Muscat, Niagara
Award winning wines: Dry Riesling, Valvin Muscat, Abby Rose
Weekend Trip Accommodations
Accommodations around Seneca Lake are less plentiful than we had expected -- partly due to the popularity of the 'Deck the Halls' event. You can still find dog-friendly places to stay but they may not be ideally situated (i.e. no restaurants or grocery stores within miles). We ended up staying at a dog-friendly hotel on the outskirts of Geneva with many great reviews. It was clean, quiet and convenient to the vineyards/wineries as well as close to stores, restaurants and gas stations.
Search Bring Fido
Search Homeaway
We stayed at Microtel Inn & Suites by Wyndham Geneva
Local Sites
If you have time to explore the area, we suggest the following:
Downtown Geneva
Take a stroll through historic downtown Geneva. You may even catch a train rolling through town as we did. If you're into architecture from the turn of the century, you'll want to head down Seneca Street and also check out the grounds of Hobart and William Smith Colleges.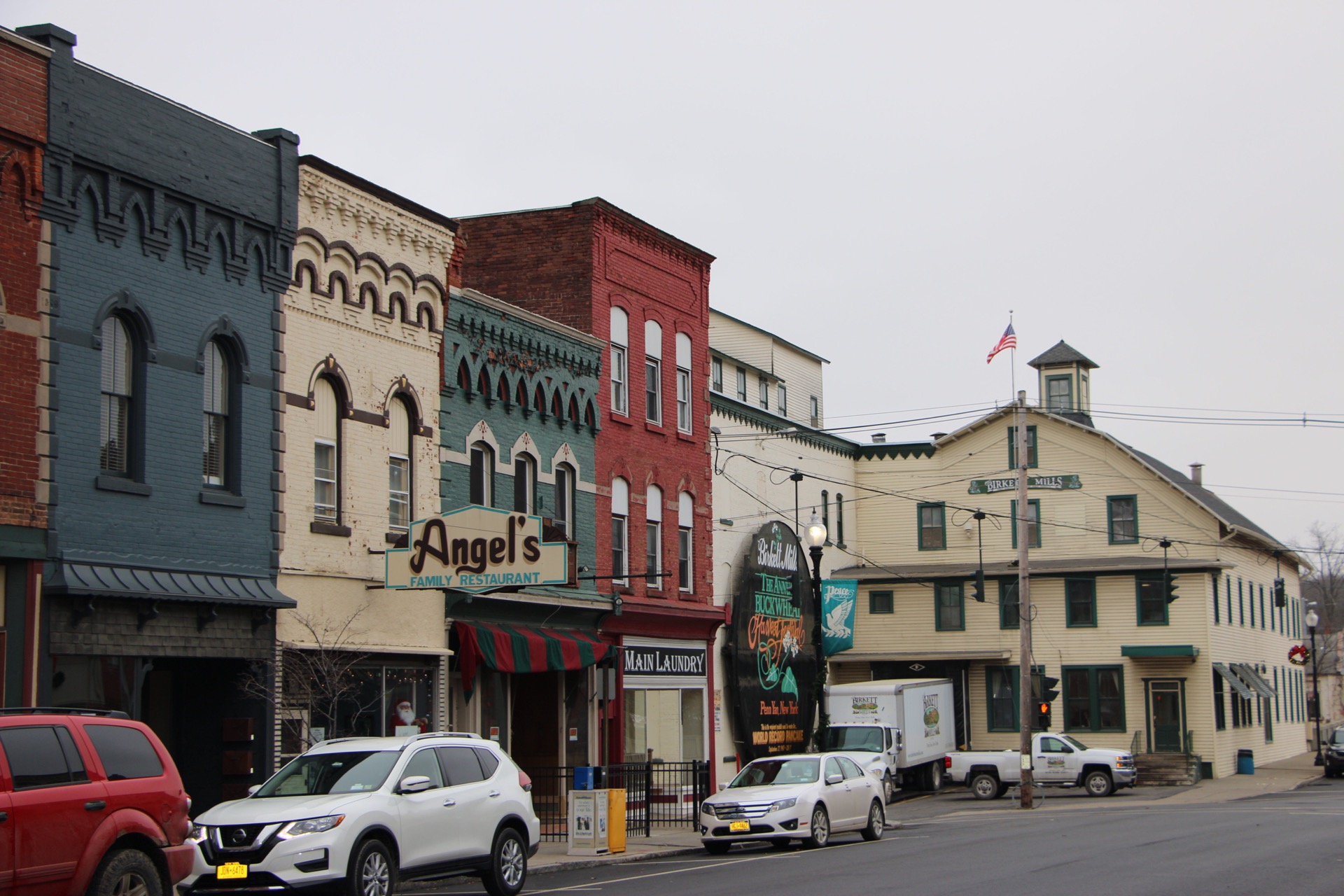 Photo of historic Geneva, New York. Photo by Jeremy Glesner, All Rights Reserved.
Seneca Lake State Park
Looking to take your dog for a walk along the lake? This is the ideal spot. Even in winter you'll find others out walking their dogs on paths. Come prepared, only leashes up to 6 feet are permitted.
Cover Photo of grapevines growing along Seneca Lake, New York by Jeremy Glesner. All Rights Reserved.