About half-way between Los Angeles and the Bay Area is the small town of Paso Robles. If it wasn't for the massive amount of viticulture going on in this region, you'd probably have little reason to visit. But if you love wine and dogs, then taking a trip to Paso Robles is well worth it! Cork Hounds made the trek, with our dachshund mascot, Greta from our homebase in DC to Paso (as the locals call it) to attend the 11th Annual Wine4Paws charity event.
Wine4Paws takes place over one weekend each year in April (this year it was the 6th - 7th).  The event continues to grow; there were 80+ participating vineyards/wineries (and some restaurants, a brewery, veterinarian and olive store) this time around, who each donate some form of their proceeds from tastings or direct sales to the Woods Humane Society. Almost all of the vineyards/wineries taking part are dog-friendly and are happy to have well-behaved (on a leash) 4-legged visitors outside, on the patio/porch and in the tasting room. In fact, the majority of the vineyards/wineries in this part of California are dog-friendly year round, so as I mentioned earlier, Paso is a great place to bring the furbabies.
Red wine is big in this part of California. Sure, you'll see 1 or 2 whites and a Rose on the menus, but by and large, the tastings are dominated by reds -- the region is known for good Zinfandels.
The greater Paso Robles area, sits about 25 miles from the California coast. The climate is dry and arid -- it can get pretty hot in the summer (over 100 degrees F). A springtime visit offers pleasant daytime temps in the 60s and 70s. This is also the rainy season and the hills were a vibrant green during our trip. The grapes are still pretty young and tender at this stage -- just a hint of leaves popping out from the vines. Still, the rows of vines impress in volume -- stretching on for acres.
Table of Contents:
Vineyards to Visit -- Day 1
Vineyards to Visit -- Day 2
Vineyards to Visit -- Day 1
Cork Hounds set out from San Jose for Paso Robles on the day before the official start of Wine4Paws. It's a solid 2.5 hour drive down the historic Route 101. About 45 minutes into the journey, the suburbs of San Jose give way to agricultural heartland -- passing through Gilroy you will smell the garlic, which the area is noted for. The drive is long but pleasant (except when the Route 101 turns bumpy from neglect), and you'll start to see more wine fields the closer you get to the Paso Robles outer limits. Take note, there aren't many rest areas along the way -- we only saw one that we stopped at, located ~25 miles outside of Paso.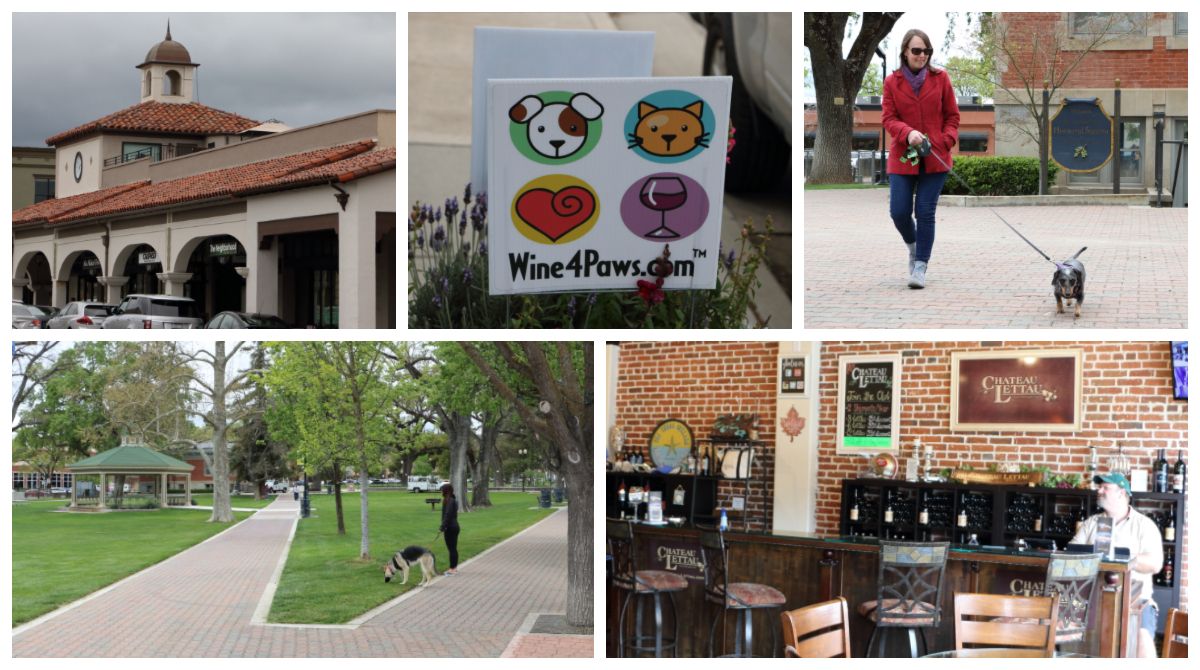 Paso Robles itself is a delightful mix of old and new California. The downtown square, with its green lawn and gazebo, are well worth a stroll. Greta enjoyed her walk along the sidewalks bordering the square's lawn. We actually saw quite a few dogs taking their lunchtime breaks along the square. There are all kinds of stores, restaurants and wine tasting rooms in downtown Paso. And some were also participating in Wine4Paws. Even though the event started the following day, there's a preview the night before, called Bark After Dark where select tasting rooms and restaurants start donating early. Even though we were a bit tired from our travels, we mustered enough energy to make our first winery/vineyard visit of the trip…
1306 Pine Street B
Paso Robles, Ca, 93446
805-296-1902
Dog-friendy: Outside, On Patio/Porch, Inside Tasting Room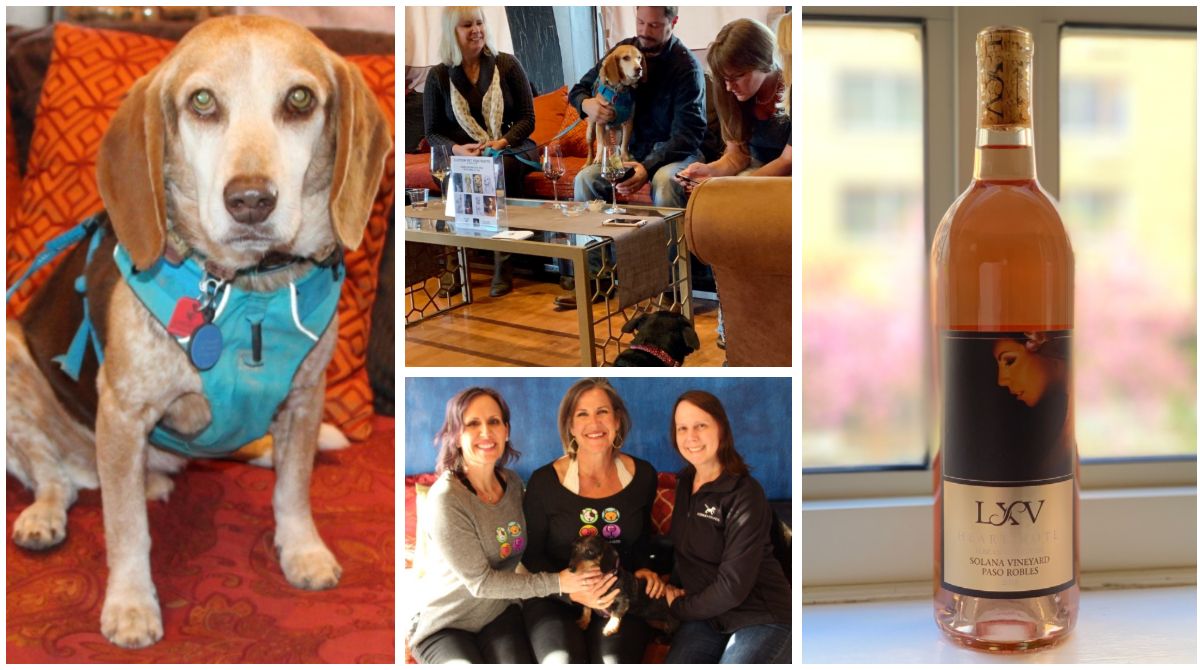 Located on a side street in downtown Paso Robles, LXV is an inviting chill space with a Moroccan vibe. The minute Jeremy and I walked through the door holding Greta, we were greeted by 3 Wine4Paws representatives -- one being the founder/director of the event, Sarah Tomasetti. We were hoping at some point to meet the director, so it was a thrill to have this run-in on our very first stop! After hellos and exchanging cards, my partner Jeremy and I sat down for a glass of wine. LXV offers mostly red wine, and one Rose -- which we chose and it was excellent! Uniquely, they were offering a spiced cheese pairing and it is very tasty. Definitely try it if you have the chance.
There were two other dogs and their owners also visiting LXV for Bark After Dark. One happened to be the author of "The Dog Lived (And So Will I)", Teresa Rhyne.  Ms Rhyne was visiting LXV with her rescue beagle Roe who was sporting a very smart cork collar! The LXV tasting room is mostly an intimate indoor space that can fill up quick. They have a few cafe tables outside on the sidewalk, but since this is a downtown location, there's no green space like you find at vineyards with acres of land. They are very dog-friendly inside their tasting room and Greta even scored a treat from our server.
Our favorite wines: Rose
Vineyards Visited -- Day 2
Dressed in our new Cork Hounds pullovers and polos (featuring our new logo), we headed to Templeton --  a community about 15 minutes south of Paso. We choose to start in this area because of the high density of dog-friendly wineries/vineyards participating in Wine4Paws. Our chosen route would lead us back towards Paso Robles at the end of the day. The tasting fees range between $10-20 and some come with a food pairing. Many waive the fee with a bottle purchase. They were all donating fees and proceeds this weekend to Wine4Paws. At just about every stop we were asked about Cork Hounds (our shirts did the trick!!) and we were able to spread the word about our service. Staff, tasting room managers and owners were supportive and excited to learn about our effort to catalogue all the dog-friendly vineyards in the U.S.
1437 Wild Horse Winery Ct
Templeton, Ca 93465
805-788-6300
Dog-friendly: Outside, On Patio/Porch, Inside Tasting Room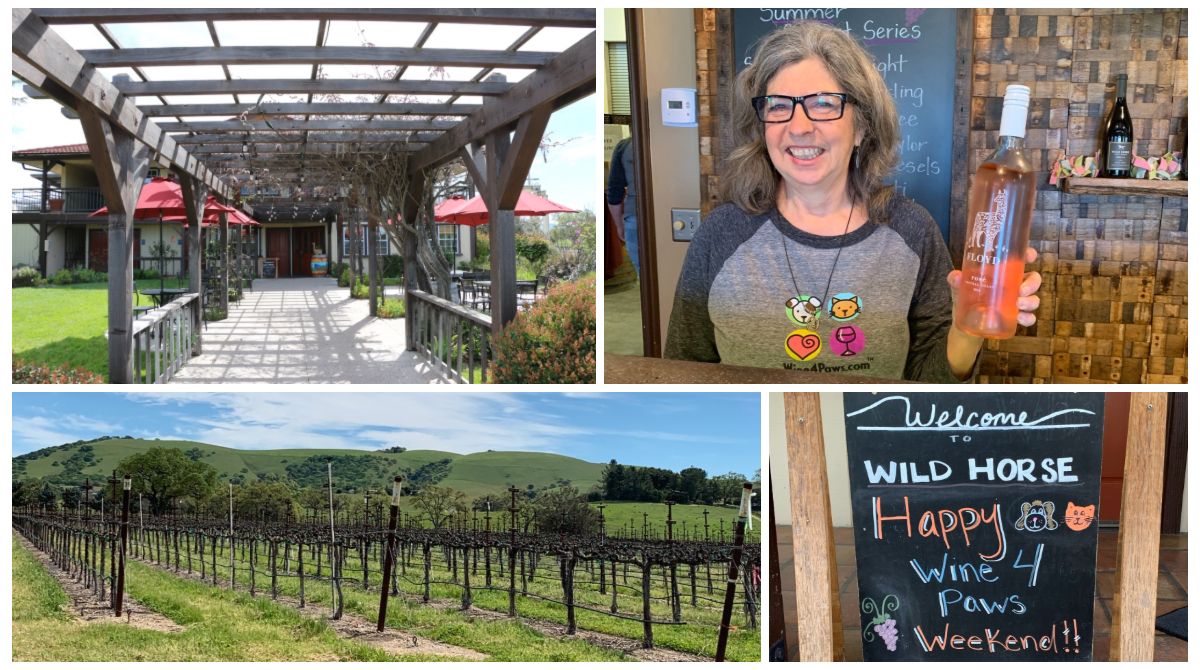 Wild Horse has a nice robust selection of wines to taste -- including plenty of whites. While we didn't see any wild horses running through the hills, the grape vines and rolling landscape surrounding the property provide lovely views.  Although there are no wild horses, the winery does have a set of llamas.  We learned of the llamas during our visit, but found a wonderful blog by Michael Oudyn that describes the role they play in protecting the sheep used during summer months to maintain the grounds.  One of our favorite wines, the Floyd Rose is a tribute to their first llama. The covered patio space in front of the tasting room is ideal for sitting in the shade with your pup as you sip a glass of wine. Wild Horse is dog-friendly outside, on the patio and in the tasting room.
Our favorite wines: Floyd Rose, Viognier
1795 Las Tablas Rd
Templeton, Ca 93465
805-369-0127
Dog-friendly: Outside, On Porch/Patio, Inside Tasting Room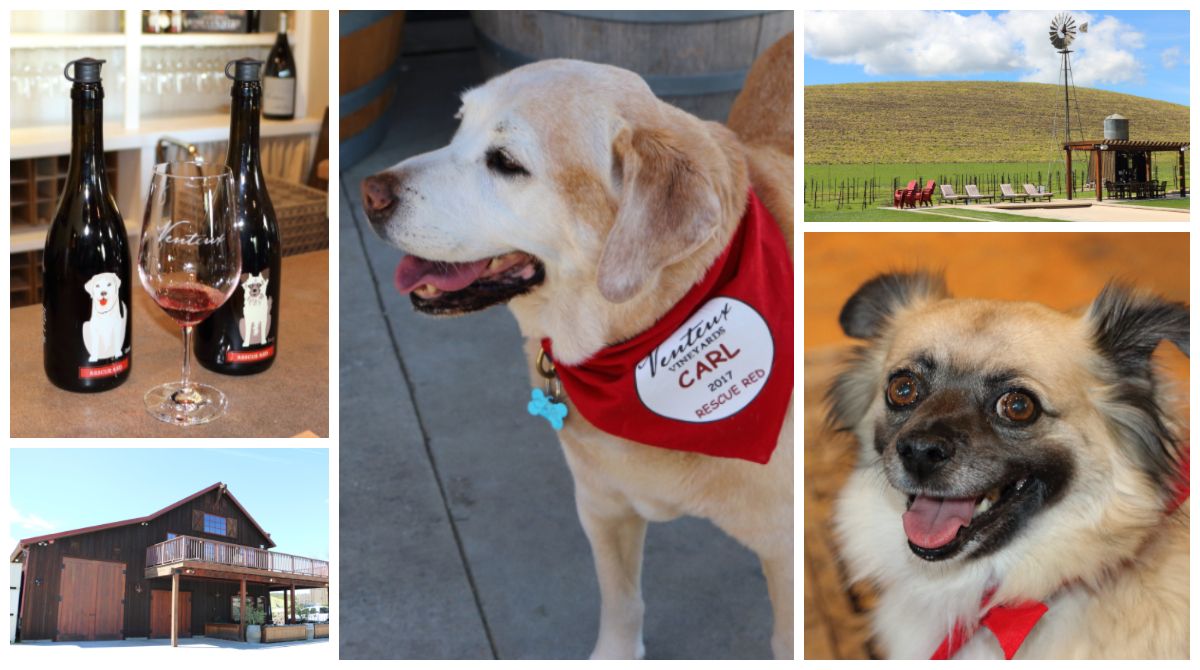 Venteux (pronounced vin-two) is a charming, family-friendly vineyard. Their rustic modern tasting room sits next to a grand looking Victorian style home. You'll be greeted by Izzy, their friendly wine dog. You may even see her best pal Carl, a happy go lucky lab that belongs to one of Venteux's wine club members. Both Izzy and Carl are featured on the label of Venteux's Rescue Red. During Wine4Paws, they were donating all Rescue Red to the Woods Humane Society. They exclusively produce red wines, which I sampled at this stop -- all excellent. Behind the tasting room is a covered patio with a great hillside view of the vines. There is also a flat green space area set up for lawn games. When we stopped in, families were out on the grass playing corn hole. Ventuex is dog-friendly outside, on the patio and in the tasting room.

Our favorite wines: Rescue Red, Tannat
3235 Oakdale Rd
Paso Robles, Ca 93446
805-239-4800
Dog-friendly: Outside, On Porch/Patio, Inside Tasting Room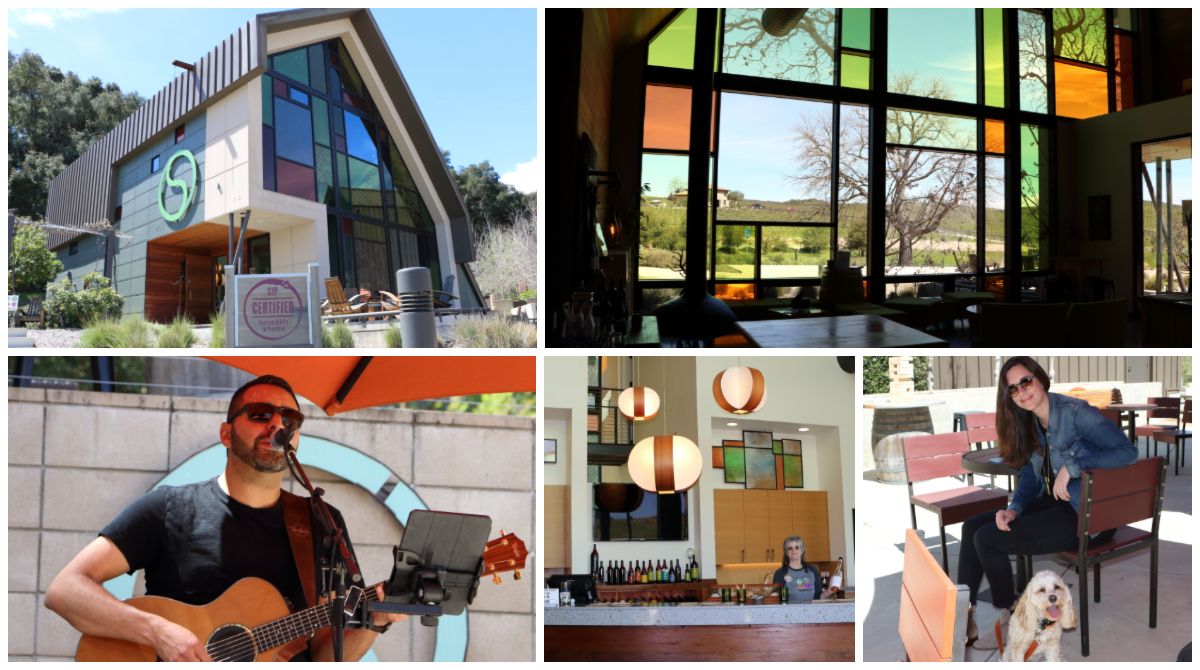 If you're into sustainable modern architecture, then a stop at Shale Oak Winery is highly suggested. The tasting room is a Gold LEED certified two-story wood and stained-glass marvel. The airy tasting room features an expansive bar with floating circular lights overhead. The glass wall is a geometric Mondrian inspired mix of clear and colored glass that frames the property's trees and countryside. In addition to the sustainable architecture, the owners also practice sustainable wine making. They have a nice selection of reds and whites at Shale Oak. We enjoyed our lunch break on the covered backyard patio sipping wine and listening to the soothing voice singer-songwriter, Michael Venia, a local musician from nearby San Luis Opiso who sings in the band Carbon City Lights. Shale Oak is dog-friendly outside, on the patio and inside the tasting room.
Our favorite wines: Grenache Blanc, Albarino
2485 CA-46
Paso Robles, CA 93446
805-226-5955
Dog-friendly: Outside, On Porch/Patio, Inside Tasting Room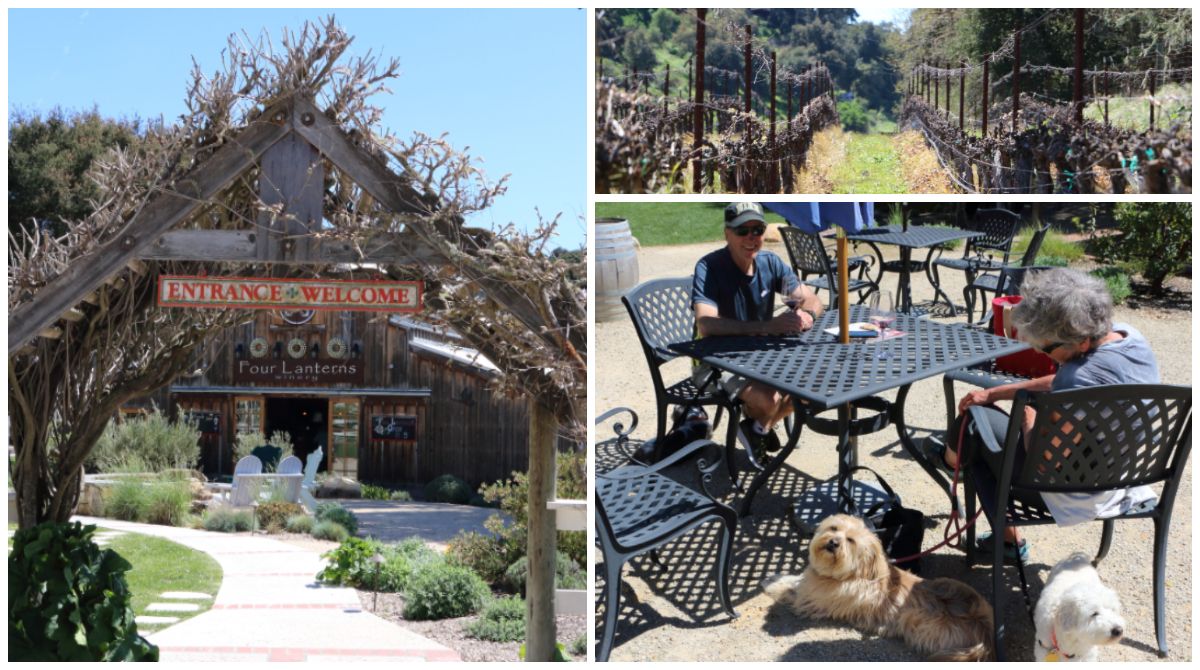 It's all about family at Four Lanterns Winery, a boutique winery in Paso Robles. Owners Steve and Jackie Gleason named the place after their four daughters who Jackie calls, "the light of her life." We got to meet Jackie during our visit. She was thrilled to hear about our project and even took a picture of myself, Jeremy and Greta to post on their social media pages. Pick up a free copy of the Spring 2019 San Luis Obispo County Visitors Guide, the entire family is featured on the cover. You'll learn about how they started the winery as well as their new addition -- a large barrel room located behind the tasting room. Dogs are welcome, outside, on the patio and inside the tasting room.
Our favorite wines: Sunset Rose, Still Light: Rhone White Blend
1401 CA-46 West
Paso Robles, Ca 93446
805-226-2034
Dog-friendly: Outside, On Porch/Patio, Inside Tasting Room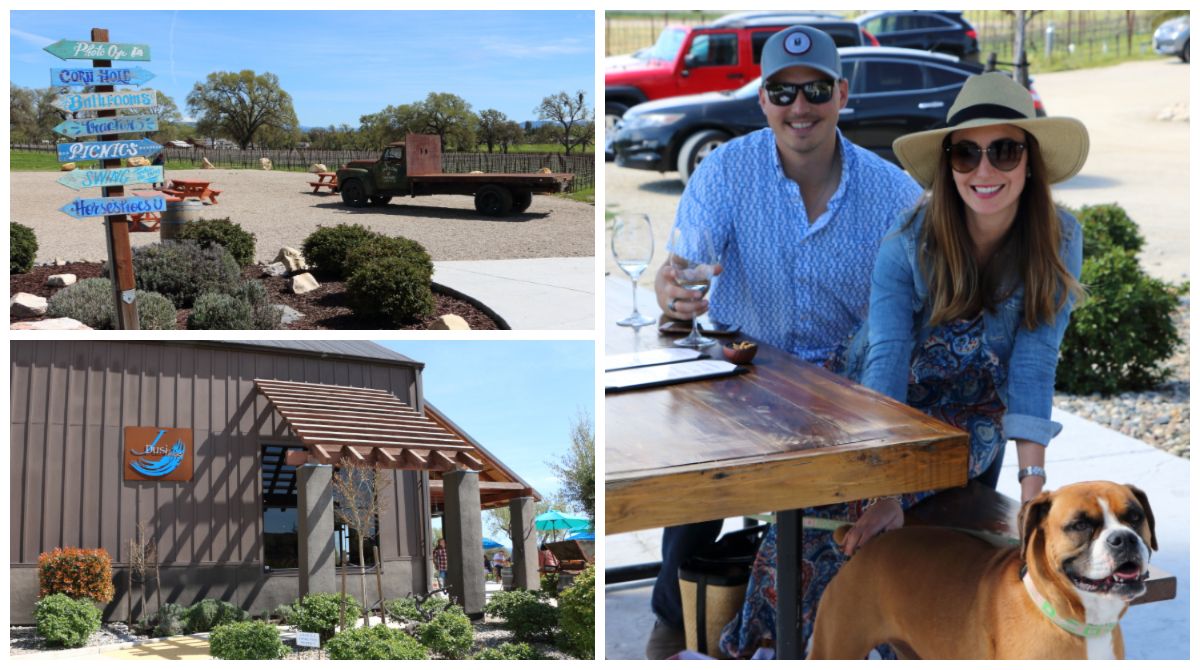 Located in the heart of Paso's wine growing area, is J Dusi -- named after the owner Janell Dusi. Her passion is Zinfandel and we highly recommend it. J Dusi's modern tasting room is surrounded by their grape vines. There is a comfortable patio with umbrella covered tables that overlook the vineyard. We met a couple who had relocated from Manasses, Va to the Paso region. They had their dog Norton with them. Yes, he is named after the grape! We also met J Dusi's resident black lab and a happy Boxer named Roxie, who was visiting with its owners. J Dusi is dog-friendly outside, on the patio and inside the tasting room.
Our favorite wines: Pinot Grigio, Zinfandel
2175 Arbor Rd
Paso Robles, CA 93446
805-227-1365
Dog-friendly: Outside, On Porch/Patio, Inside Tasting Room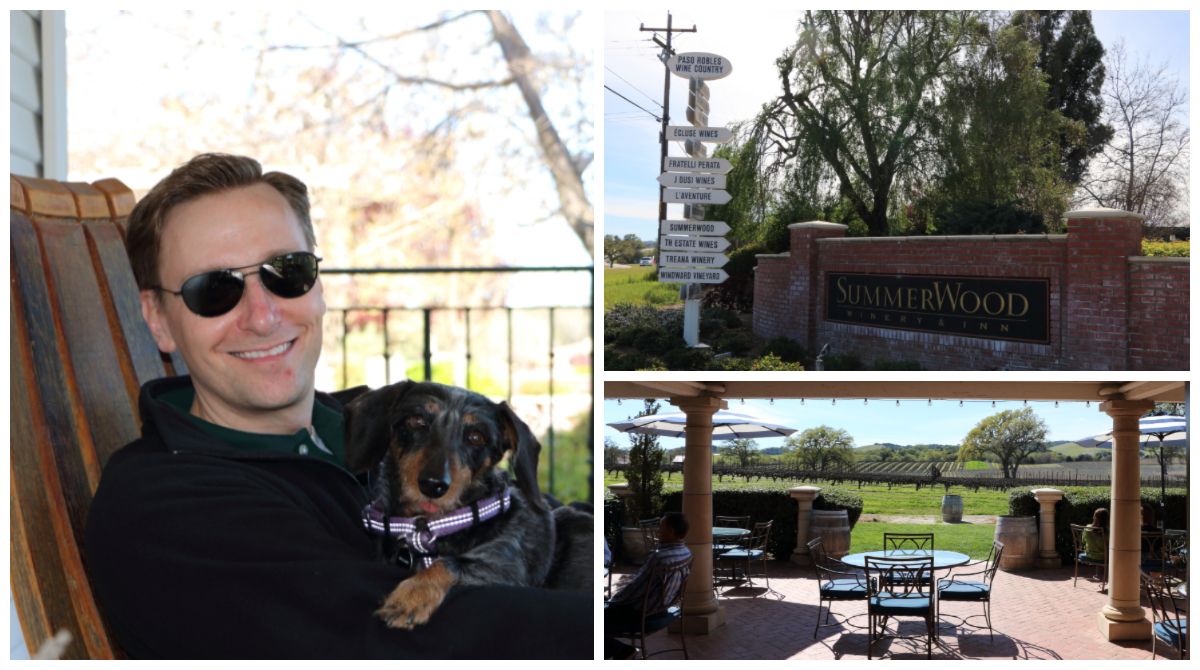 Our last stop of the day was right across the street from J Dusi; the SummerWood Winery & Inn. SummerWood specializes in limited production American Rhône and Bordeaux wines. The tasting room features cool marble floors, wood accents and a window that looks into their production facility. Be sure to grab a glass of wine on their covered patio overlooking the estate's Cabernet Sauvignon grape vines. It was a nice place to end our first full day exploring Paso Robles wine country. SummerWood is dog-friendly outside, on the patio and inside the tasting room.
Our favorite wines: Grenache Blanc, Vin Rouge
We have split this story up into two parts.  To continue reading about our journey to Wine4Paws  in Paso Robles, please read Part 2 of The Wine4Paws Charity Event and Dog-Friendly Vineyards in Paso Robles, California.
Cover photo of Cork Hounds co-founder Jeremy Glesner and mascot Greta outside Venteux Vineyards. Photo by Peggy Mihelich. All Rights Reserved.