Cork Hounds made the trek, with our dachshund mascot, Greta from our home base in DC to Paso Robles, California to attend the 11th Annual Wine4Paws charity event. Paso Robles is positioned about half-way between Los Angeles and the San Francisco Bay Area. The Wine4Paws event takes place over one weekend each year in April (this year it was the 6th - 7th) and it continues to grow with 80+ participating vineyards/wineries (and some restaurants, a brewery, veterinarian and olive store) who each donate some form of their proceeds from tastings or direct sales to the Woods Humane Society.

To learn about the first and second day of our visit to this event, please read Part 1 of The Wine4Paws Charity Event and Dog-Friendly Vineyards in Paso Robles, California.
Table of Contents:
Vineyards to Visit -- Day 3
Trip Accommodations
Local Sites
Vineyards to Visit -- Day 3
For our last day in Paso Robles we headed north of the city center to San Miguel, an area that reminded me a lot of Napa, Valley -- rows of perfectly planted vines that go on for acres across rolling hills. With the sun out and the sky blue, our backdrop for another day of vineyard hoping was set. Bring on the dog-friendly wineries/vineyards!
5115 Buena Vista Dr
Paso Robles, CA 93446
805- 227-4000
Dog-friendly: Outside, On Patio/Porch, Inside Tasting Room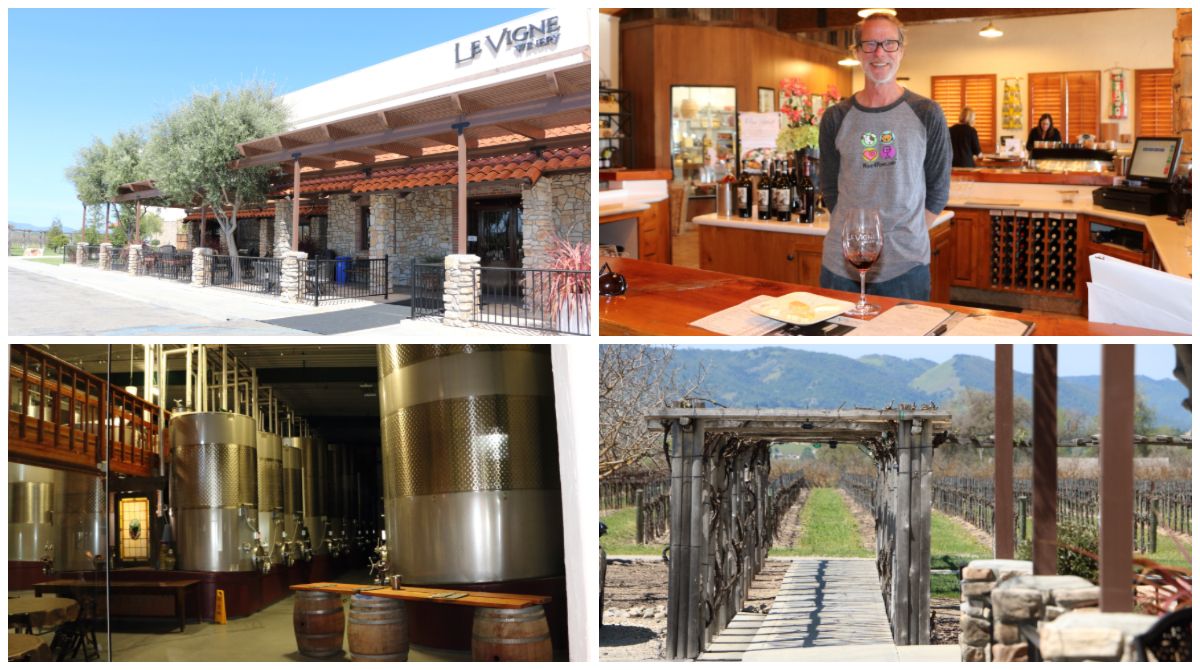 Not only does Le Vigne make wine, they also make olive oil. They have five acres of olive oil trees on their estate, and press the oil using a special mill onsite.  The same owners also started Peacock Cheese, which imports and distributes high quality cheese and food items from around the world (Joyce, Kate, Le Vigne Winery offers wine, cheese and history, Paso Robles Daily News, April 2016). The stone and wood tasting room with vaulted ceiling is a cool and airy place to enjoy a wine and cheese pairing -- very delicious. We opted for a bottle of Le Vigne olive oil to take back home with us. Le Vigne is dog-friendly outdoors, on the patio/porch and inside the tasting room.

Our favorite wines: Petite Sirah Di Ranchita Vista, Merlot Di Acquarello
7450 Estrella Rd
San Miguel, CA 93451
805-467-0086
Dog-friendly: Outside, On Porch/Patio, Inside Tasting Room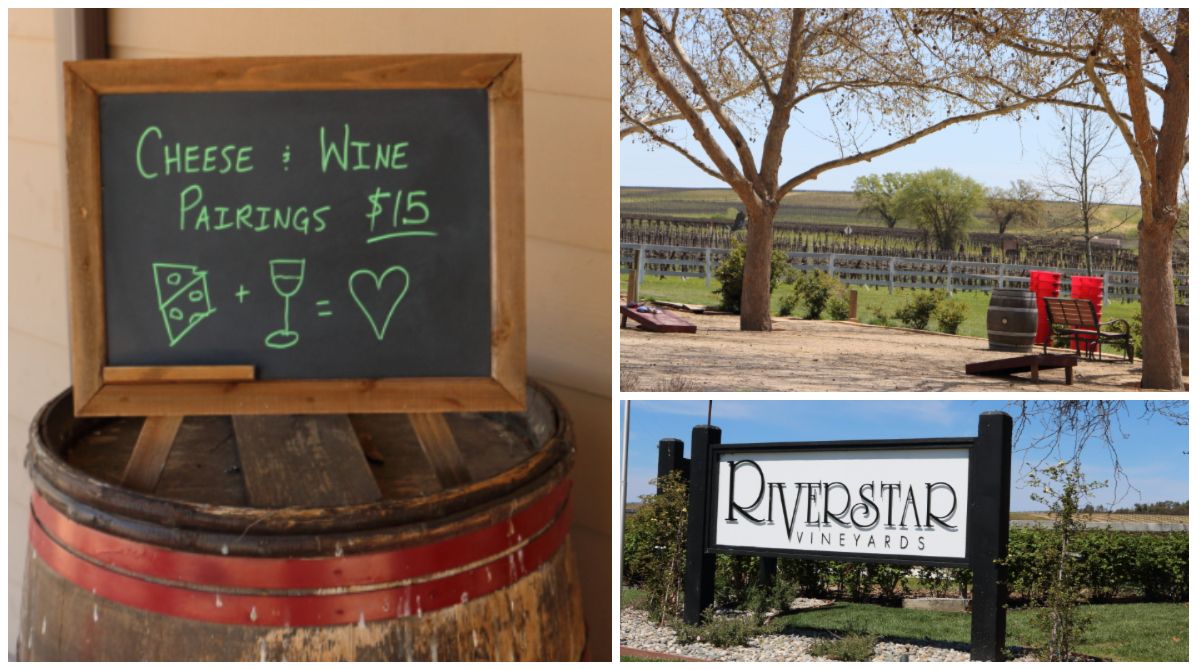 As we made our way from the parking lot to the tasting room at Riverstar Vineyards, we met a nice couple who noticed Getra and shared with us that they also have owned doxies through the years. Right now, they have one, who was at home. They are members of the vineyard and were stopping by to pick up two cases of their sparkling peach wine, Shimmer. As fans of peach wine, we had to try it. It's not on the regular tasting menu but the owner was pouring our tasting and popped a bottle for us to try! Shimmer is delightful! Summer in a bottle. We took two with us -- would have taken more, but there are weight limits for checked bags. :) Riverstar is dog-friendly outside, on the patio and inside the tasting room.
Our favorite wines: Shimmer, Affinity
9564, 6640 Von Dollen Rd
San Miguel, CA 93451
805-467-9490
Dog-friendly: Outside, On Porch/Patio, Inside Tasting Room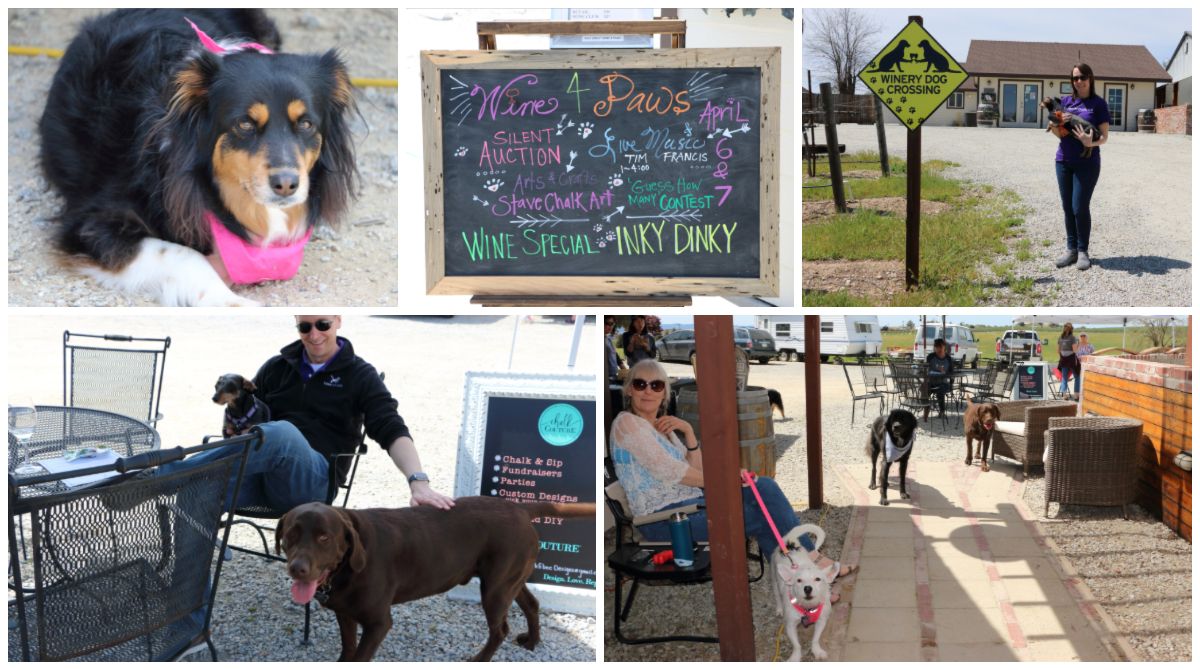 Our drive to Tackitt Family Vineyards again reminded me of my visit to Napa last year. Here the roads run right up to vines and stretch on for acres. This is big industry California wine growing/making. Surrounded by much bigger fish, is family-owned Tackitt. The owner is former military -- U.S. Navy Explosive Ordnance Disposal. Throughout the year they host events to support vets -- they recently helped raise $52K for EOD Warrior Foundation (EODWF).

As you walk inside the tasting room you'll see some old explosives from the owner's days in the military. Good thing they aren't "live" anymore. The tasting room is pretty tight and the bar was full when we stopped in, so our party headed to the back patio where we were greeted by a small pack of resident and visiting dogs.

In addition to a tasting, they had food for purchase — homemade beef and pork belly "banh mi" tacos. Yummy stuff, really fresh and tasty. I also tried the cheesecake mousse drizzled with a reduced wine sauce and chopped pistachios and fig. While we sat and ate/drank, a friendly chocolate lab named Lincoln came by to say hello.

Our favorite wines: Malbec, Merlot, Zinfandel
6385 Cross Canyons Rd
San Miguel, CA 93451
805-467-0014
Dog-friendly: Outside, On Porch/Patio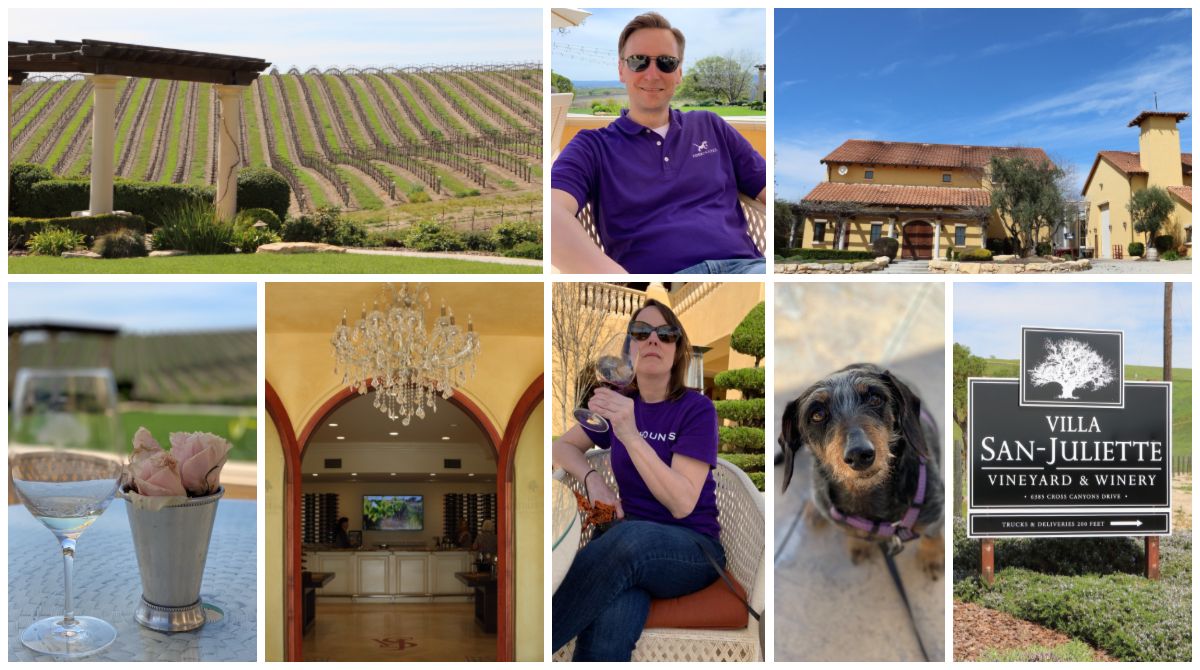 Alas, Villa San Juliette was to be our final stop of the day. This grand place sits atop a hill overlooking rows and rows of vines. The main house is a stunning Tuscan villa with equally stunning grounds -- manicured gardens with sculpted topiary. The tasting room features a large crystal chandelier at the entrance and Italian marble floors -- but not dog-friendly because they have a restaurant and serve food. However, dogs are allowed on the patio area! With the weather being near idyllic (80 degrees) for sitting el fresco, we grabbed a table under an umbrella and tasted the last of our Paso Robles wines while soaking in the views.

Our favorite wines: Rose, Granache
On Sunday around 3pm, we started the long trek back to San Jose, California.  When it was all said and done, we hit 11 wineries/vineyards during our time in Paso Robles during the Wine4Paws weekend.  It was a great trip, and we were sad that it was over.  Looking back on it now, we had a great time tasting a lot of wonderful wines, relaxing in the California sun/countryside, and meeting a lot of awesome people (and dogs).  And, we got to spread the word about Cork Hounds to more folks who are just as excited about dogs and wine as we are!  

Until the next road trip, cheers!
Trips Accommodations
Paso Robles and the surrounding area is very welcoming to dogs. You'll have no trouble finding the perfect place for you and your pup/pups.
Search Bring Fido
Search Homeaway
We stayed at the official Wine4Paws hotel, Holiday Inn Express, Paso Robles
Local Sites
If you have time to explore the area, we suggest the following:
Downtown Paso Robles
Be sure to take a walk around Paso's historic city square and pop into some of the nearby dog-friendly shops/tasting rooms.
Cover Photo of Cork Hounds co-founder Peggy Mihelich and her dog Greta outside 4 Lanterns Winery. Photo by Jeremy Glesner. All Rights Reserved.