Exploring Dog-Friendly Vineyards Near Delaplane, Virginia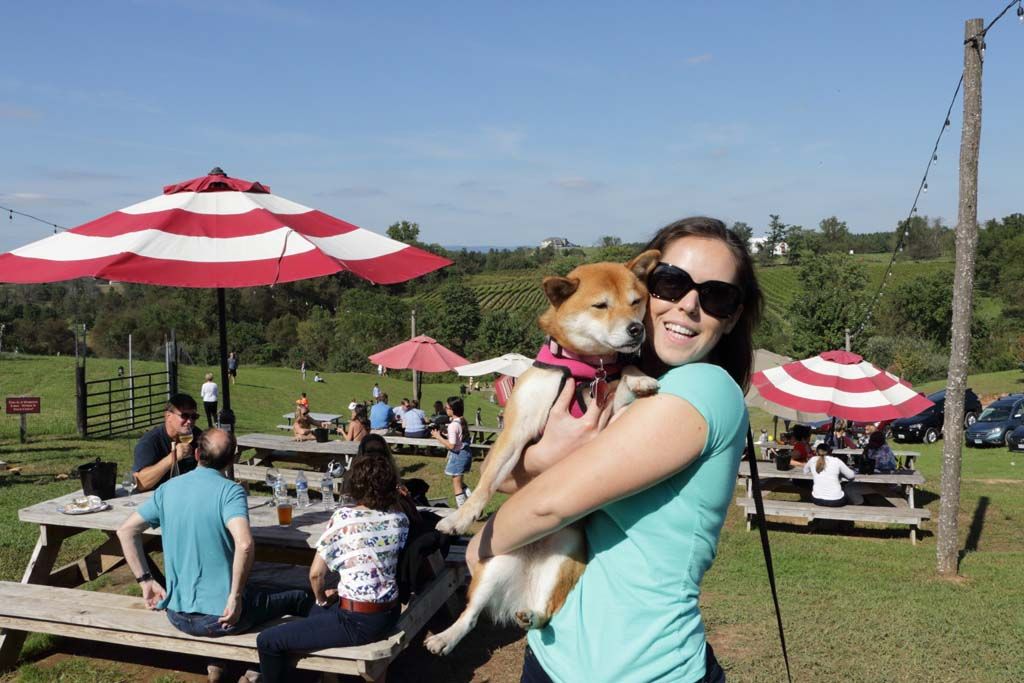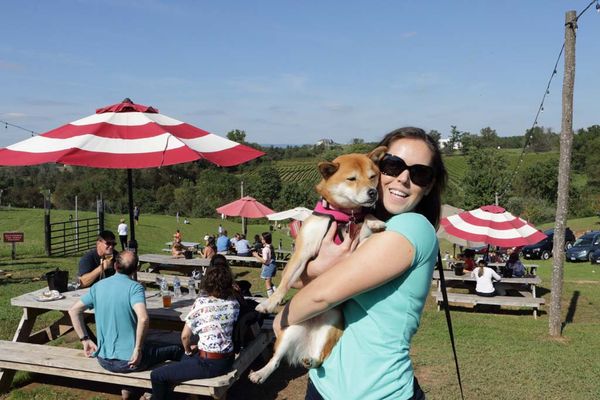 Cork Hounds is an affiliate partner and we will be compensated if you make a purchase after clicking on this ad link.
From Washington, D.C, hop on 1-66 West and drive about 50 miles to Delaplane, Virginia. The area is known for fox hunts, farm-to-table agriculture, expansive country estates, and more working vineyards than any other on the east coast of the U.S. Most vineyards offer spectacular views of the surrounding mountain ranges, sure to enhance any visit to the area with your dog/s. Cork Hounds visiting Naked Mountain Winery & Vineyard, Barrel Oak Winery, or Three Foxes Vineyards with your pup/s.
Table of Contents:
Vineyards to Visit
Weekend Trip
Local Sites
Other Vineyards
---
Vineyards to Visit
2747 Leeds Manor Road
Markham, VA 22643
540-364-1609
Dog-friendly: outside, on the porch and inside the tasting room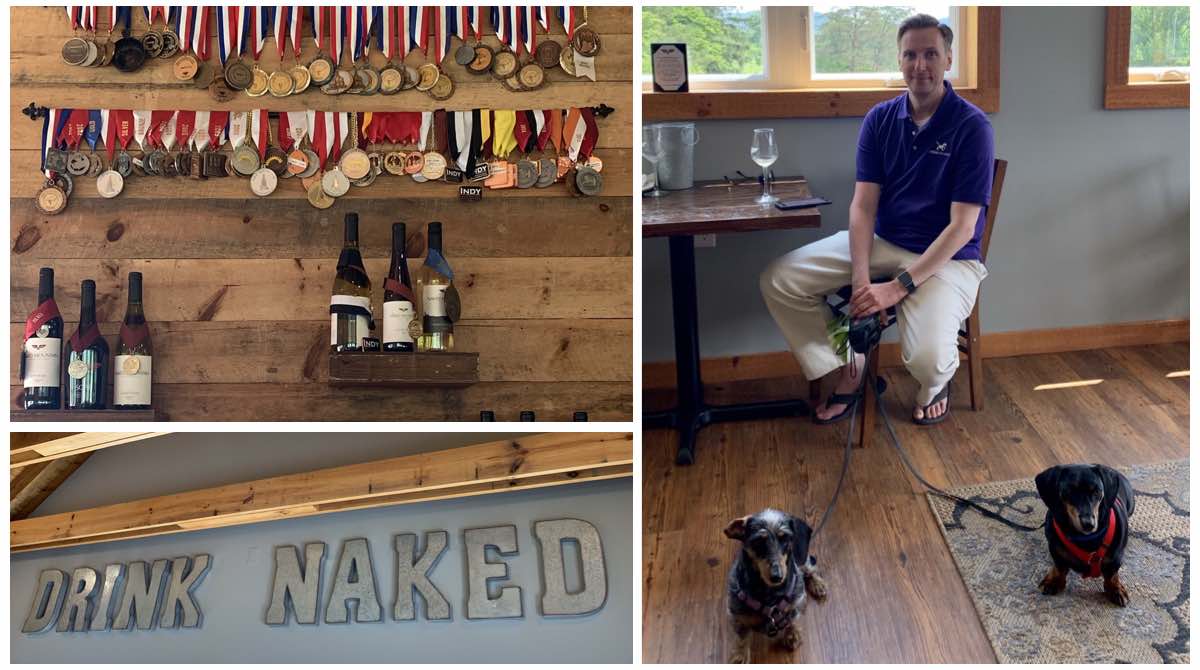 Photos of Naked Mountain Winery & Vineyards. On the right is Cork Hounds co-founder Jeremy Glesner and dogs Greta Garbo and Tango. Photos by Peggy Mihelich, All Rights Reserved
This Memorial Day weekend, we visited Naked Mountain Winery and Vineyard. If you are looking for a vineyard set among the rolling hills and mountains of Northern Virginia, this is your place! The vineyard even has a picturesque pond, outdoor seating in the shade, a patio with live music, and a cozy indoor space. The sign inside the tasting room says, Drink Naked, but when we visited Naked Mountain Winery & Vineyards everyone was thankfully dressed. The sign is of course a play on words and adds to the relaxed and comfortable vibe of the winery. The tasting room is airy and big. It features a long tasting bar near the entrance for serving the crowds and contains ample seating for small and large groups. In the colder months you can grab a seat in one of their four wingback chairs and warm yourself by the fireplace. It was almost 90 degrees F during our visit so we opted for a table inside with a view of the mountains and enjoyed the A/C. It was very busy when we stopped by, and the tasting bar was busy. Groups of visitors were sitting out on the back porch listening to live music while others had found picnic tables tucked under old growth trees on the steep hillside property. Naked Mountain features some unique white and red blends -- be sure to try the Chardonnay/Riesling -- a wonderful summer wine, and a first for both Jeremy and I.
The pourers were all very excited to meet/pet our dogs (mascots) Greta and Tango. Tango is Jeremy's new rescue, a smooth black and tan male dachshund. We picked him up from Dachshund Rescue of North America about 2 weeks ago and we are still getting to know one another's personalities. Tango did great. He was friendly and quiet. An excellent first vineyard/winery visit for the pup!
Our favorite wines: Chardonnay/Riesling, Old Vine Riesling
3623 Grove Ln, Delaplane, VA 20144
(540) 364-6402
Dog-friendly: outside, on the porch and inside the tasting room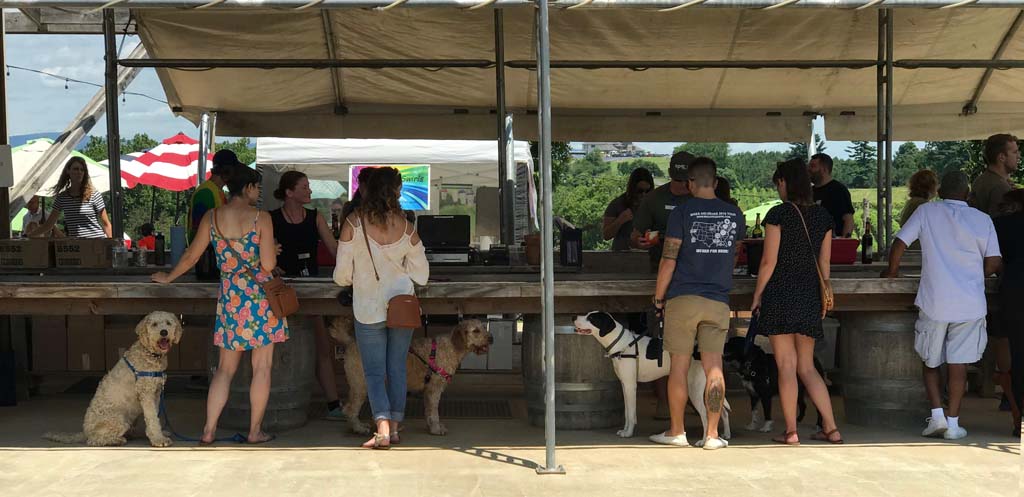 Photo of Barrel Oak Winery's outdoor tasting bar. Photo by Jeremy Glesner, All Rights Reserved.
When it comes to dog-friendly vineyards, Barrel Oak Winery, also known as (BOW), is the gold standard. This place loves dogs so much they have them on the label. Dog paintings and photos line the walls of the hilltop tasting room. Here, dogs and wine go hand-in-hand (err, paw-in-paw). BOW offers a variety of white, reds and dessert wines to try. Purchase a bottle then grab a picnic table on the hillside. Sit back and toast the canine-palooza!
Learn more about this exceptionaly dog-friendly vineyard by reading our interview with BOW's owner, Brian Roader.
Our Favorites: Meritage, BOWhaus Red, Seyval Blanc
Award Winning Wines: Petit Verdot, Norton, Reserve Stainless Chardonnay
10100 Three Fox Ln, Delaplane, VA 20144
(540) 364-6073
Dog-friendly: outside, on the porch and inside the tasting room

Photo of Three Foxes Vineyards, Delaplane VA. Photo by John M / CC BY-NC-ND 2.0
Three Fox Vineyards is a short drive from BOW. Here you can sample wines with dog and cat names and labels. The tasting room is a small building at the top of a hill. In the summer they set up a tent to serve the overflow of visitors. Surrounding the main house, you'll find plenty of tables, chairs and sloping hills to enjoy a picnic with your dog. They even set up tables and chairs in the vines, so you can immerse yourself in the experience.
Our Favorites: Gato Bianco
Award Winning Wines: La Boheme Viognier, Piemontese Nebbiolo, Calabrese Pinot Grigio
---
Weekend Trip Itinerary:
With so many vineyards in one area, it's hard to not want to spend more time in Delaplane. If you have a whole weekend, there are plenty more wineries to visit. Also consider exploring some of the area's other attractions, Sky Meadows State Park , antique shops, road side produce markets, to name a few.
Dog-friendly Hotels, Inns and B&Bs:
Search Bring Fido:
Bring Fido Dog Friendly Hotels, Delaplane
Search Homeaway:
Homeaway Dog Friendly Rentals
---
Local Sites
Delaplane Historic District
Historic Delaplane encompasses 24 buildings and 3 sites in the rural village of Delaplane. Notable buildings include two brick structures that were used as stores, stations, and warehouses during the mid-19th Century.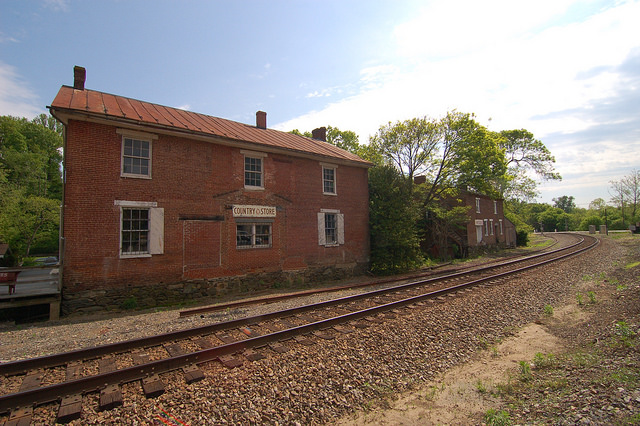 Photo of Historic Delaplane VA. Photo by Mark Plummer / CC BY-NC-ND 2.0
Sky Meadows State Park
This 1,900-acre park is located on the east side of the Blue Ridge Mountains with 24 miles of trails and the 1860s Mt Bleak-Skye Farm. Every Memorial Day, the park plays host to the annual Delaplane Strawberry Festival. Pets are allowed in the park but must be kept on a leash no longer than 6 feet and kept under supervision while in the park. Pets are also not allowed in public facilities (bathhouses, visitor centers, park offices, restaurants, etc.)
Rosewell Plantation
The ruins of Rosewell Plantation, offer a unique look into colonial Virginia's past. Begun in 1725, Rosewell was home to the Page family for more than 100 years. In 1916, a fire swept the mansion leaving just its shell.
---
Additional wineries to visit
4289 Leeds Manor Rd, Markham, VA 22643
(540) 364-1025
Dog-friendly: outside, on the porch and inside the tasting room
Named after the long-winding road the winery is located off of, Winding Road Cellars offer a small selection of French style wines. Step into the tasting room and take in the pine woodwork, built by Amish craftsmen. Bring your own cheese and crackers, or purchase some Amish cheeses, crackers, oil and bread.
4366 Stillhouse Rd, Hume, VA 22639
(540) 364-1203
Dog-friendly: outside and on the porch/patio
For the family that owns PCW, wine runs in the blood. They claim to be the producers of the first internationally recognized fine wines in America on October 20, 1762. Be sure to try their 1762 port, made from Chambourcin.
Cover Photo: A dog and its owner enjoy the picnic area at Barrel Oak Winery. Photo by Peggy Mihelich, All Rights Reserved.

Cork Hounds is an affiliate partner and we will be compensated if you make a purchase after clicking on this ad link.