Canines Uncorked Charity Event and Dog-Friendly Vineyards Near Portland, Oregon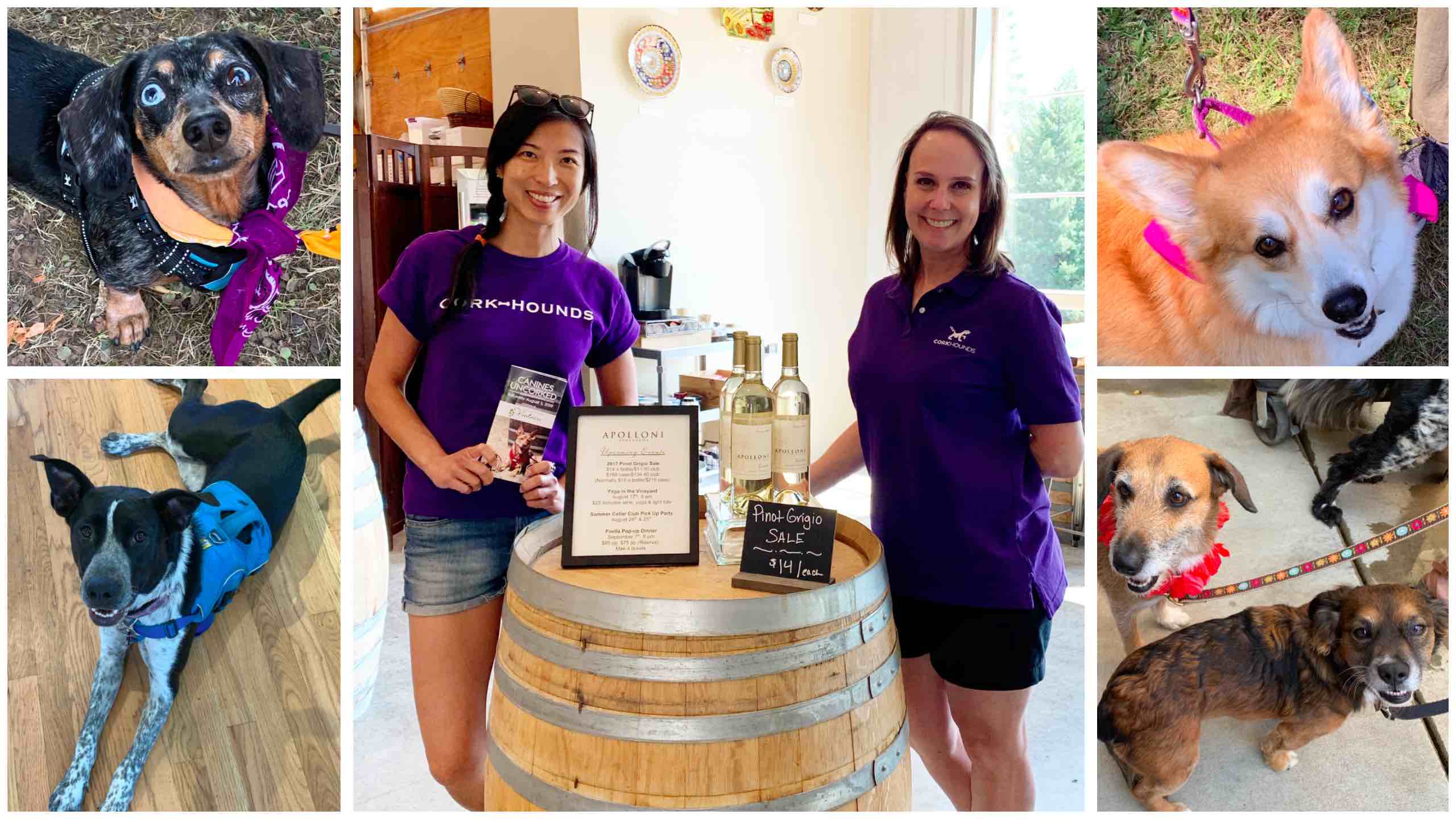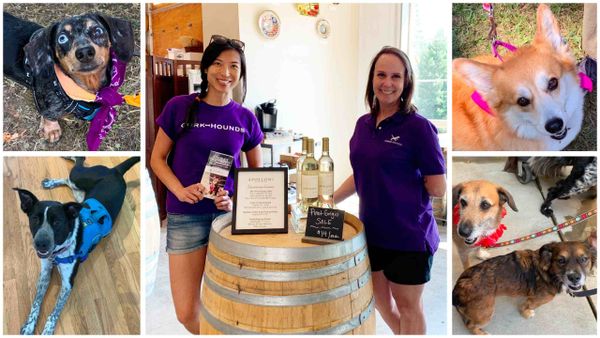 Cork Hounds is an affiliate partner and we will be compensated if you make a purchase after clicking on this ad link.
In early August, Cork Hounds headed out West to explore dog-friendly vineyards near Portland, Oregon. This wine producing region is referred to as the North Willamette Valley. It's actually a valley within a valley -- that being the Tualatin Valley. So you may hear it called both. According to the Washington County Visitors Association, there are nearly 35 vineyard estate wineries and tasting rooms in the area -- more than enough to keep anyone touring and tasting for weeks. And many of these wineries are dog-friendly. The area is best known for its Pinot Noir and Pinot Grigio. Virtually every vineyard will have one or both varieties on their tasting menu. Chardonnay and various dessert wines are also commonly found.
We timed our trip to coincide with the ninth annual Canines Uncorked wine tour. A dog-centric wine event that benefits the Oregon Humane Society (OHS).  Tickets for Canines Uncorked are $40.00 in advance, and $50.00 the day of the event. For one Saturday in August, fifteen (15) vineyards open their doors to dogs and their owners. Humans enjoy special tastings and also get a free ticket to use at any of the participating vineyards during the month of August. One hundred percent of ticket sales benefit the OHS and each vineyard hosts a dog activity for their furry guests of honor.
Canines Uncorked is one of several large, regional wine events where you can find many participating dog-friendly vineyards. Another example is Deck the Halls, held around Seneca Lake in New York each November. Other events, like Canines Uncorked, were organized to benefit their local Humane Societies or Animal Rescues. Examples include Wine4Paws in Paso Robles, California which happens each April, and Wine and Wags in Livermore, California which happens each June. Cork Hounds tracks these and other events on our site, and you can check out our blogs (part one and part two) on Wine4Paws.
Normally, I would bring my dachshund Greta on a trip like this!  But not this time. Greta, who is about to turn eleven, accompanied us on the seven hour flight from Washington, DC earlier this year to Paso Robles for Wine4Paws and it was a bit hard on her. My co-founder, Jeremy just adopted a five year old dachshund named Tango, who is not quite ready to travel yet. So, Jeremy stayed behind to take care of the pups while I made the trip with my friend and travel buddy, Cynthia (aka Cyn). Cyn loves wine and dogs; she has a 3-year old Boxer named Romeo! When I asked Cyn if she wanted to come as a rep for Cork Hounds, she enthusiastically said YES!
Since the event only lasts one day from 11:00 a.m. to 4:00 p.m., we knew we'd only be able to visit a handful of the 15 participating vineyards. We chose to visit five that are fully dog-friendly (outside, on the patio, and in the tasting room) year round.
Many of the vineyards we stopped at are deep in the Oregon countryside, down dirt and gravel roads -- some with steep hills leading to the tasting room. We had to kick in the 4WD on our rental a few times, which made the trip safer and easier.  If you're keen on following in our footsteps, I would highly suggest a 4WD for this kind of trip!
Table of Contents:
Vineyard to Visit
Bonus Vineyard to Visit
Trip Accommodations
Local Sites
Vineyards to Visit
14135 Nw Timmerman Rd
Forest Grove, OR 97116
503-359-3606
Dog-friendly: Outside, On Patio/Porch, Inside The Tasting Room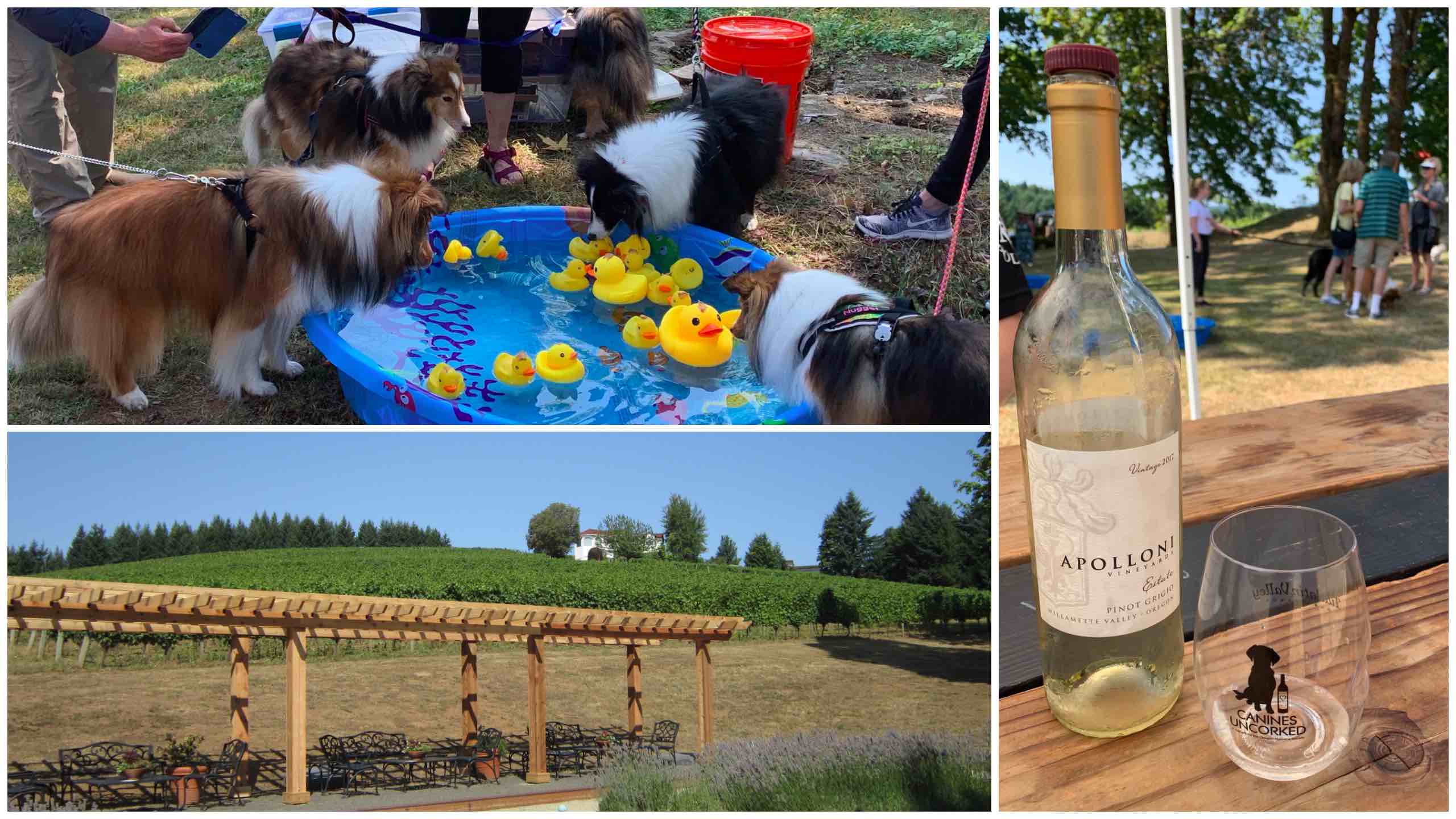 This hillside vineyard has a rustic Tuscan feel. Apolloni's hill is a perfect spot for taking your dog on a stroll through the surrounding fields, vines and trees. The vineyard went all out for its Canines Uncorked paw-visitors. They filled kiddy pools with water and placed rubber duckies covered in peanut butter in the pools. The dogs went nuts for that activity. Apollini also made pupsicles of frozen chicken broth for the dogs. Most of the pups loved the icy treats, while others were overwhelmed and not sure how to tackle them amidst all the excitement.
Our special event tasting included a peach sangria that was absolutely fantastic!  We also enjoyed the Estate Pinot Grigio and the sweet dessert wine, Viognier Dolce Vino. Up near the tasting room there is a patio area with bocce court. Be sure to go inside the the dog-friendly tasting room -- it's a bright, soaring space with stunning views of the spruce and evergreens outside.  The tasting room has limited seating comprised of big wine barrels, with wide plank tables, metal chairs on concrete floors -- perfect for you and your dog to cool off on a hot day.
Our favorite wines: Estate Pinot Grigio, Peach Sangria, Viognier Dolce Vino.
6505 Sw Old Highway 47
Gaston, OR 97119
503-359-4706
Dog-friendly: Outside, On Patio/Porch, Inside Tasting Room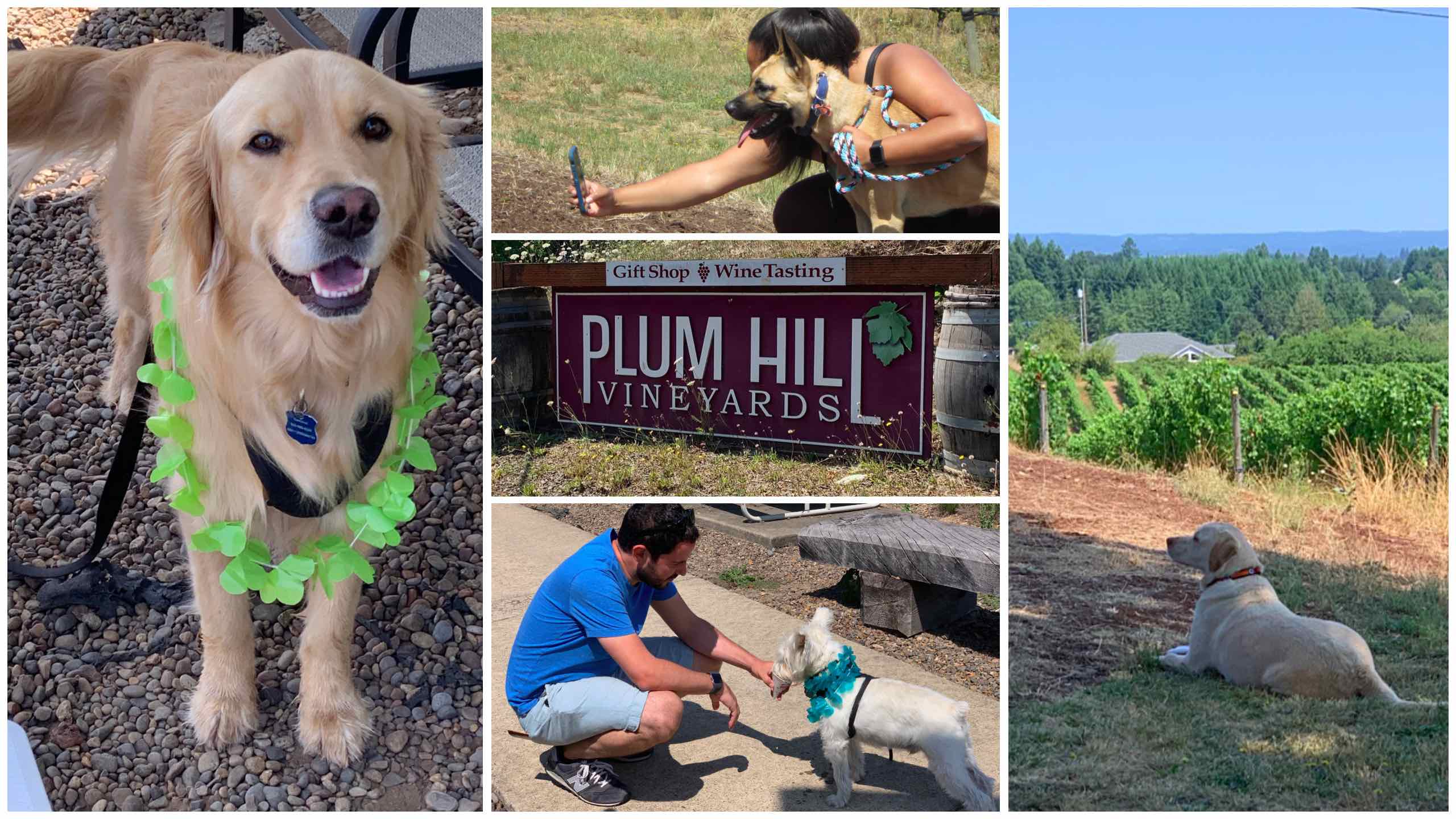 Our second stop was Plum Hill Vineyards. The owners put on a Hawain Luau theme for Canines Uncorked. Each dog received a lei and a chicken or beef flavored snow cone. This place was buzzing with a variety of dog breeds -- pugs, labs, dobermans, shepherds, mutts -- a doggy cornucopia!  We could easily see why Plum Hill has been rated by PawCulture.com as one of the most dog-friendly vineyards in the U.S. This place is made for dogs -- the owner even put in a dog run for them.
The patio behind their tasting room is where the action is. During our visit dogs were running around sniffing each other and romping through the open spaces in front of and in between the rows of vines. One lab was enjoying a game of catch the frisbee with its owner. The patio is where we had our event tasting served by the vineyard's own winemaker. Plum Hill makes a nice mix of whites and reds. Pinot is dominant but be sure to try their German varietals; in particular, the semi-sweet Schonberger.
The vineyard dog Remy was holding court in the tasting room/gift shop during our visit. He's a sweet dog who greets his guests warmly with a tail wag. It's as if he's telling you to make yourself comfortable -- my home is your home. Inside there is a good-sized tasting bar and a few tables for sipping. The walls are filled with wine-related items for purchase. I found and bought a cute plaque for my co-founder Jeremy. The plaque reads, "Dogs Welcome, People Considered."
Our favorite wines: Schonberger, White Blyss, Riesling
9449 Sw Old Highway 47
Gaston, OR, 97119
503-985-3445
Dog-friendly: Outside, On Patio/Porch, Inside Tasting Room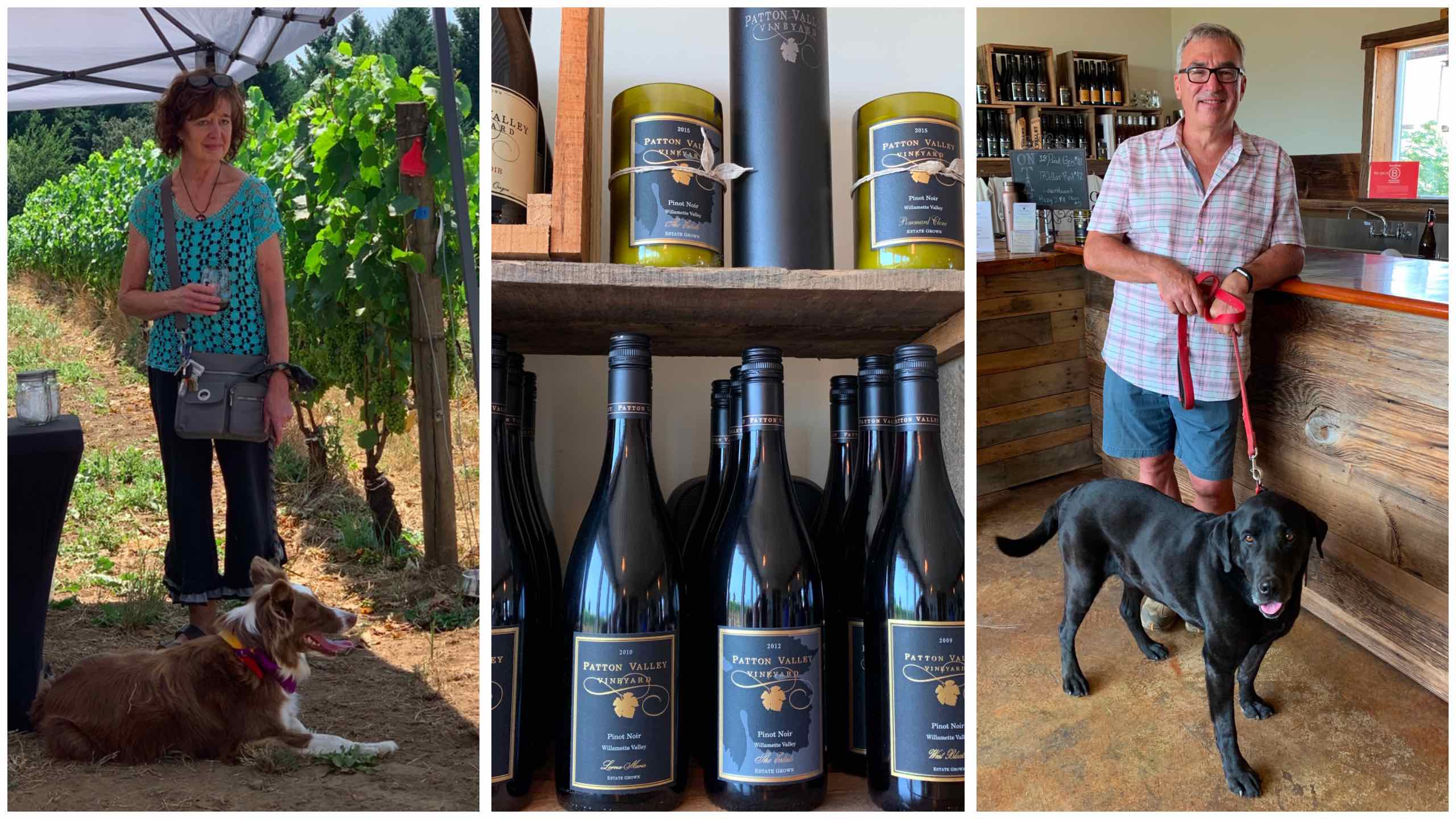 Getting to Patton Valley Vineyard is a 4WD adventure. There are some steep inclines with slippery gravel. But you'll be rewarded when you reach the hilltop tasting room to find amazing views of the surrounding mountains.
The tasting room is a small but cool and inviting space. The polished concrete floors are a hot dog's dream come true. We saw a black lab and his owner enjoying a bar tasting during our visit. But we headed to the back yard where they had a tasting tent setup for Canines Uncorked.
Patton Valley has introduced many sustainable farming practices in their effort to make great wine. But their first sustainable project wasn't wine -- it was honey bees! They pay homage to their bee past with a tasty Queen Bee Noir red.
And while we were busy sipping, dogs were busy sniffing out treats at the adjacent K9 Nose Work area. Fun was had by all.
Our favorite wines: Pinot Noir Rose, Queen Bee Pinot Noir
35040 Sw Unger Rd
Cornelius, OR 97113
503-628-6060
Dog-friendly: Outside, On Patio/Porch, Inside Tasting Room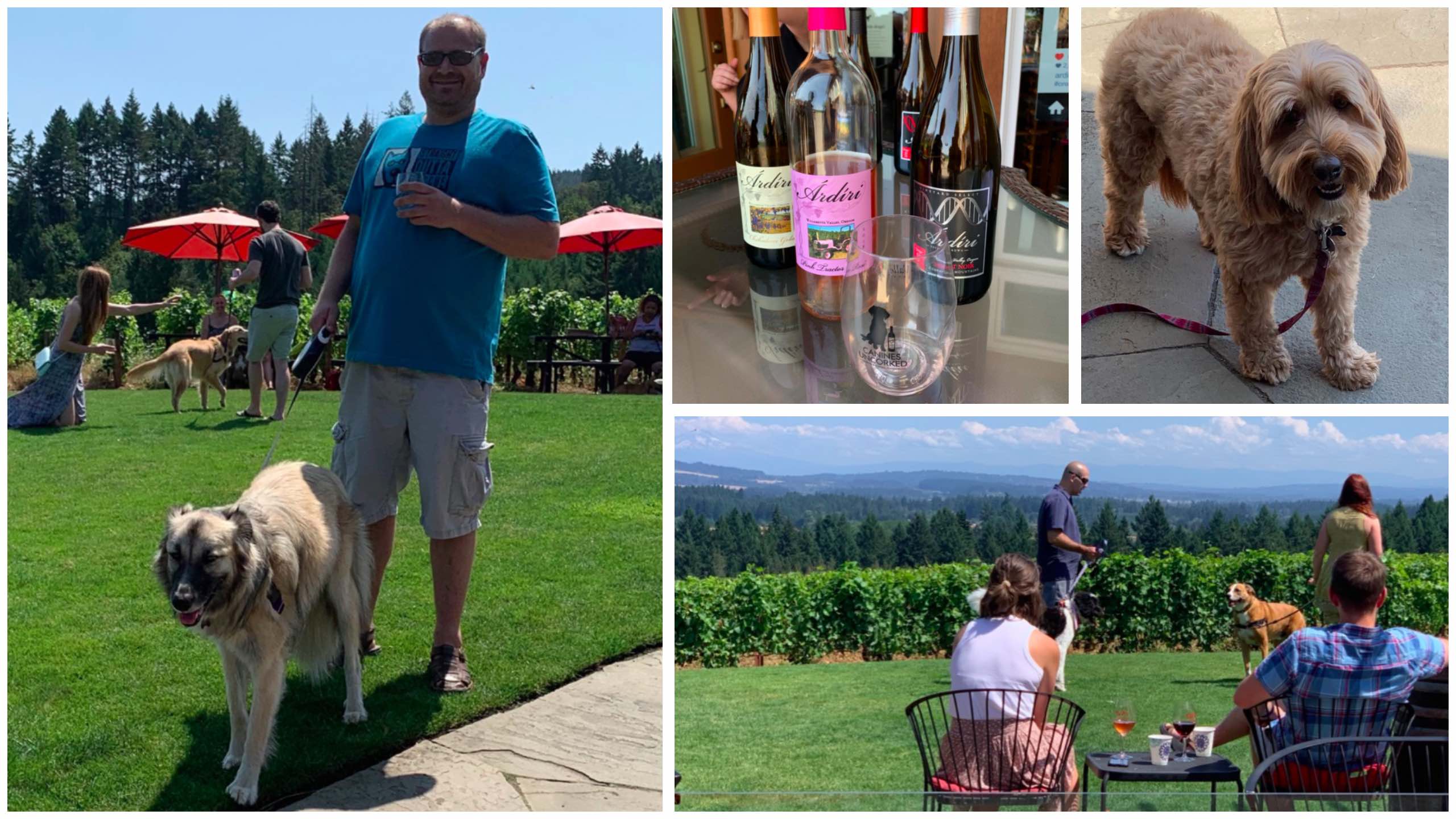 Beautiful views, a large courtyard/patio space and a flat lawn for pups to run and play make Ardiri a popular destination. So popular that we couldn't find a seat! So we stood/hung out at the Canines Uncorked tasting bar to watch the activity while we enjoyed their Pinot Gris and the Rose of Pinot Noir.
If you're looking for a more upscale vineyard with manicured grounds and a view of Mt. Hood, be sure to make a visit to Ardiri!
Ardiri had a dog communicator as their event activity. We didn't get to see Shawna Fischer communicate with any dogs during our visit but according to her site it's about "hearing an animal's thoughts and feelings." I'm no expert but based on what I could see, the dogs at Ardiri were having a great day. In addition to offering the communicator, Ardiri has dog biscuits available for good pups.
Our favorite wines: Pink Tractor Rose, Chehalem Gold
33155 Sw Riedweg Rd
Cornelius, OR, 97113
503-407-8598
Dog-friendly: Outside, On Patio/Porch, Inside Tasting Room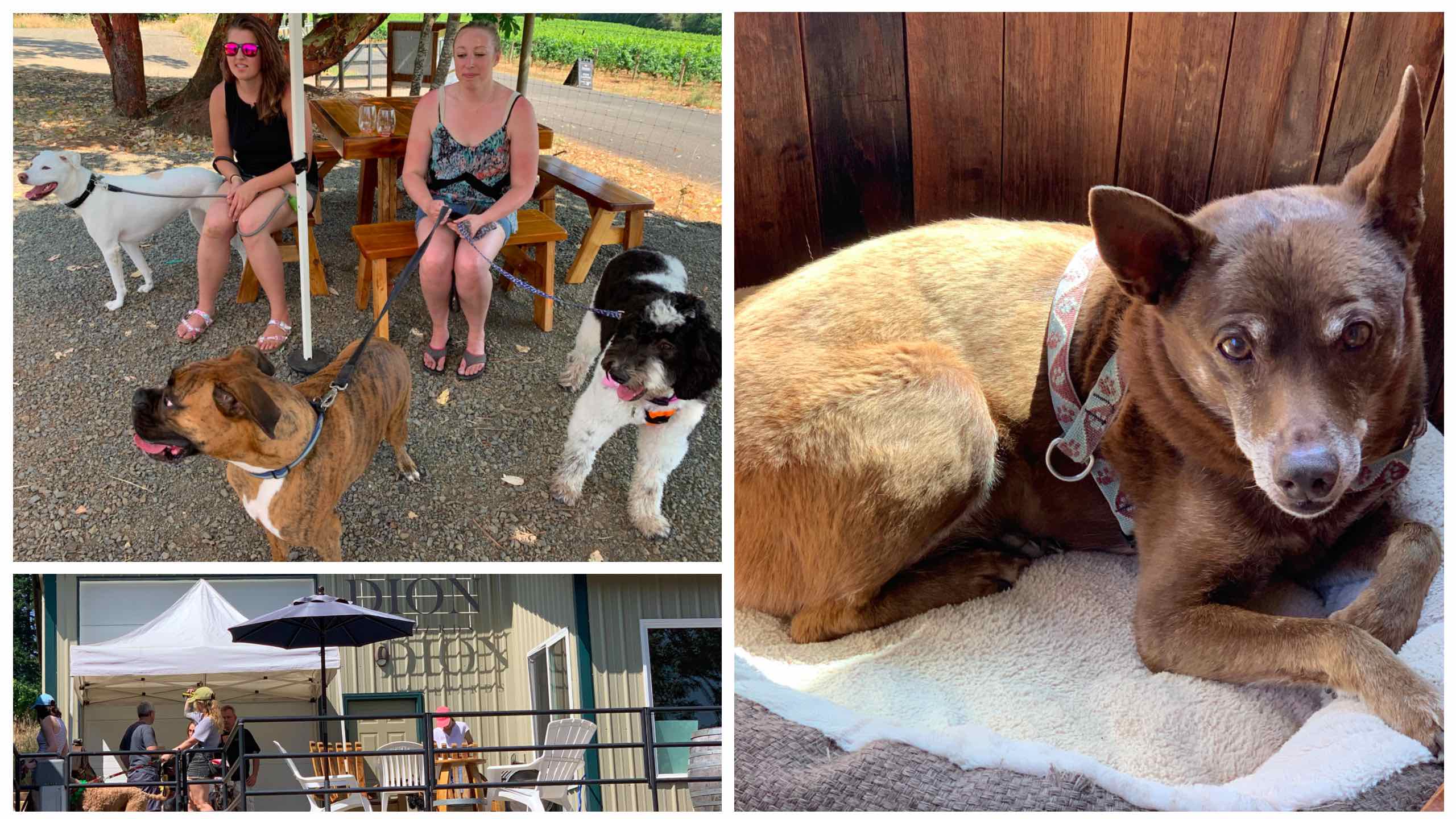 Our final stop of the day was Dion. It's a family-operated vineyard on the side of a hill. Dion grows grapes not only for their own use but for a variety of wineries in the Willamette Valley.
Inside their small but pleasant tasting room we met the owner and his winery dog Choco, a 13-year old rescue pup. He was sitting in a barrel bed made especially for him. Choco seemed quite content to watch the tasting room activity from this comfy spot. There's not much seating inside so you'll want to grab a table on the adjacent patio/deck space. Down near the bottom of the property they have an area with a picnic table where we were served part of our tasting. We met a group of dog owners with their pups. One dog was enjoying a run along the open space in front of the vines. This is a good area for walking a dog during a visit. And remember, always clean up after your dog when visiting a vineyard/winery.
Our event tasting included a refreshing and crisp Rose of Pinot Noir. Dion's dog-friendly activity centered around nutrition. A local dog treat company, Lelly Belly, whose products are preservative free, had homemade goodies for dogs to sample and for owner's to purchase. Cyn and I both picked up a few biscuits to take home to our fur babies.
Our favorite wines: Rose of Pinot Noir
Bonus Vineyard to Visit
30088 Sw Egger Rd
Hillsboro, OR, 97123
503-628-7829
Dog-friendly: Outside, On Patio/Porch, Inside Tasting Room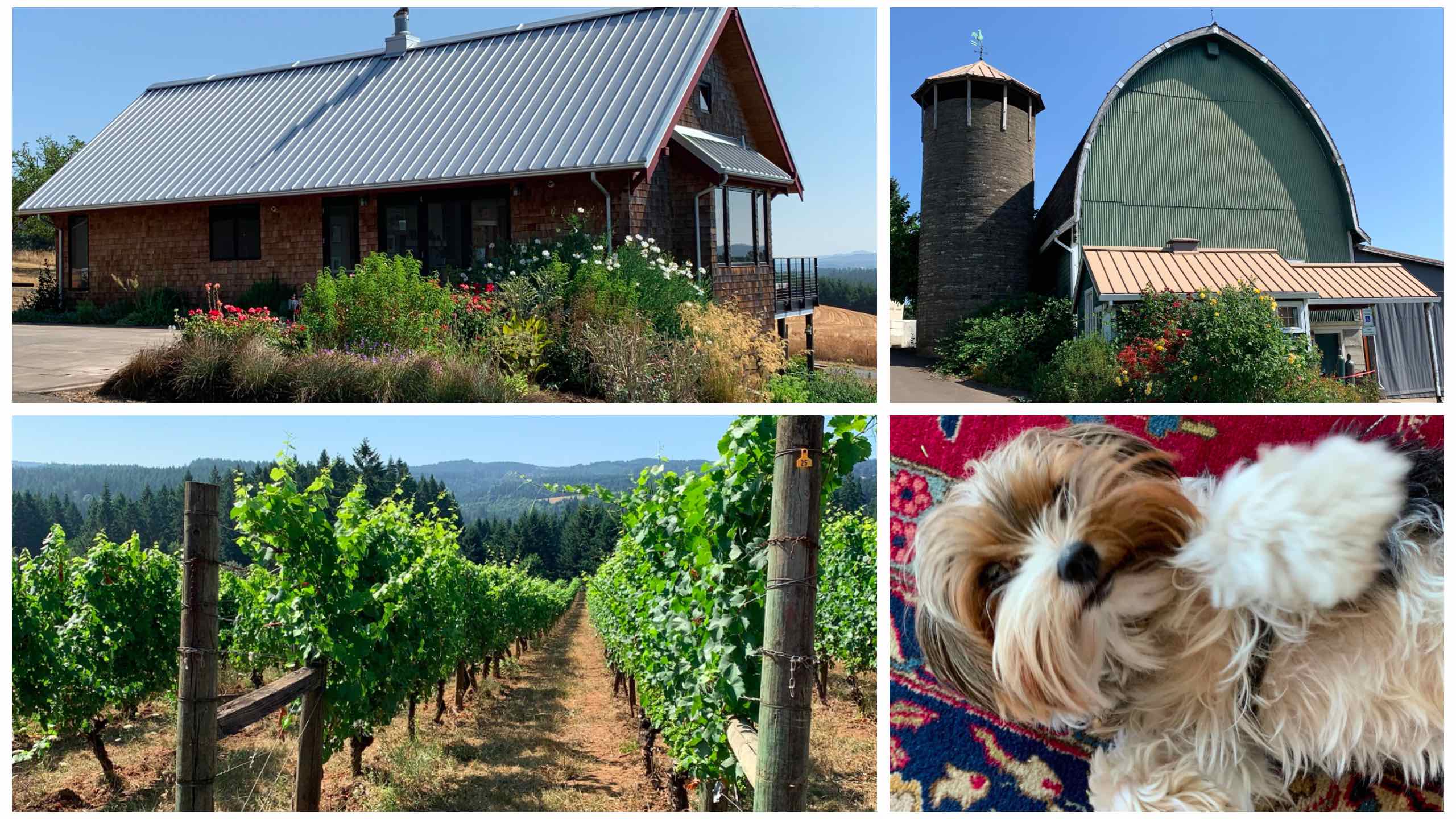 Because Canines Uncorked is only a one day event, the organizers recognize that it's nearly impossible to get to all 15 participating vineyards. So they provide everyone with two free tasting tickets to visit any of the Canines Uncorked vineyards/wineries during the month of August. Cyn and I used our tickets the following day to stop by Ruby Vineyard & Winery.
This charming vineyard has a modern tasting room with a patio that has a gorgeous view of the countryside and Mt. Hood. It was a gorgeous day but a bit hazy. However, we could just make out the peak of this snow capped mountain. Ruby is only about 7 acres so they've purchased a nearby Roya Vineyard & Cottages which are dog-friendly. They only grow Pinot grapes at Ruby and locally source all their other grape varieties. We enjoyed the Pinot Gris, and a special sparkling Chardonnay. Since this was our only planned stop for the day we enjoyed our tasting on the patio and ordered a meat and cheese plate -- a great way to wrap up our visit to Oregon wine country.
Our favorite wines: Pinot Gris, Sparkling Chardonnay
Trip Accommodations
If you are visiting from out of town, you'll find plenty of dog-friendly hotels in the Hillsboro/Beaverton area.
Search BringFido
Search Homeaway
We stayed in the town of Beaverton. The furthest vineyard was about 25 minutes away.  Our hotel, The Doubletree-Beaverton is dog-friendly.
Local Sites
Silver Falls State Park
Cyn and I arrived a day early. We used the time to explore Oregon's great outdoors. Silver Falls State Park is about an hour and 15-minute drive from Beaverton. There are ten waterfalls that you can visit in the park but we chose a 3-mile trail that went by two. The trails through the forest are beautiful, the air is fresh and the waterfalls are spectacular! You can even walk behind them. The trails are well maintained and easily walkable but wear good shoes with treads that will keep you from slipping when walking behind the falls. Dogs are allowed in the park but not on any of the trails that lead to waterfalls. Park maps and signs will direct you to the dog-friendly locations.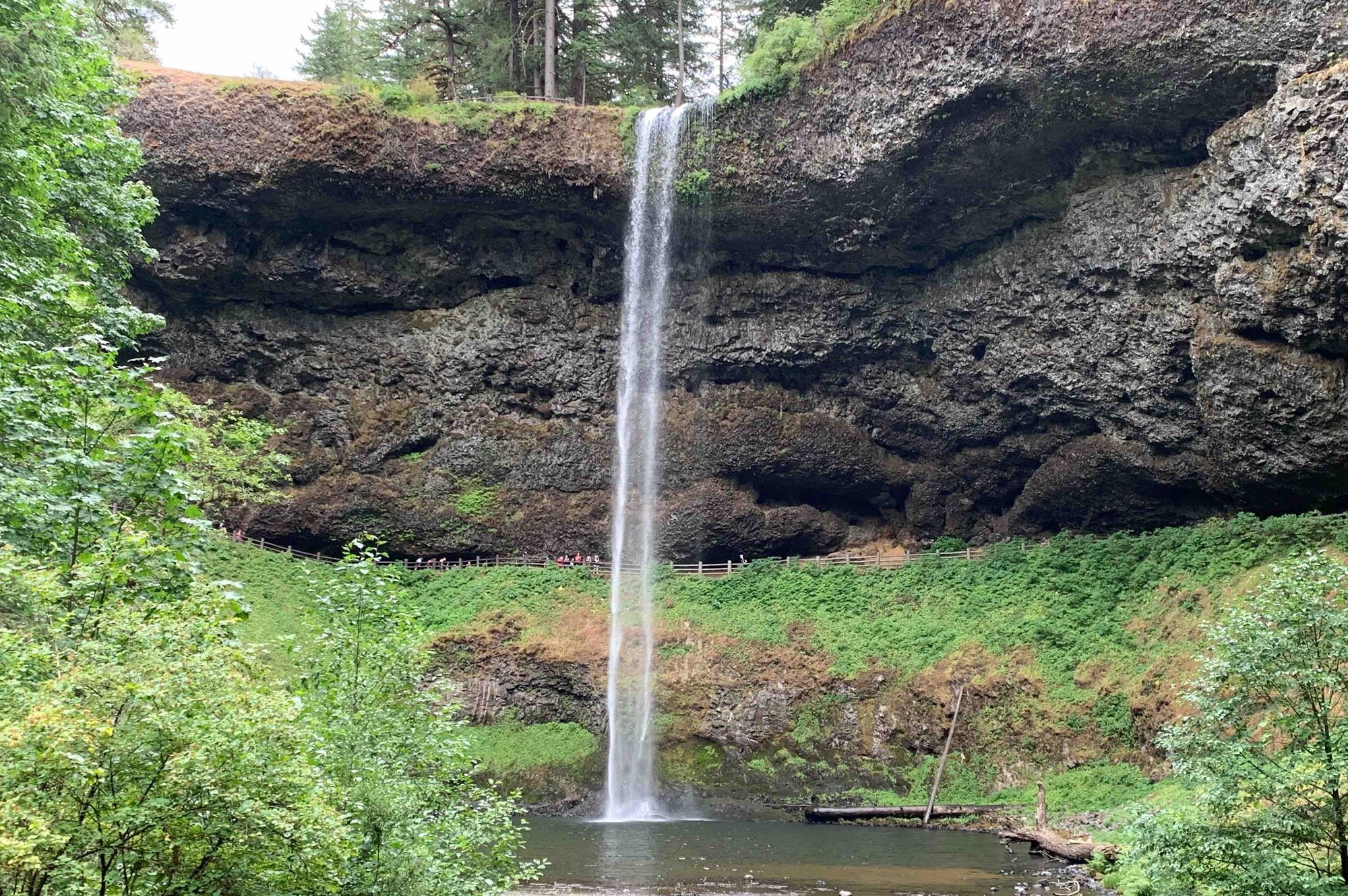 Silverton
On the way back to Beaverton we stopped by the small town of Silverton. It's a quaint place with colorful historic murals on the sides of buildings. There is a convenient public parking area just off the main street that has a grassy area and public restrooms. It's a good pitstop for humans and canines. We enjoyed an ice cream cone at the Silverton Coffee Station, which has an outdoor patio that is dog-friendly.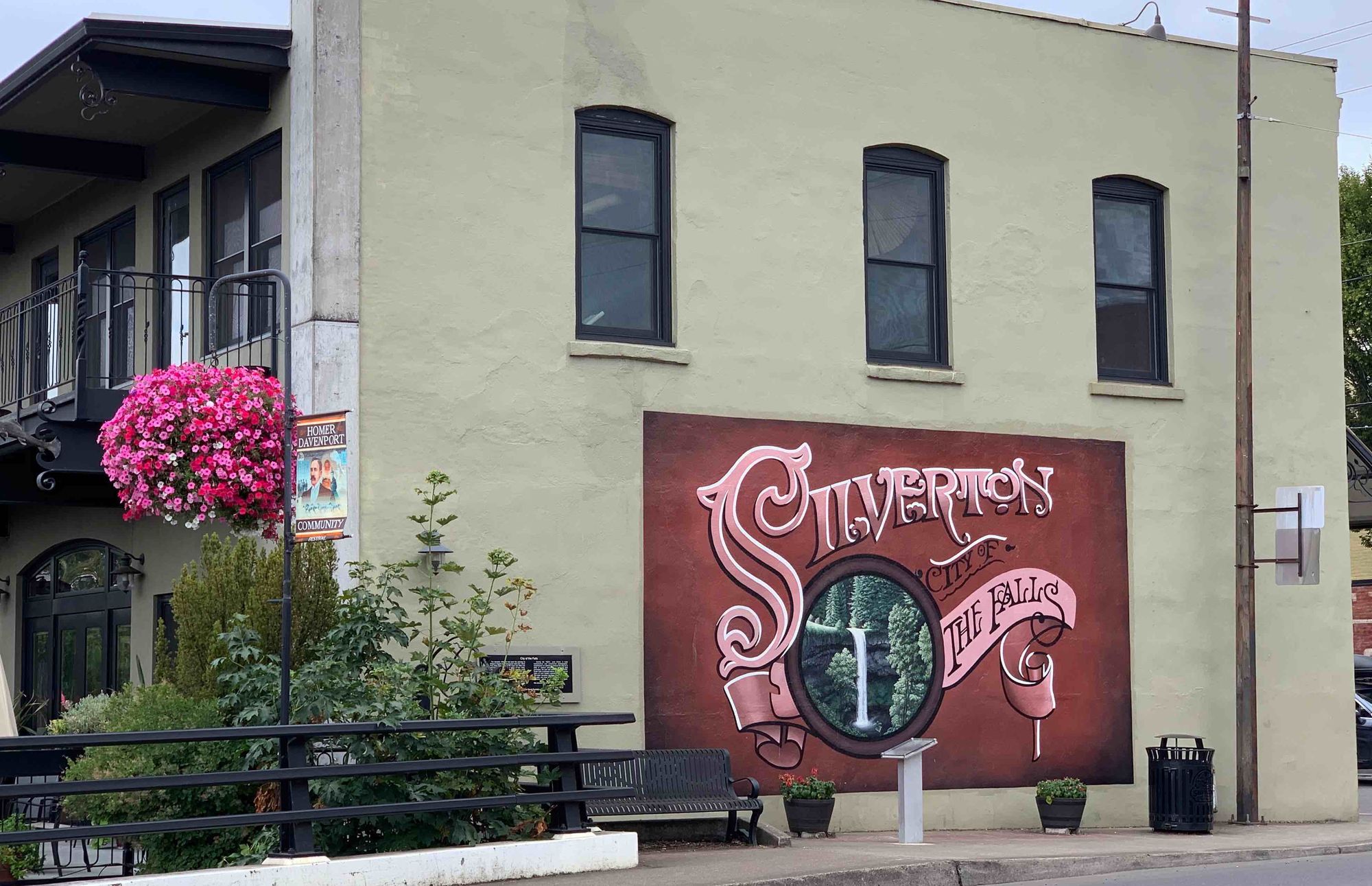 Cover photos feature Cork Hounds co-Founder Peggy Mihelich, her friend Cynthia and some of the many dogs we met during the Canines Uncorked wine tour. Photos by Peggy Mihelich, All Rights Reserved

Cork Hounds is an affiliate partner and we will be compensated if you make a purchase after clicking on this ad link.