Exploring Dog-Friendly Vineyards in Connecticut and Massachusetts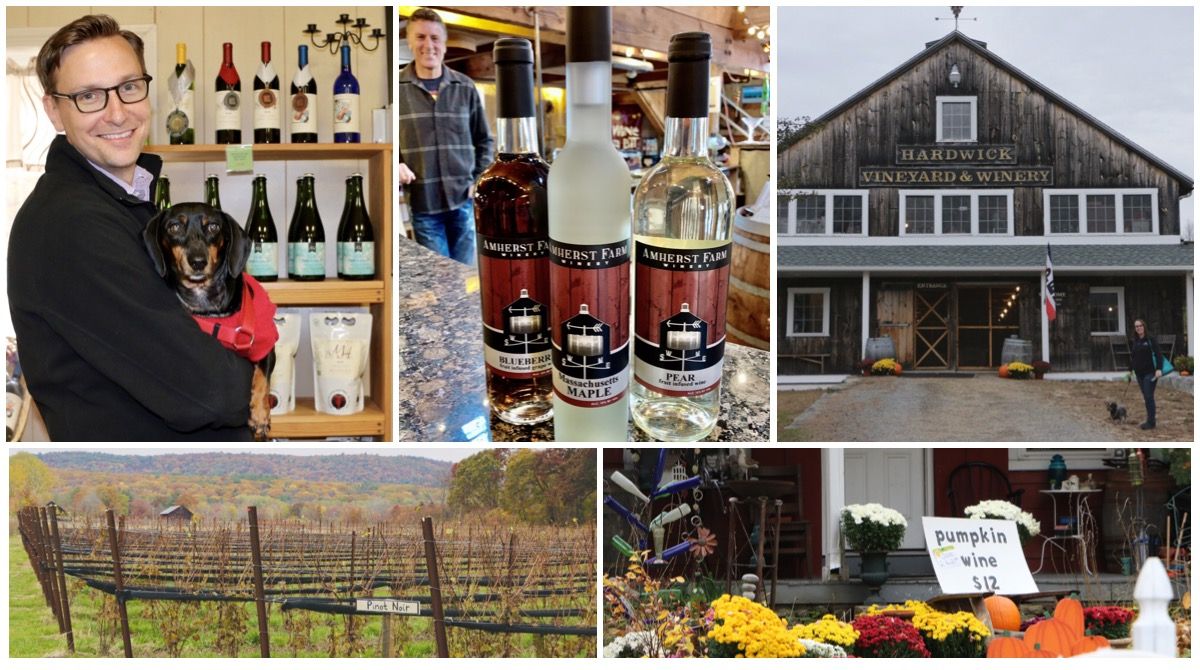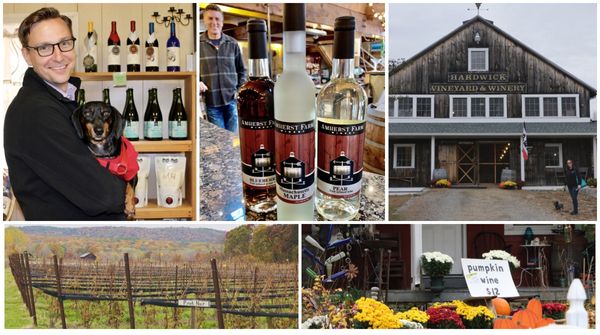 Cork Hounds is an affiliate partner and we will be compensated if you make a purchase after clicking on this ad link.
For many people, fall is their favorite time of year. Cooler weather makes for more time spent with the dog outside exploring. What better way to spend a weekend than amongst the changing leaves at a vineyard? That's what my Cork Hounds co-founder Jeremy and I decided to do the week before Halloween. We packed up the dogs (Greta and Tango) and drove 7.5 hours North of Washington, DC to explore some of New England's dog-friendly vineyards and wineries. We hit two states, Massachusetts and Connecticut. The fall foliage was right around peak (maybe a bit past) making for spectacular scenery — quaint New England towns backdropped by mountains displaying a colorful mix of red, orange and yellow leaves.
We overnighted in the town of Avon, Connecticut. From there we explored four vineyards in Massachusetts on the first day and two in Connecticut the following day. We squeezed in one more stop just before leaving Connecticut on our return to Washington, DC. It was a lot of driving but well worth the effort. We loved the wine we tasted, hauling back 26 bottles! There's a lot of really good fruit wine in this region and some other unexpected but tasty grape and fruit infused blends. You may scoff at the thought of fruit wine but don't. Give it a try and you might be pleasantly surprised — we were!

Table of Contents:
Massachusetts Vineyards to Visit
Connecticut Vineyards to Visit
Trip Accommodations
Local Sites
Massachusetts Vineyards to Visit

592 Sylvester Rd
Florence, MA, 01062
413-586-2575
Dog-friendly: Outside, On Patio/Porch, Inside The Tasting Room (exception: small dogs only in tasting room)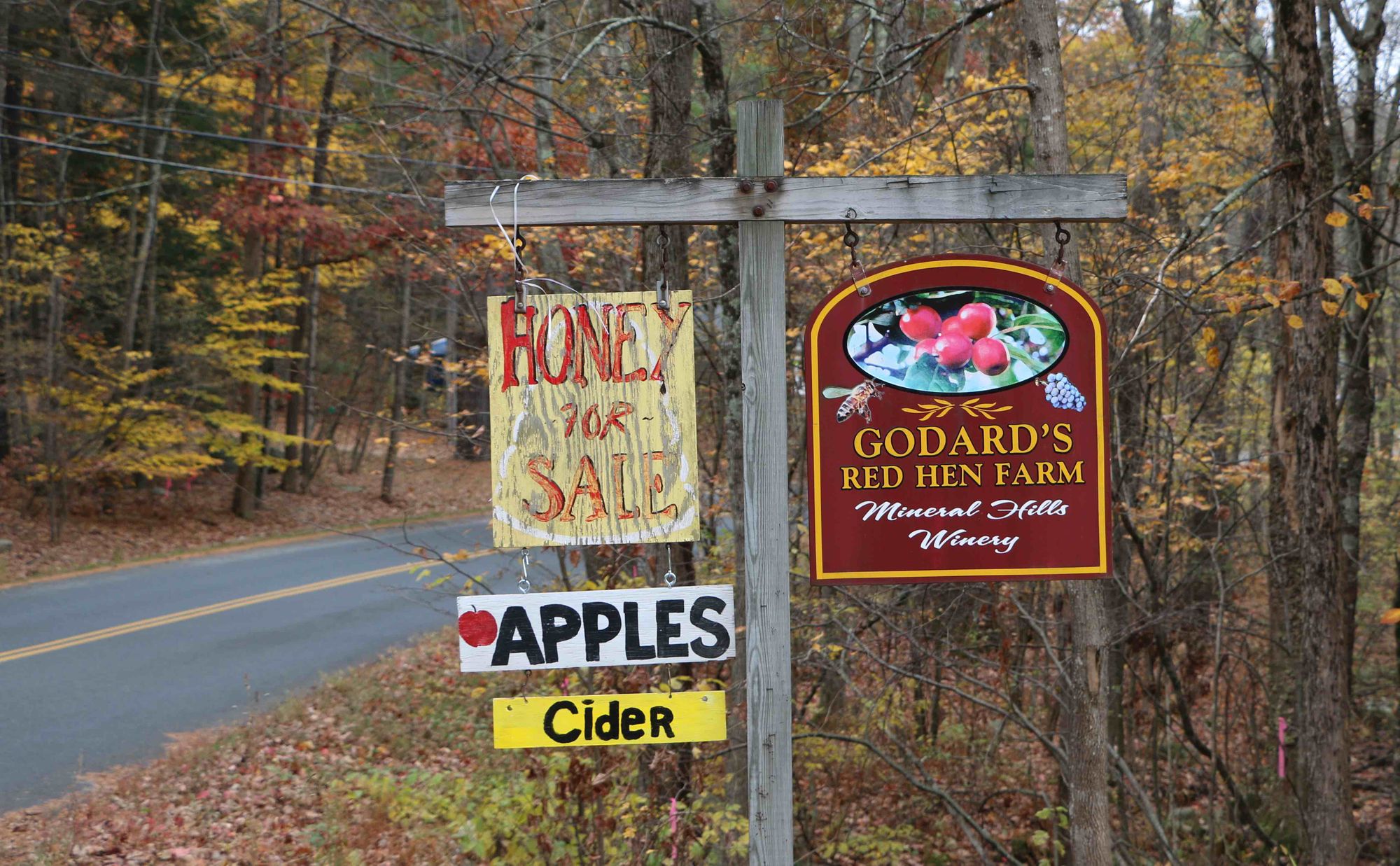 They make wine, honey and apple cider at Mineral Hills Winery at Godard's Red Hen Farm. We spotted two big dogs standing by a shed as we pulled into the driveway. They are the winery dogs and they stayed back and greeted us with a few barks. The single-story ranch-style tasting room features an inviting front porch. The tasting room is long and narrow with a few cafe style tables and chairs. Because the space is tight, they only allow small dogs in the tasting room. Next door is a very large covered pavilion with lots of picnic tables — an ideal spot in the warmer months to sit and sip with your dog. During our visit, the owner Sue, conducted our tasting. We learned about the farm — they have an apple orchard, honey bees and blueberries to make their 100% blueberry wine. And we learned a little about their winemaking. Peggy even got to meet the winemaker and tour the wine room located behind the tasting room. The vineyard's motto is, "Wines to please all palates" -- producing about 15 different wines (reds, whites, honey, apple and blueberry). Both of us found wines we liked; no doubt, you will too.
Our favorite wines: Cayuga White, Frontenac and Wicked Blue (made 100% with blueberries)
108 -109 Straits Rd
Hatfield, MA, 01038
413-247-3300
Dog-friendly: Outside, On Patio/Porch, Inside The Tasting Room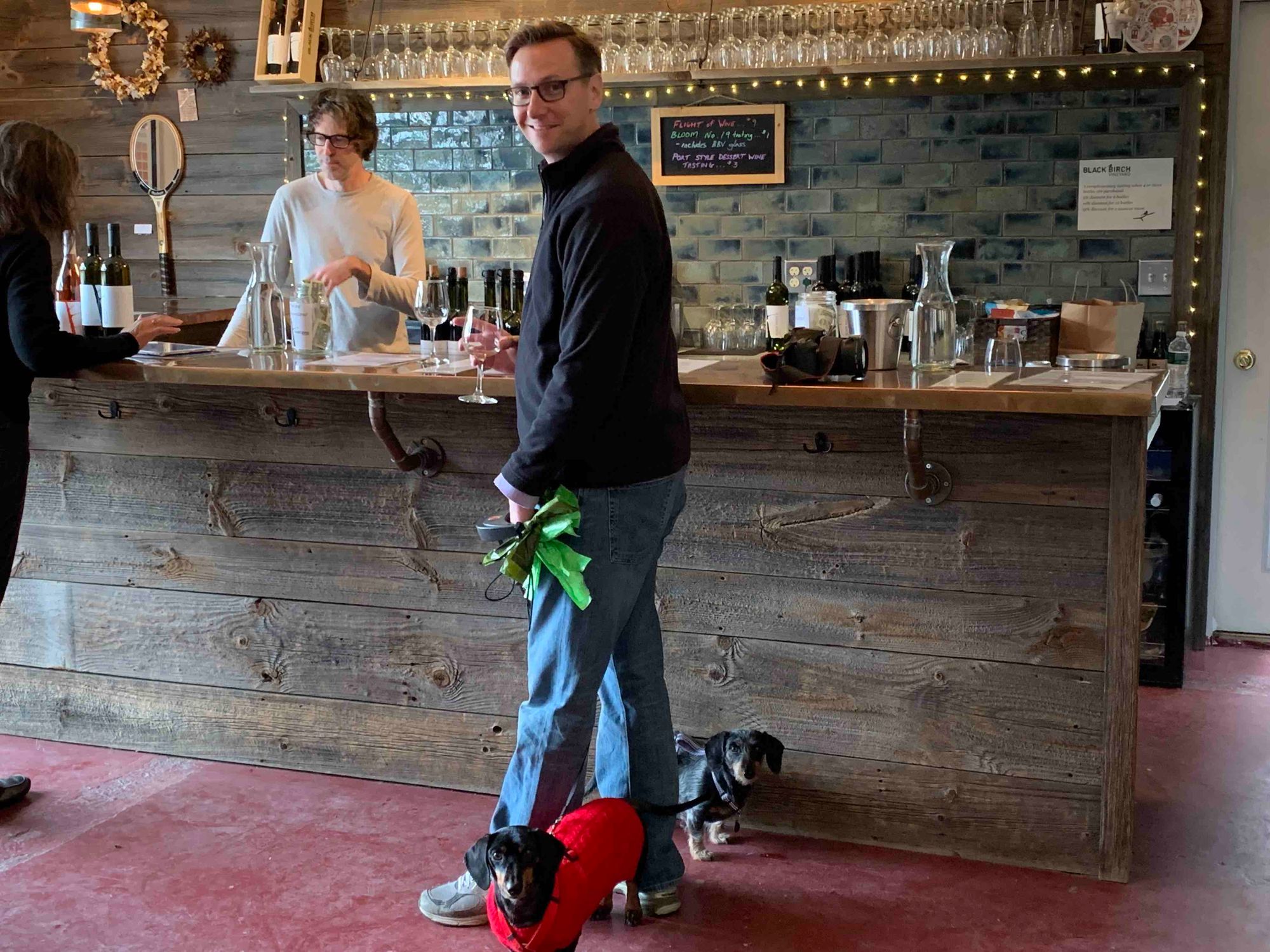 Though they've been making wine since 2012, the owners of Black Birch Vineyards only moved their operation to rural Hatfield in 2017 so they could expand their operations and grow their own grapes. They now have 19,000 vines growing across 12 acres. Eventually, they'll have 10 varietals of grapes to turn into wine. For now, they import their grapes from places like the Finger Lakes in New York state.

The tasting room sits in a valley down a long straight gravel driveway. The modern metal-sided tasting room features a glass garage door that opens onto a patio space where we saw a couple of groups hanging out enjoying a bottle of wine. The tasting room is a mix of industrial barn chic. Our pourer was playing Bruce Springsteen on a turntable when we arrived. The tasting room is on the small side and only features one large round table for sitting and sipping. Perhaps that is why others were sipping outdoors on a relatively cool day. There's lots of flat grass outside the tasting room to run the dog around. During our visit Greta spotted a resident cat that was making its way from the inside to the outside.  She's not really impressed with cats and ignored it for the most part. The wines here are in the European tradition. We sampled 5 wines taking with us a bottle of their Epic White which is made with Vidal Blanc grapes.

Our favorite wines: Epic White, Epic Red and Traminette
529 Belchertown Rd
Amherst, MA, 01002
413-253-1400
Dog-friendly: Outside, On Patio/Porch, Inside The Tasting Room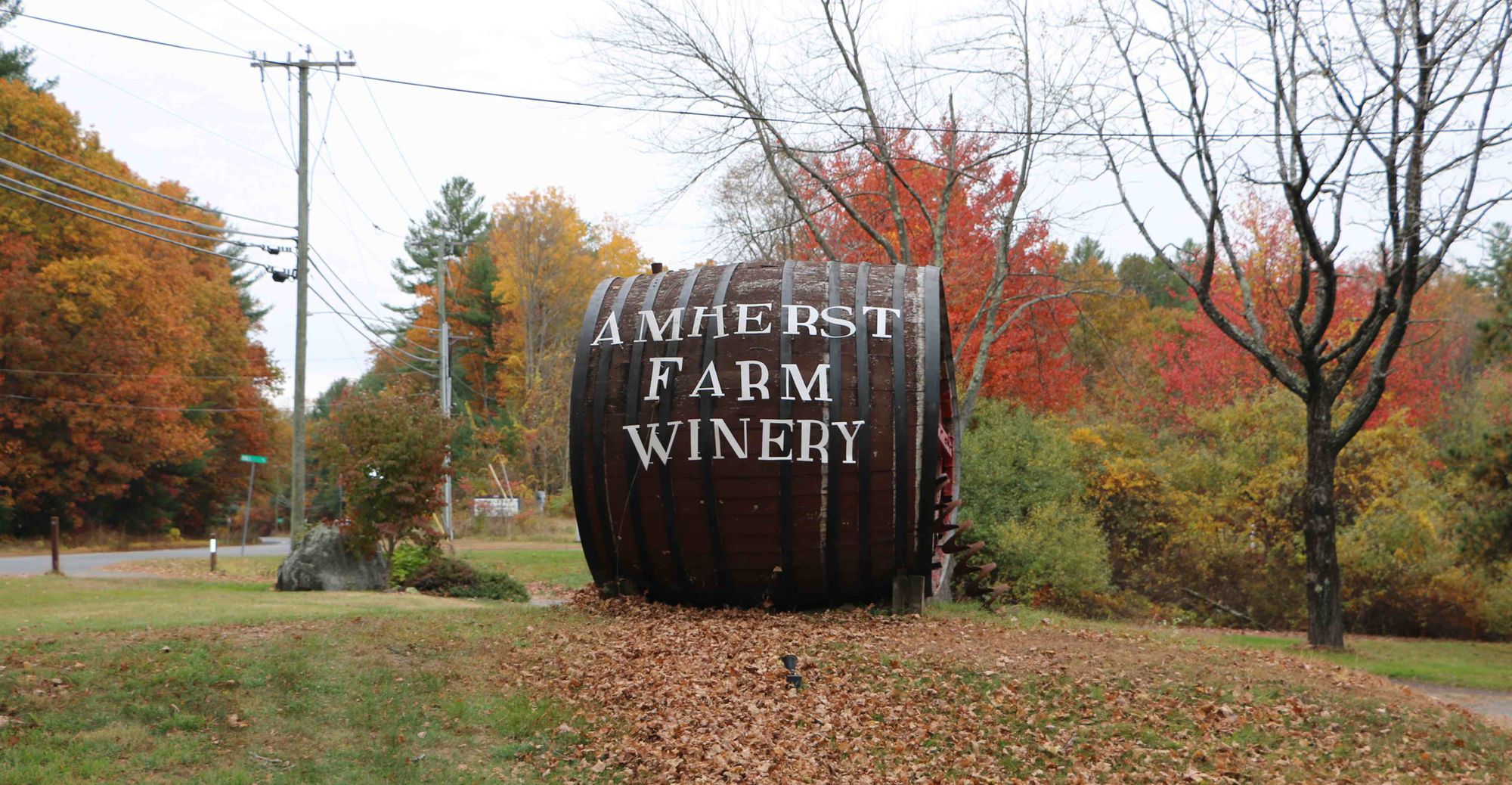 A giant wine barrel sitting on its side out front greets visitors to Amherst Farm Winery. The tasting room is in a 100+ year old red barn. The interior is a bit cold and dark but the friendly server and large selection of wines warmed us up quickly. The tasting bar is in the center of the barn and is surrounded by tables full antiques, a variety of books, and bottles of Amherst wine on display. There are plenty of tucked away spaces to sit and sip as well as an area upstairs in the barn's loft. And they also offer a nice outdoor patio that overlooks the Amherst countryside. After the barn, the patio is the most ideal place to hang out with the dog. The winery makes a variety of fruit wines like pear, peach and cranberry. These fruit wines are grape based and fruit infused. It's a pretty magical combination -- in my opinion. They even have a seasonal pumpkin wine that we tried. It was like drinking pumpkin pie. Another sweet wine that I really enjoyed was the Maple wine -- "perfect with pancakes and bacon," according to the label. Why argue with that?
Our favorite wines: Peach, White Hen and Massachusetts Maple
3305 Greenwich Rd
Hardwick, MA, 01037
413-967-7763
Dog-friendly: Outside, On Patio/Porch, Inside The Tasting Room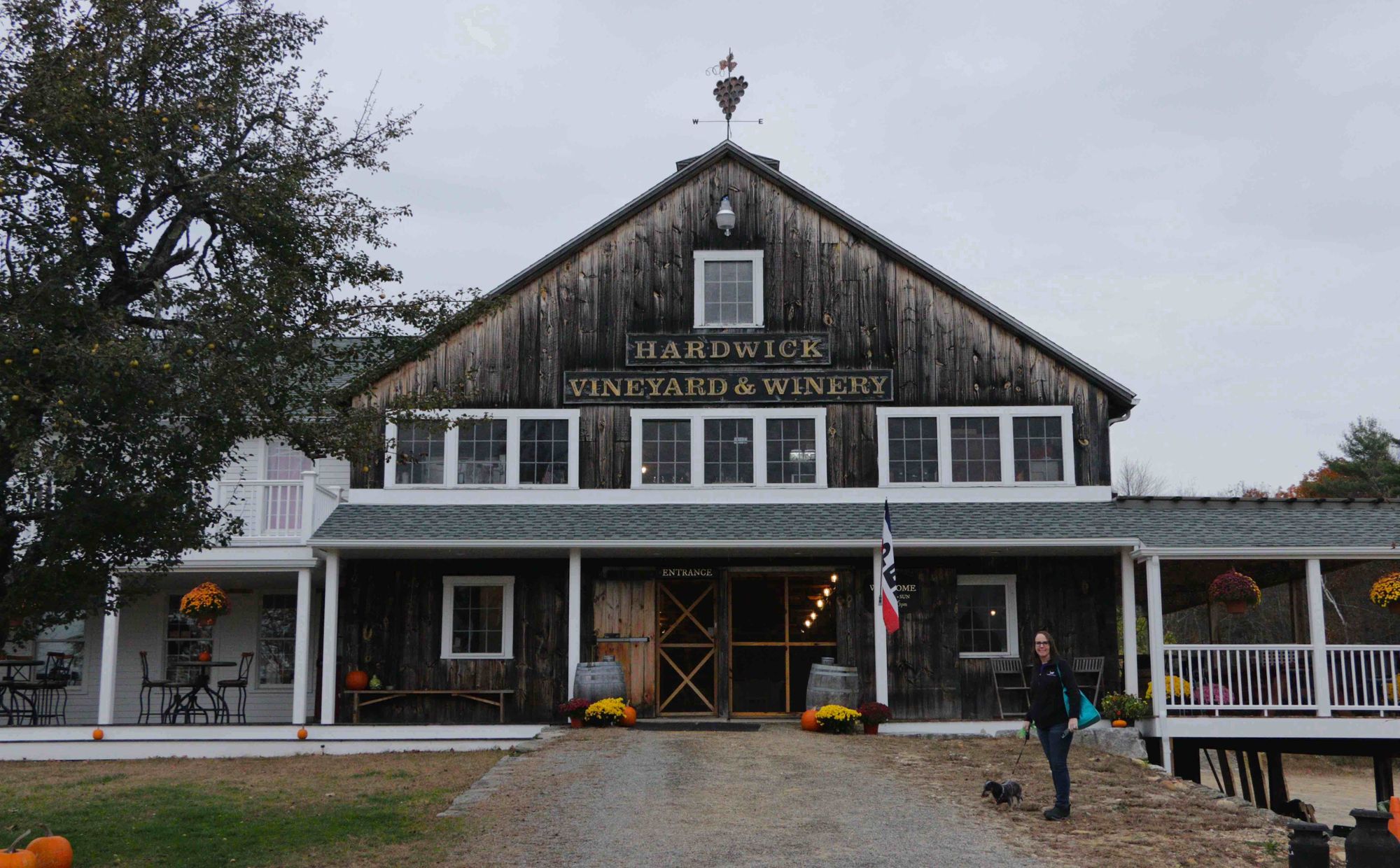 The Hardwick Vineyard & Winery tasting room is housed in a charming old New England farmhouse that the owner built out to accommodate visitors. Before we went inside, we took the opportunity to walk the dogs around the expansive property. This was definitely one of the more beautiful and quintessential New England wineries that we visited on our trip.
The interior feels inviting, with all the rich hardwoods, offering plenty of space to sit down inside, or outside under a stunning trellis decorated in lights.  The main tasting bar is located upstairs so we carried Greta and Tango up the open plank steps. We were lucky to have the owner, John Samek, as our pourer and we enjoyed hearing about the history of the vineyard and his development of the wines over the years. Hardwick's most popular wine is the cranberry wine. They make a really good pumpkin wine and a tasty apricot wine.

Hardwick participates in a number of festivals and other events, to include the Big E. The Big E spans two weeks in September, and a lot of wineries participate. We learned that Hardwick goes through roughly 50k tasting cups just for that event! They are fortunate to sell a lot of wine at this festival and they use it as an opportunity to test out new wines.

Hardwick even makes an asparagus wine! The story goes that Mr. Samek wanted to sell his wine at a popular local asparagus festival but the organizers did not initially allow Hardwick to participate because all vendors needed to have a product that somehow connects with asparagus. So, Mr Samek got busy and developed an asparagus wine -- some of the bottles even have an asparagus spear inside. How does it taste? Actually, not bad! Best paired with stew, steak or hearty vegetable soup.

We enjoyed the wines so much that we bought roughly ten of our favorite bottles. We ended our day by eating some meats and cheeses in the Hardwick tasting room.  
Our favorite wines: Prescott Pear, Enfield Apricot, Pioneer Pumpkin and Valley Asparagus
Connecticut Vineyards to Visit

1480 Litchfield Turnpike
New Hartford, CT 06057
860-489-9463
Dog-friendly: Outside, On Patio/Porch, Inside The Tasting Room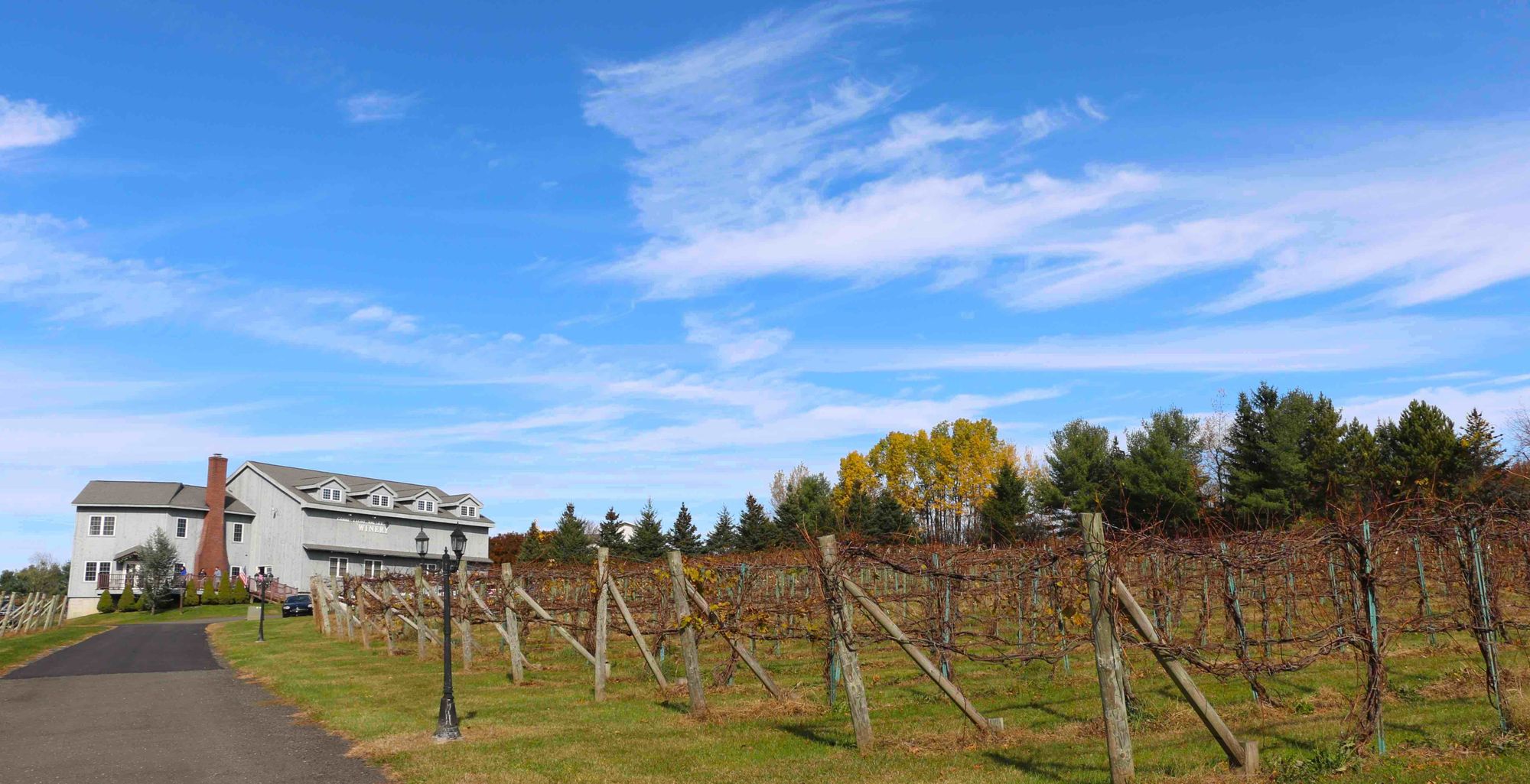 A drive through beautiful fall foliage lead us to CT Valley Winery which sits on a hill overlooking rows of vines. The big tasting room is housed in a large gray painted clapboard house. There's outdoor patio seating on the side, also overlooking the vines, a nice spot to chill with the dog. The tasting room is small and cozy with a fireplace. As we made our way to the tasting bar we were greeted by the owner who warmly welcomed our pups. She was very excited to meet us and went so far as to put our Cork Hounds sticker on the tasting room door! This was the only winery we visited where the had an orange infused wine, it was very tasty.

Our favorite wines: Orange Vidal, Just Peachy and Raspberry Delight
103 Hartford Ave.
East Granby, CT 06026
860-653-9463
Dog-friendly: Outside, On Patio/Porch, Inside The Tasting Room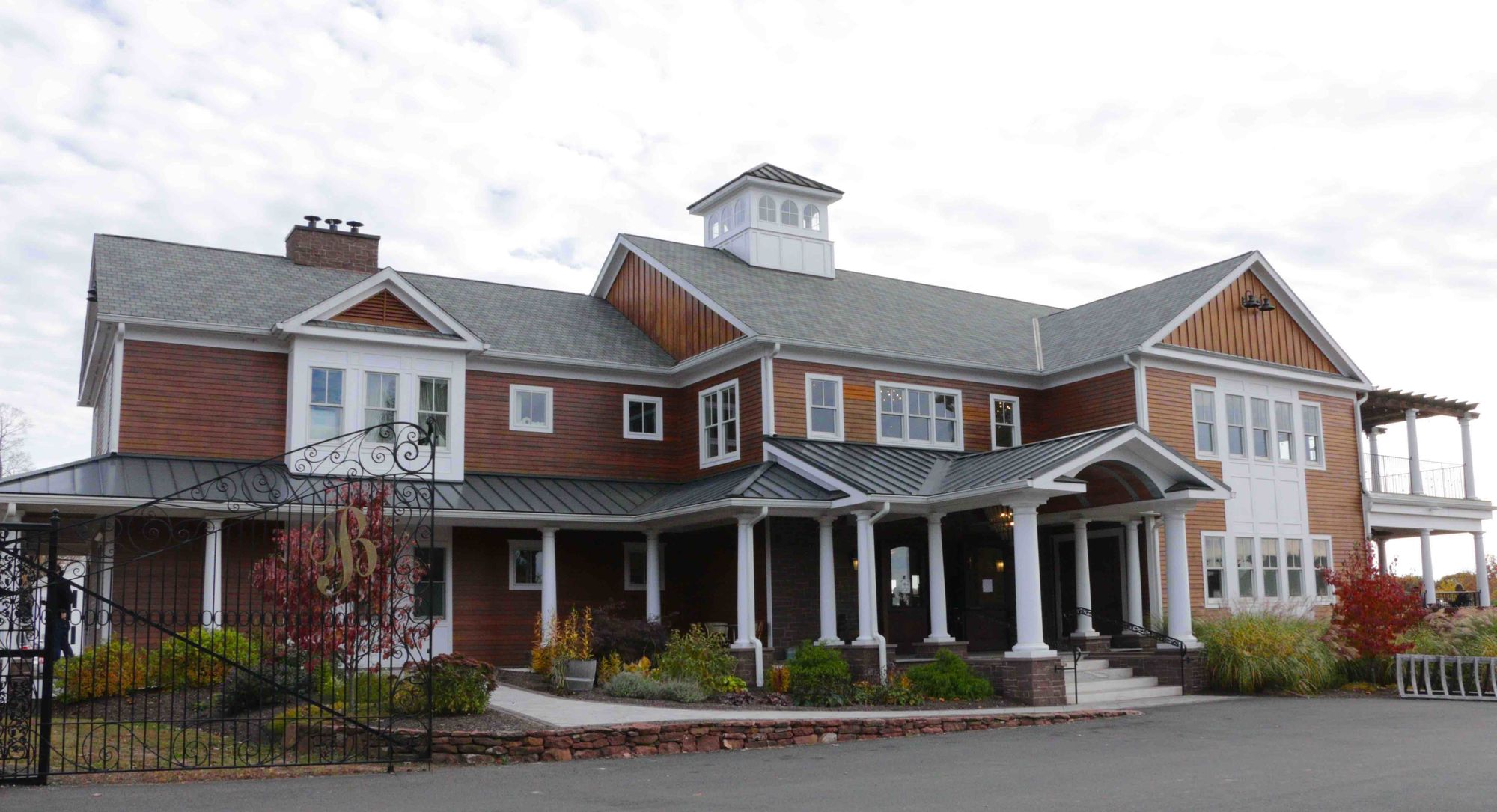 Brignole is very upscale! Their tasting room is a classic cedar shingle New England house with a column covered porch. We entered the parking lot through their grand brick and wrought iron gate and found a spot not too far from the entrance. We stopped in on a Saturday and the place was packed with groups enjoying wine and picnic fair. The tasting room is magnificent looking, and much like Hardwick captured that quintessential New England style. The main room has two large tasting bars, and dozens of tables -- all of which were full. It was so crowded we decided to carry our pups for fear they might get stepped on as the bar area had a lot of foot traffic going back and forth. There were a lot of staff serving customers, so it was relatively easy to get waited on.  We were able to secure a spot at one of the bars rather quickly.  However, some visitors did have to wait in line for a spot at the bar to do a tasting.
The large outdoor patio was also full of parties enjoying the cooler weather and the view overlooking the Connecticut countryside. There is also a fair amount of outdoor seating on the lawn near the tasting room. We met two other dogs while visiting the vineyard -- Sadie and Molly. They were sitting at picnic tables with their owners on the lawn -- most of which were all occupied. We enjoyed their sweeter wines -- both labels feature the owner's wine dogs. They don't grow grapes on the property but bring them in from places like Paso Robles, we Jeremy, Greta and I visited in April.

Our favorite wines: Lady Lucy and Sweet George
131 Tower Road
Brookfield, CT 06804
203-775-1616
Dog-friendly: Outside, On Patio/Porch, Inside The Tasting Room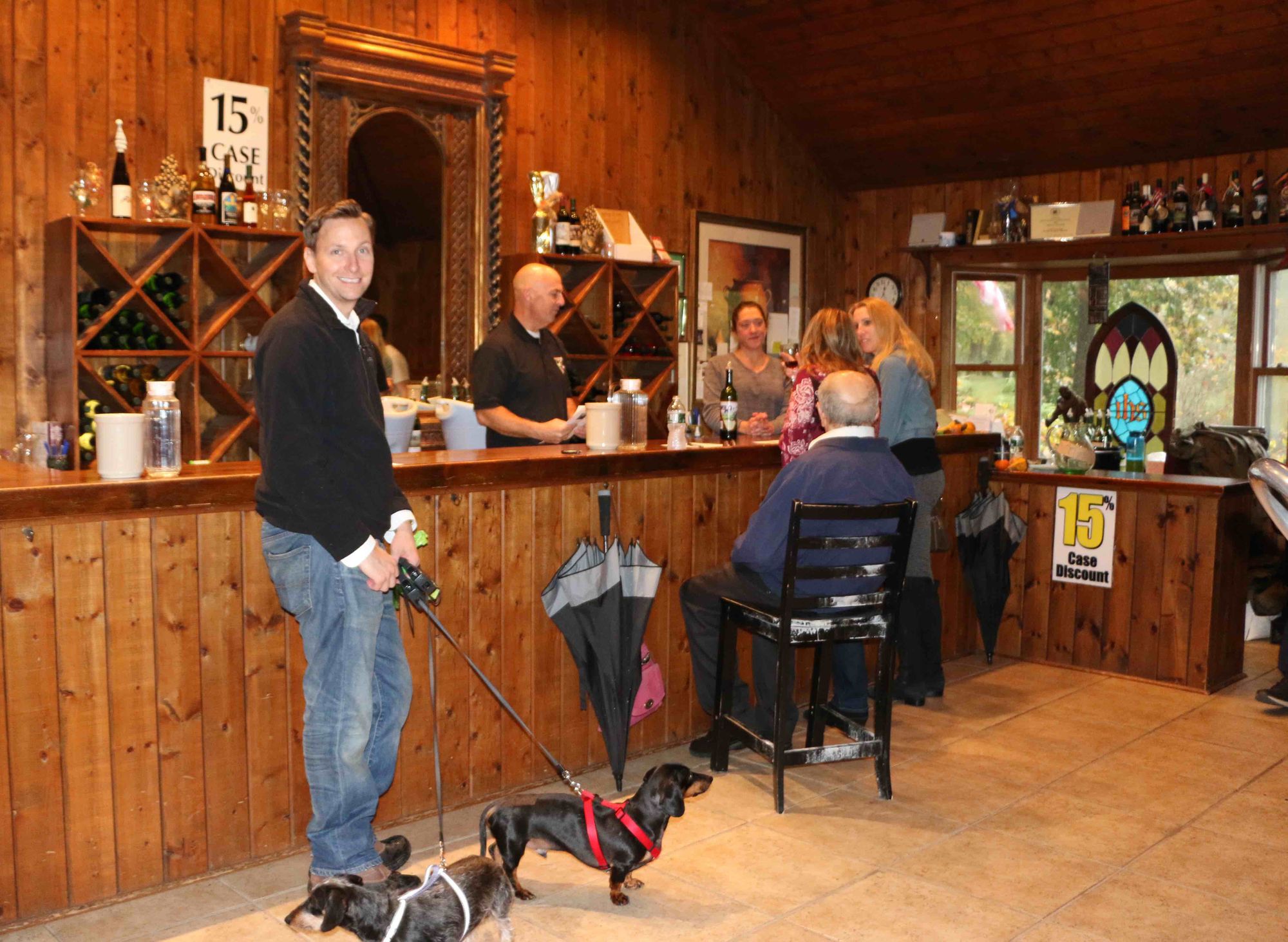 We stopped by DiGrazia Vineyards on our way back to Washington, D.C. It's not far off the main interstate. Tucked away on a Connecticut hill side. It was raining pretty hard when we arrived so there wasn't much of a chance to explore the grounds -- they do have a nice patio area out front complete with a vine covered trellis. Despite the rain, however, there was a steady flow of visitors to the tasting room! There is a separate room down the hall that has tables, chairs and an electric fireplace for people who want to stay and sip awhile. We tried some very tasty harvest/autumn spiced wines, perfect for the holidays, as well as two exceptional blueberry wine, one fused with Brandy!
Our favorite wines: Harvest Spice, Autumn Spice, Wild Blue, Wild Blue Too
Trip Accommodations

If you are visiting from out of town, you'll find plenty of dog-friendly hotels in and around Hartford, Connecticut or Springfield, Massachusetts. If you decide on a home/cottage/cabin rental, most are vacation homes set on or near lakes. For us, this is not ideal for walking two small dogs down dimly lit roads with unknown wildlife (yes, bears) lurking about.
Search BringFido Hartford | Springfield
Search Homeaway Hartford | Springfield
If you are looking for a posh hotel experience, try the Delamar West Hartford.
We stayed in the town of Avon, Connecticut. The furthest vineyard was about 50 minutes away.  Our hotel, the Residence Inn by Marriott Hartford Avon is very dog-friendly. They offer kitchens for cooking but most do not have ovens — just cooktops (2 burners). It was a struggle but we did manage to prepare a couple of dinners in the room.
Local Sites
Talcott Mountain State Park
Talcott Mountain State Park is located on Talcott Mountain in the towns of Avon, Bloomfield, and Simsbury, Connecticut. The state park features the Heublein Tower, a 165-foot-high Bavarian inspired mountain top lookout built in 1914. It was the summer/retreat home of Gilbert Heublein, a wealthy German-born food and beverage magnate. The trail to the top of the mountain is 1.25 miles long and takes about 30-40 minutes. Pets on a leash are permitted in picnic areas and on the hiking trails.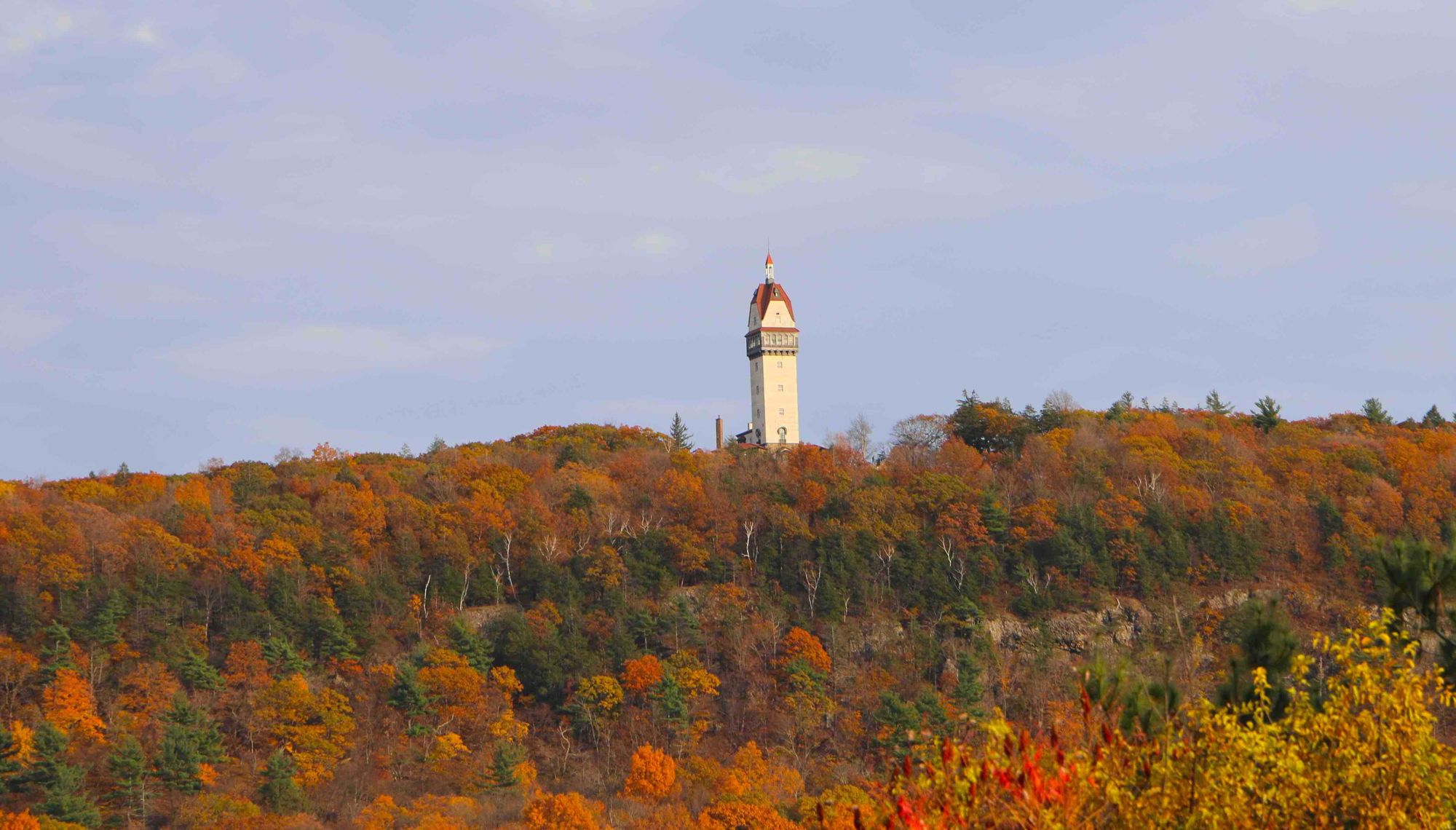 The Village of Collinsville in the Town of Canton
The small village of Collinsville was built around the Collins Company Axe Factory, a manufacturer of axes, machetes, picks and knives. The red brick factory is adjacent to the Farmington river which helped power the machines that made the tools. Collins tools were used to construct the Trans-Siberian Railway and during the California Gold Rush. The factory closed in 1966 and the buildings rented out to local businesses. One of them holds a large antique mall worth visiting to nose around. Take the pup for a stroll along Main Street for a journey back to the early days of the 20th century.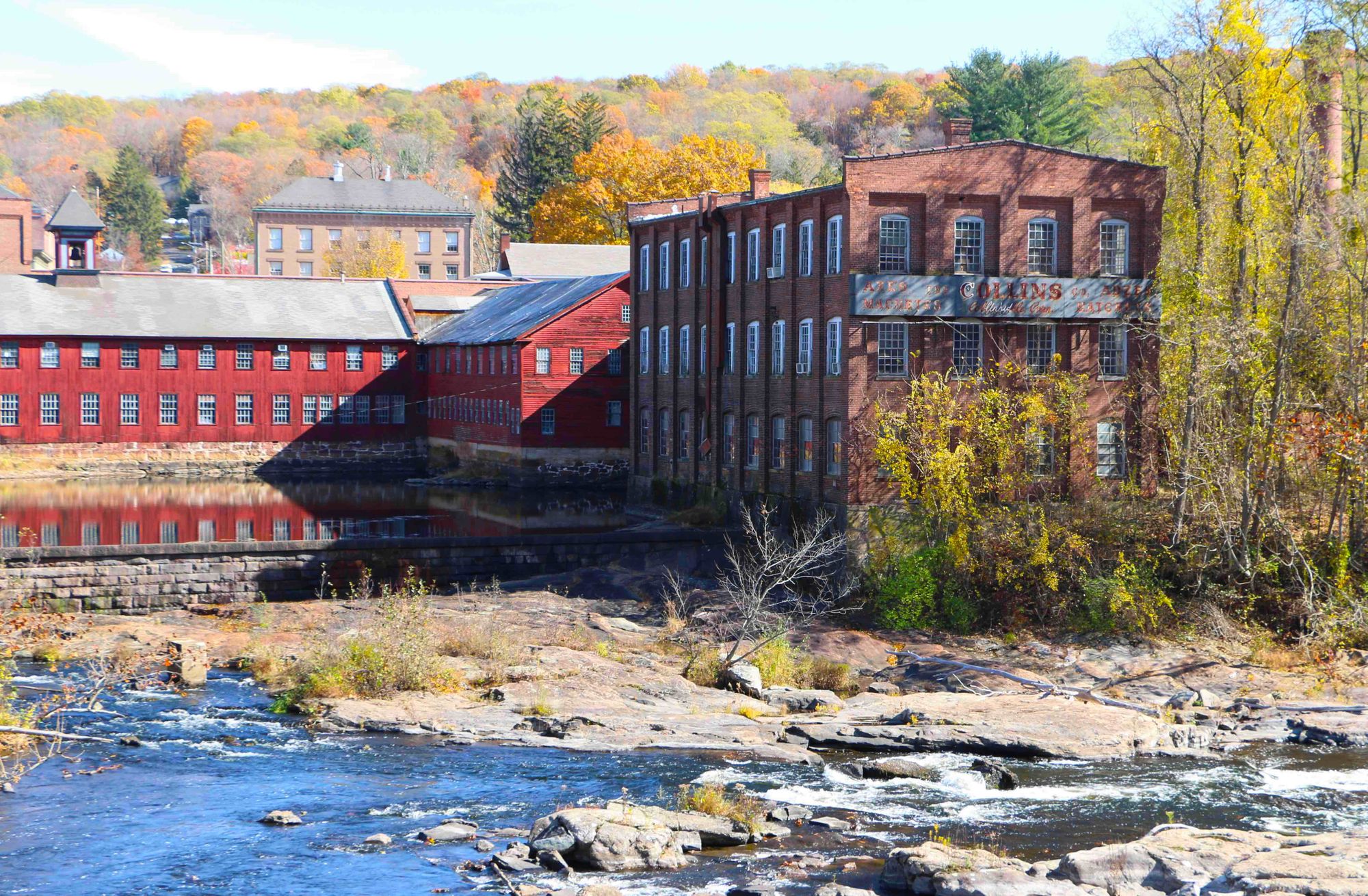 Cover photos feature Cork Hounds co-Founders Jeremy Glesner and Peggy Mihelich visiting vineyards and wineries in Connecticut and Massachusetts with their dogs Greta and Tango. Photos by Jeremy Glesner and Peggy Mihelich, All Rights Reserved

Cork Hounds is an affiliate partner and we will be compensated if you make a purchase after clicking on this ad link.