With my mother in town for the Thanksgiving holiday, instead of hitting the shopping centers to fight the crowds, we decided to head out to some local Maryland vineyards to support small businesses, and of course promote Cork Hounds. The greater D.C. area provides a mix of vineyards in both Virginia and Maryland. Prince George's County, Maryland is the area just east and to the south of D.C. It's about 40-minutes to reach the wineries -- an easy day trip.
Table of Contents:
Vineyards to Visit
Weekend Trip Accommodations
Local Sites

Vineyards to Visit
8606 Cedarville Rd
Brandywine, MD, 20613
301-442-4670
Dog-friendly: Outside, On Patio/Porch, Inside The Tasting Room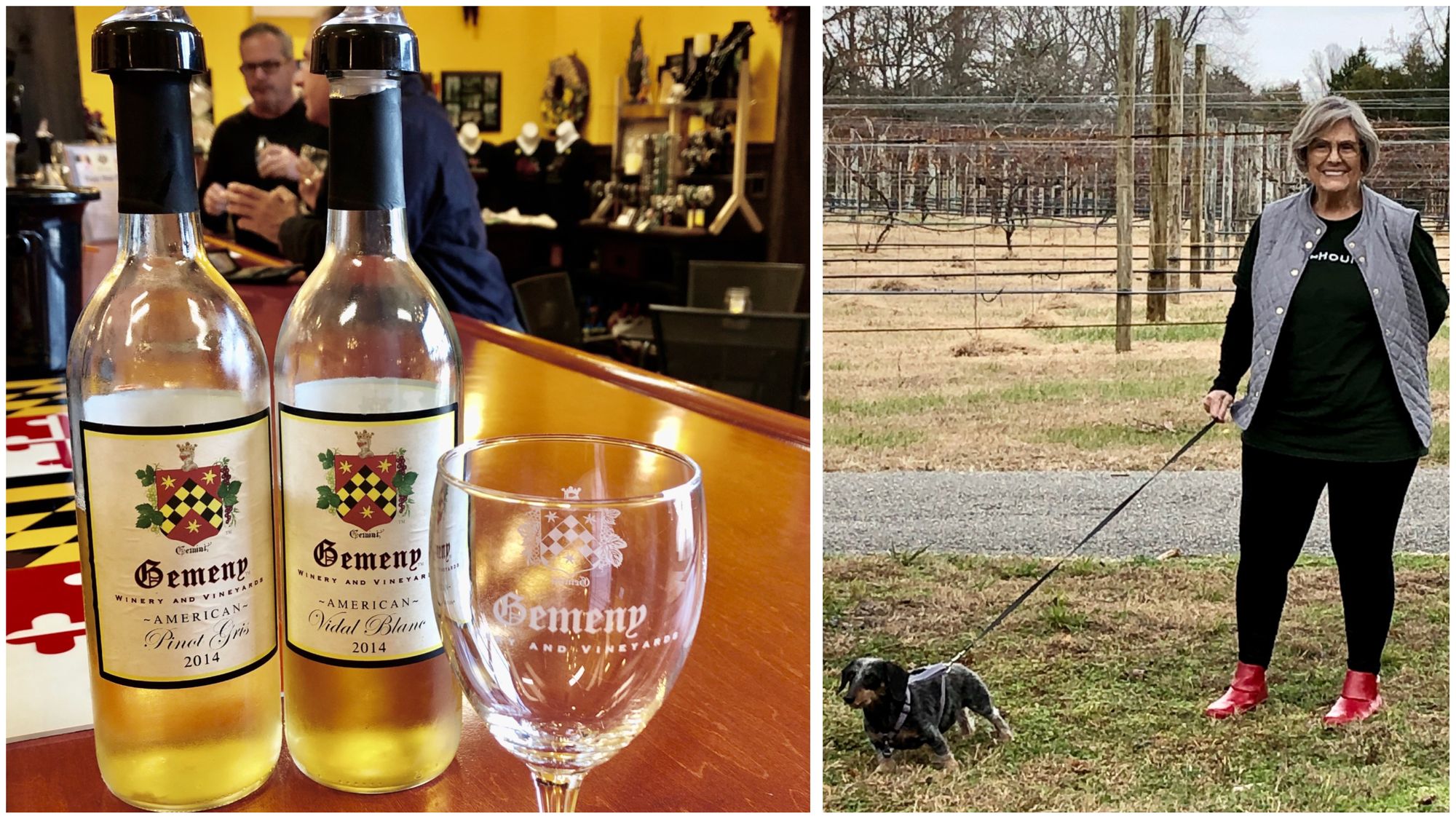 It's a knightly affair inside Gemeny Winery and Vineyards tasting room. Their logo/label is a coat of arms, featuring a knight's helmet and shield with a yellow and black band flanked by yellow starbursts and it's the inspiration for the decor in the bright and inviting tasting room. Dogs are most welcome inside and the pourer offered my pup Greta a special "all natural" dog treat. She gobbled it right up. Gemeny grows most of their grapes on their 200-acre property. They also purchase grapes from across the United States. We tasted a nice variety of whites, red and sweet wines. Be sure to give the sweet ones a try. I've not had a sweet Vidal Blanc before and quite enjoyed it.
Our favorite wines: Vidal Blanc and Pinot Gris
15200 Baden Naylor Rd
Brandywine, MD, 20613
301-535-9126
Dog-friendly: Outside, On Patio/Porch, Inside The Tasting Room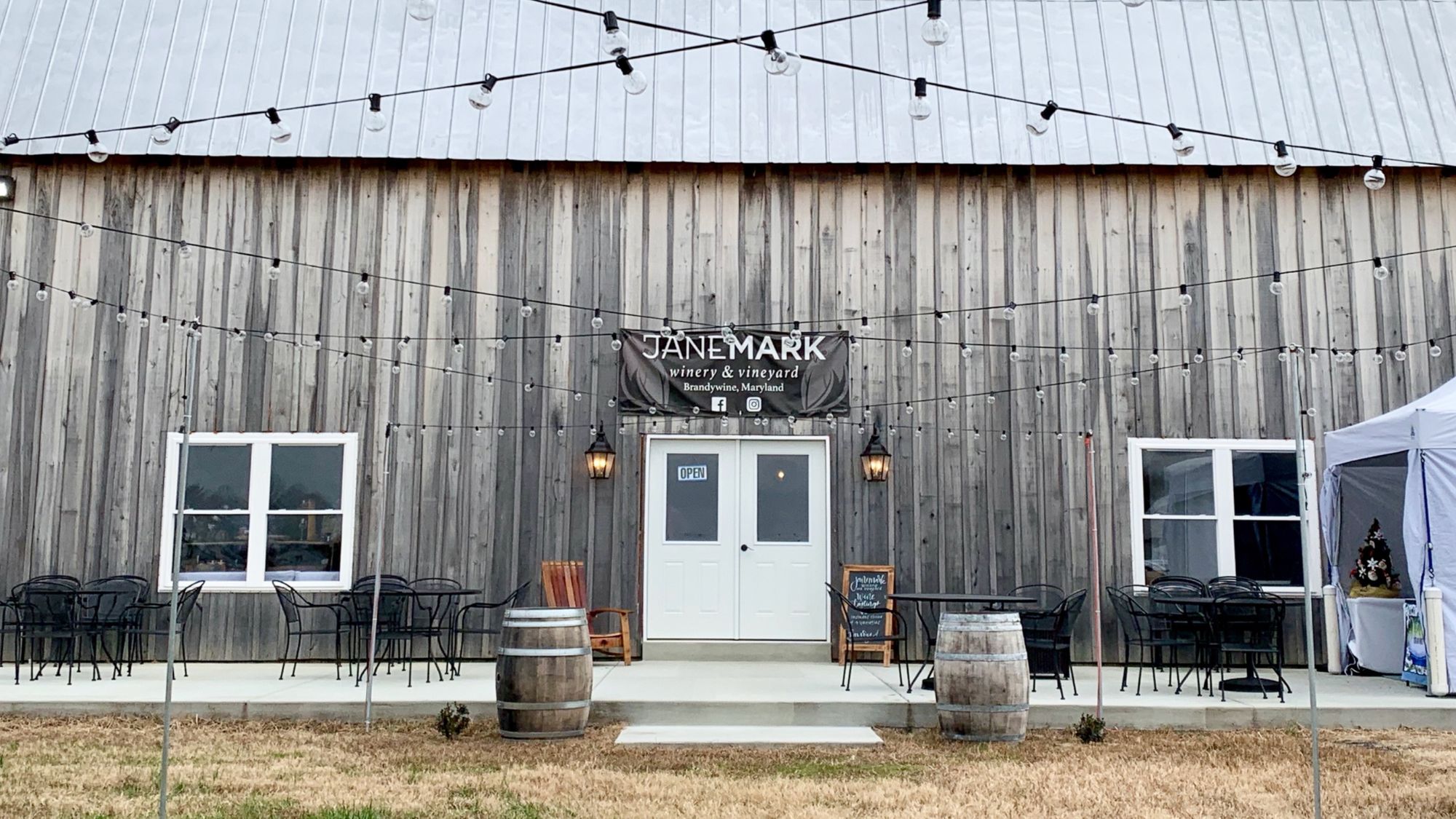 Just a short 10-minute drive from Gemeny is the tasting room at Janemark. The tasting room is an old 1930s tobacco barn built and renovated by the Amish. During our visit they were having a local vendor market inside and a crab food truck out front offering a variety of seafood platters. It was pretty crowded inside with all the vendors -- not much space to move around, so I ended up carrying Greta for most of our visit. They do have some tables out front for sitting and sipping -- more appealing during the summer months than on a cold day in November. Janemark has a long tradition of growing Albariño, Vidal, and Chambourcin. In recent years they have expanded to include Barbera, Petit Manseng, Albariño. We particularly enjoyed their seasonal mulled wine and hit the food truck before heading out.

Our favorite wines: Sweet Heidi and Mulled wine
Weekend Trip Accommodations

If you are visiting this area from out of town, we suggest finding accommodations via:
Local Sites

This 200-year old fort was built to protect the Potomac River leading to Washington, D.C. It's now part of the National Park Service and you can visit the grounds with your pup and even have a picnic (reservations required). Pets are not allowed in the visitor center or the barracks buildings of the old fort.

This modern convention center, restaurant and shopping area overlooks the Potomac River. It features a giant ferris wheel that lights up with an array of colors at night. It's no London Eye, but does offer good views of D.C. on a clear day. The ride itself is not dog-friendly, but you can take the pups for a walk along the Potomac River or through the main street of shopping.
Cover photo of the vibrant tasting room at Gemeny Winery and Vineyards. Photo Peggy Mihelich, All Rights Reserved