For the past three summers, my girlfriends and I have enjoyed a weekend trip to the mountains of southern Virginia to a rustic retreat known as Mountain Lake Lodge. The place is very dog-friendly and my dachshund Greta always makes the journey with us. It's about a 4.5-5 hour drive (depending on traffic) from the Washington, DC area. The I-81 corridor is a very scenic route, where you'll enjoy mountain vistas of the Shenandoah. There are also quite a few vineyards along the way so we always make it a point to stop and try one (or two, time permitting). Some are closer to the interstate then others, so do budget extra time to get to them. Cork Hounds suggests stopping at Cave Ridge Vineyard, Rickbridge Vineyard, Barren Ridge Vineyards, and Virginia Mountain Vineyards with your pup/s.
Table of Contents:
Vineyards to Visit
Weekend Trip Accommodations
Local Sites
Additional Vineyard to Visit
Vineyards to Visit
1476 Conicville Rd
Mt Jackson, VA 22842
540-477-2585
Dog-friendly: outside, on the porch/patio, and inside the tasting room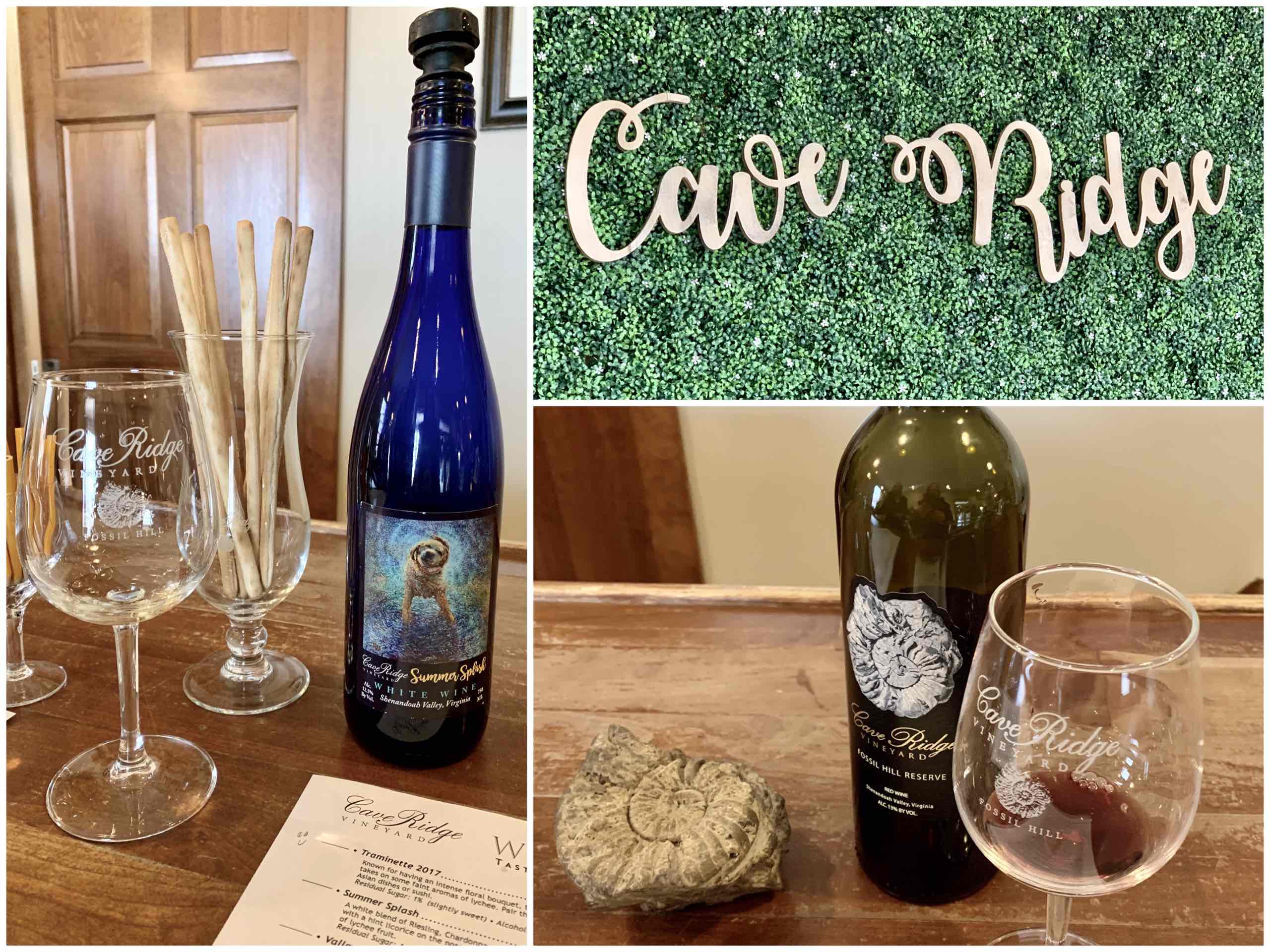 Photo of the wines at Cave Ridge Vineyard. The fossil the owner found in his field can be seen in the lower right image. Photo by Peggy Mihelich, All Rights Reserved
Cave Ridge's timber sided tasting room has a lovely view overlooking the Blue Ridge mountains. A large covered pavilion sits just off to the side -- a perfect spot in the summer to drink wine and listen to local musicians. There's ample lawn space out front to walk the dog and even take them for a stroll along the grape vines. The patio out front seems to be the preferred area for sitting and sipping. They have heaters setup for cooler months and umbrellas during warm summer days. If you'd rather sit indoors with your pup, head to their upstairs area with tables and chairs. They also have an upper level deck that would also make a good spot for hanging out.
Our tasting included a mix of whites and reds. Some of the wines feature a nautilus fossil on the label. The story goes, the vineyard owner found the fossil on the property will tilling the soil in preparation for planting the vines. Another label features the painting of a shaking yellow Labrador -- Summer Splash. If you're lucky, they'll include some sparkling wines to sample (they are not on the official tasting menu). The Fille Des Etoiles and Raspberry Noir are both very tasty! By the time we left the vineyard, the traffic had cleared and we were on our way.
Our favorite wines: Fille Des Etoiles "Daughter of the Stars," Summer Splash, Fossil Hill Reserve, Traminette
35 Hillview Ln
Raphine, VA 24472
540-377-6204
Dog-friendly: outdoors, on the porch/patio, inside the tasting room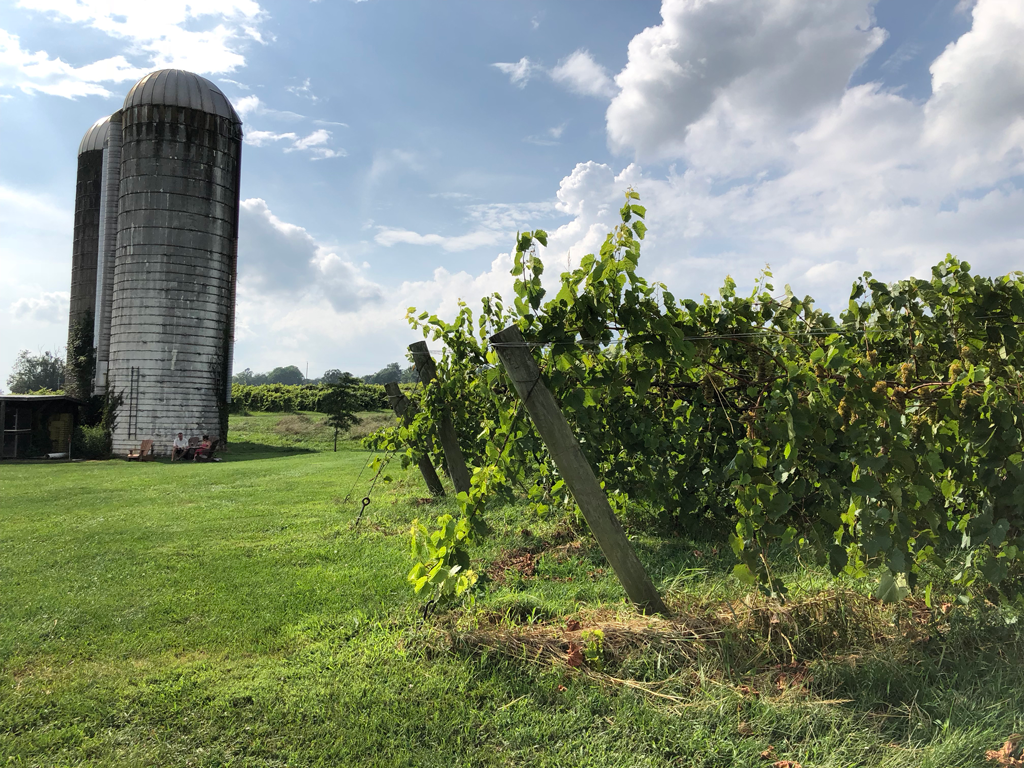 Photo of the vines growing at Rockbridge Vineyards. Photo by Peggy Mihelich, All Rights Reserved
Located less than 2 miles off of I-81, Rockbridge is an ideal place to stop in for a tasting and not loose too much time on your journey north/south. The modern red barn tasting room is bright and spacious, featuring lovely vistas of the surrounding vines and mountains. If the weather is pleasent, grab your wine and head over to their covered patio area featuring a DIY wine bottle chandelier. Dogs are welcome inside the tasting room, outdoors and on the patio.
Our favorites: Traminette, Chardonnay and Meritage
Award winning wines: Viognier, Dechiel Chardonnay
984 Barren Ridge Road
Fishersville, VA 22939
540-248-3300
Dog-friendly: outdoors, on the porch/patio, inside the tasting room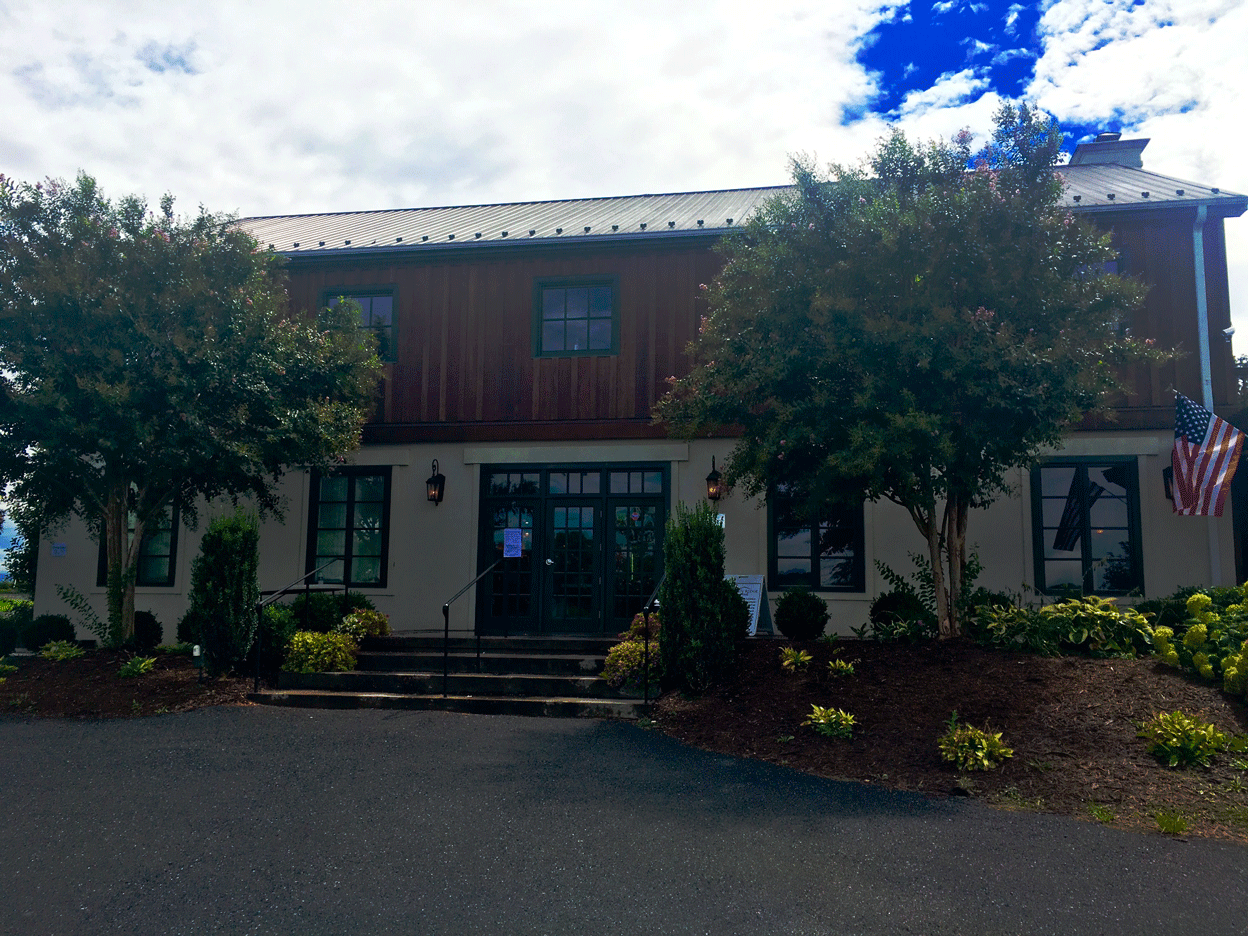 Photo of the tasting room at Barren Ridge Vineyards. Photo by Peggy Mihelich, All Rights Reserved
If you're into rustic/barn chic, Barren Ridge will surely please. It's a former apple orchard that now grows a variety of grapes. The picking barn plays host to tastings and is a comfortable place to sip and sample wine. Need a little cheese and crackers to wash down your wine? Purchase some tasty snacks. We particularly liked the pub cheese. Note, if there is an event going on the day of your visit, they move tastings to a small shed on the property — not glamorous and not very appealing. Personally, I'd make sure to visit on a non-event day or attend the event so you can fully enjoy the property. Dogs are allowed in the tasting room, on the grounds and the patio.
Our favorites: Harmony (white blend)
Award winning wines: Harmony, Viognier, Christof (white dessert wine)
4204 Old Fincastle Rd
Fincastle, VA 24090
540-473-2979
Dog-friendly: outdoors and on the porch/patio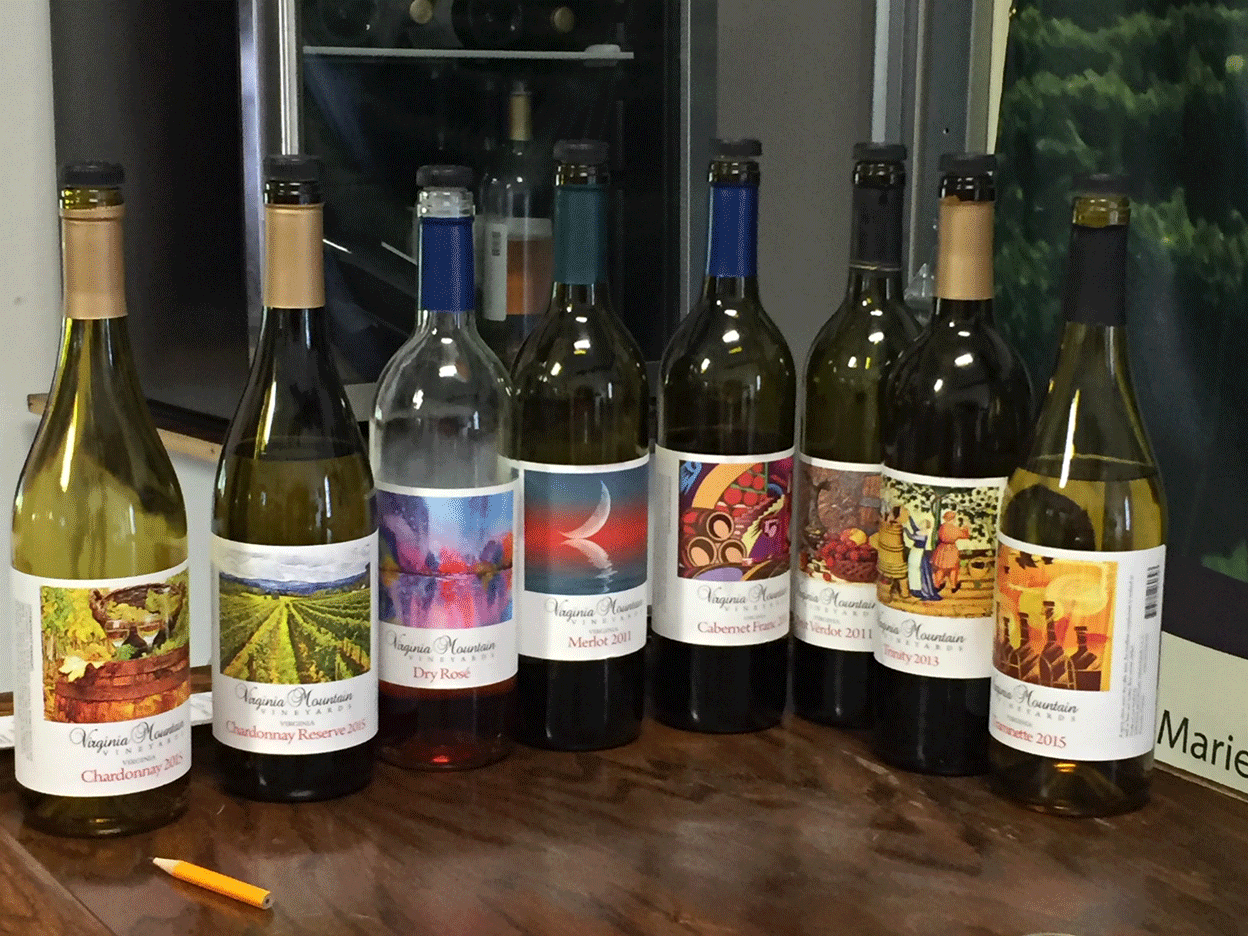 Photo of wines at Virginia Mountain Vineyards. Photo by Peggy Mihelich, All Rights Reserved
This vineyard has been growing grapes since the 1990s and offers 13 different wines for tasting. The tasting room is small with only one bar, but it's well worth the wait to try their unique wines — be sure to sample their signature white, Acacia Gold. When you're done tasting, grab a glass (or bottle) and sit out on the covered patio (or find one of the benches around the grounds) and enjoy some lovely views of the vineyards and mountains. Dogs are allowed on the grounds and patio.
Our favorites: Acacia Gold
Award winning wines: Cabernet Franc, Petit Verdot, Trinity (blend)
Weekend Trip Accommodations
Search BringFido and/or Homeaway to find dog-friendly hotels, inns and B&Bs at a location that fits your travel plans:
Search Bring Fido
Search Homeaway
Where we stayed: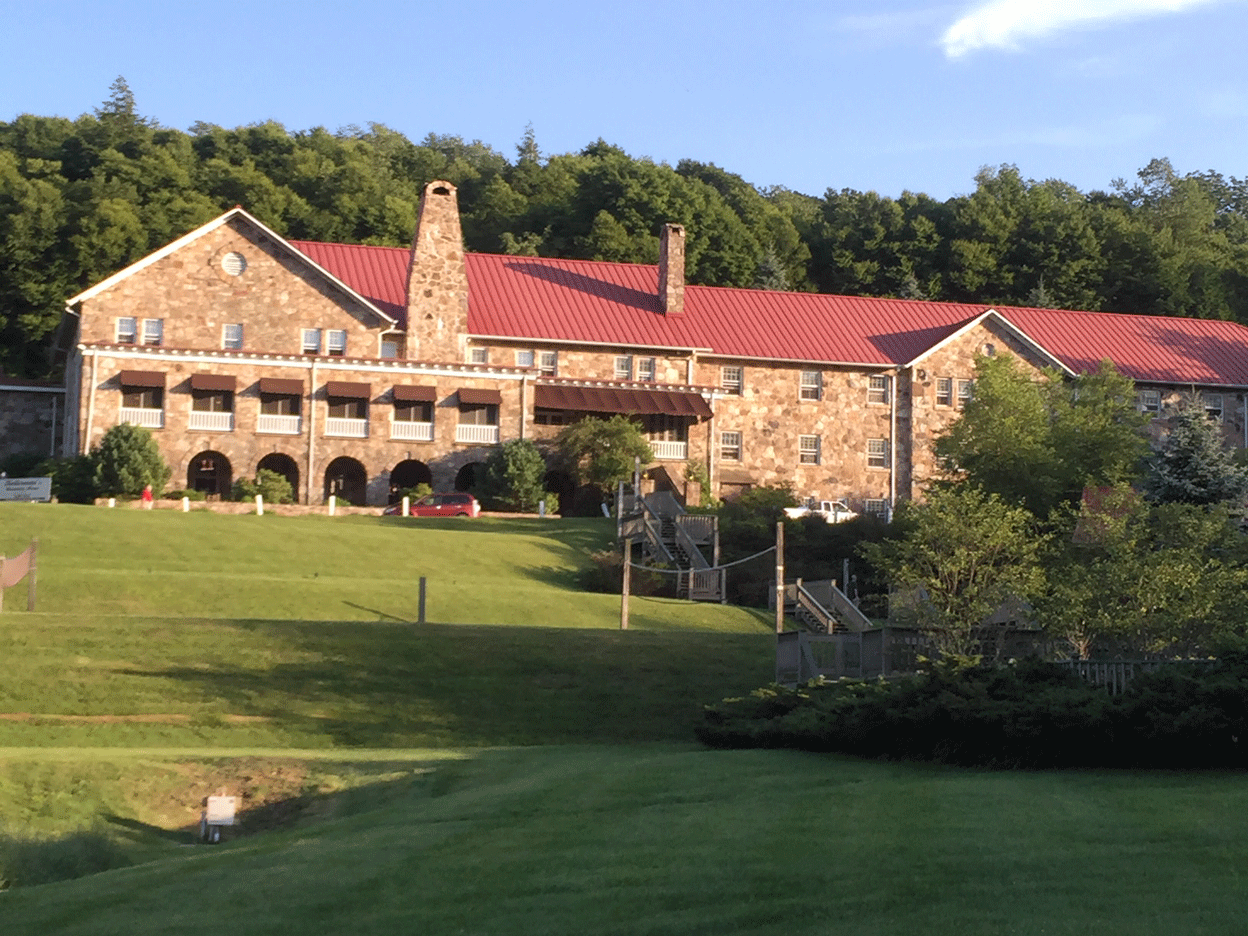 Photo of Mountain Lake Lodge. Photo by Peggy Mihelich, All Rights Reserved
Mountain Lake Lodge - mostly known as the set location for the 80s movie Dirty Dancing, this mountain retreat is more than a place to dance in the footsteps of Patrick Swayze and Jennifer Grey. It boasts fine dining, hiking trails, a game room (pool tables, ping pong, air hockey) and outdoor adventure center. Do as much or as little as you want. Be sure to spend time in the bar, where they serve up specialty cocktails and spin tales of old (the hotel dates back to the 1800s). And yes, learn all about the making of the movie that made sure "nobody puts Baby in a corner."
Local sites:
If you have additional time to explore the I-81 corridor, I would suggest visiting the following:
Natural Bridge
This 215-foot tall limestone gorge, sits within Virginia's newest state park, Natural Bridge State Park. There is more to see then just the bridge, so take your dog and explore one of the many trails.
Roanoke
This is southern Virginia's biggest city. It's history is mostly associated with the railroads and it was a major stop for 3 lines, most notably the Norfolk & Western. Tour the historic downtown for a glimpse of the past and check out the following local places: Roanoke Star & Mill Mountain Park, Dog Mouth Fountain and Black Dog Salvage.
Blacksburg
This is college town, USA. Home of Virginia Tech's (Virginia Polytechnic Institute and State University) 30,000+ students and faculty, this sprawling campus is worth a tour, even if it's just a drive-by one.
Additional Vineyard to Visit:
2122 Sheep Creek Rd
Bedford, VA 24523
540-586-3707
Dog-friendly: outdoors, on the porch/patio, inside the tasting room
Peaks of Otter is a fruit orchard that specializes in wine made from apples, grapes, blackberries, blueberries, peaches, chili peppers, cherries, elderberries and more. Dogs are welcome inside the tasting room, outdoors and on the patio.
Cover Photo is of the Shenandoah Valley in Virginia. Photo by Mark Schneider / CC BY 2.0. Photo brightness was increased.