When it comes to dog-friendliness, California dominates. In a recent review of our data, Cork Hounds ranked the top 25 most dog-friendly winery counties nationwide. San Luis Obispo came in at number one, followed by Napa, Santa Barbara, Sonoma, San Diego and San Joaquin counties. Yamhill county in Oregon ranked seventh and New York's Yates, Seneca and Schuyler counties took spots 13, 14 and 15. Virginia's Albermale and Loudoun counties came in at 20 and 21.
For this review, Cork Hounds pulled data only on vineyards and wineries that we classify as fully dog-friendly -- allowing dogs outside, on the patio/porch and inside the tasting room.

The top 5 counties in California represent areas with high concentrations of vineyards -- lending to the likelihood they will have more dog-friendly vineyards then other, less wine-dense counties.
San Luis Obispo county, which includes the Paso Robles wine-growing region, is home to more than 250 wineries, according to SLO CAL, the non-profit countywide destination marketing and management organization for San Luis Obispo County. In comparison, the entire state of Virginia has approximately 300 wineries, according to its tourism board.

California is by far the largest wine-producing state in the nation -- representing 84% of production, reports the World Population Review website. Washington is second with 5% production. Washington's Walla Walla county ranked 25th on our list.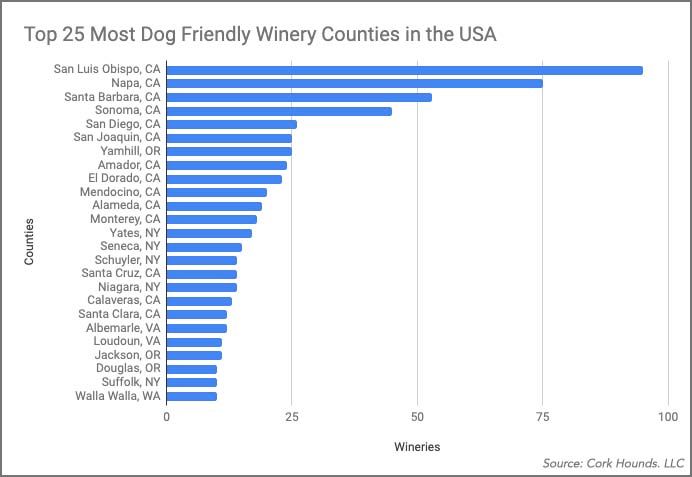 Cover photo of dogs visiting Mayo Family Winery's tasting room in Sonoma County. Photo by Shannon Doty, All Rights Reserved.